About Ankganit CAT Institute – CAT Coaching Institute in Delhi
When it comes to getting admission in IIMs, the only things that matters are your class teachers and their personalized support. Can you call an FMS Delhi Alumnus and Serial CAT/XAT topper even at 2 AM in the night?
AnkGanit is the only Institute to offer 24*7 personalized faculty support and Highest number of concept classes by founders Ankit & Hriday themselves who are Serial CAT/XAT Toppers and FMS Delhi Alumnus. Now, the team has grown to include IIM Lucknow Alumni, IIT Roorkee and FMS Delhi (Gold Medallist).
AnkGanit offers freedom and flexibility to attend any class any number of times and clear your doubts one on one with class teachers. You can also call/message Ankit & Hriday Sir for doubts/queries anytime even at night.
How are they different?
Quant and RC classes for CAT are taken by Ankit Gaur (B.Sc. (Hons) Maths, M.Sc.Maths, CAT 99.99%iler and 3 times XAT topper in Quant & DI). RC and PI Classes with Personalised support are taken by Hriday GS (an MBA from FMS Delhi, UPSC Entrance Rank 2, who resigned Assistant Commissioner's post within 18 months to pursue his passion of teaching).
Best CAT Result in Delhi from only one centre (Final Admission is clearly defined year wise on their website). 520 hours of Classroom Coaching for CAT with a small batch of 20-25 (Detailed Session Plan is also clearly defined on their Website and brochure).
Online Videos for Revision, Android App and 260 Online CAT Tests with 23
parameters for Analysis (The same platform used by national players). Exclusive PI GD & WAT preparation from day 1 and that is why they talk about FINAL Admissions in Top B Schools NOT Calls.
Team of Ankganit
Ankit Gaur (10 times CAT cracker)
Hriday G Sarat (MBA from FMS, Delhi)
Achal Khanna (Master Trainer at Verbal logic)
Nidhi Sharma (IIT Roorkee, Gold Medallist)
CENTRE IN DELHI
AnkGanit CP Delhi: Block A 25/7, Ground, First & Second Floor, Middle Circle,
Connaught Place, Delhi 110001
Call/WhatsApp Hriday Sir @ 8754325124
Email Us: info@ankganit.org
Contact Faculty: Ankit Gaur Sir @ 011-41525143
Official Website of Ankganit Coaching Center
Details of Ankganit CAT Institute- CAT Coaching Institute in Delhi
| | |
| --- | --- |
| Detail | Rating out of 10 |
| Batch Strength | 7 |
| Faculty | 8 |
| Past Year Results | 7 |
| Infrastructure | 7 |
| Fees | 7 |
Benefits of Ankganit CAT Institute, Delhi
Supportive teachers
Printed notes
Online sessions also available
Demerits of Ankganit CAT Institute, Delhi
Centers availability
No hostel facility
Student Testimonials of Ankganit CAT Institute, Delhi
Thank you Ankit Sir for fuelling my passion and encouraging me to believe that I deserve the best…Hriday Sir, the call became a convert because of your constant support. I can't thank you enough… Achal sir, every interaction with you has been so edifying. Having studied in AnkGanit has been the reason for my success and I was able to secure admission into IIM Ahmedabad.
Arushi Jain, IIM Ahmedabad
Our opinion is based on research conducted by our team and at the end of the day, aspirants are entitled to their own opinion.
CAT Exam Success Ratio Trends: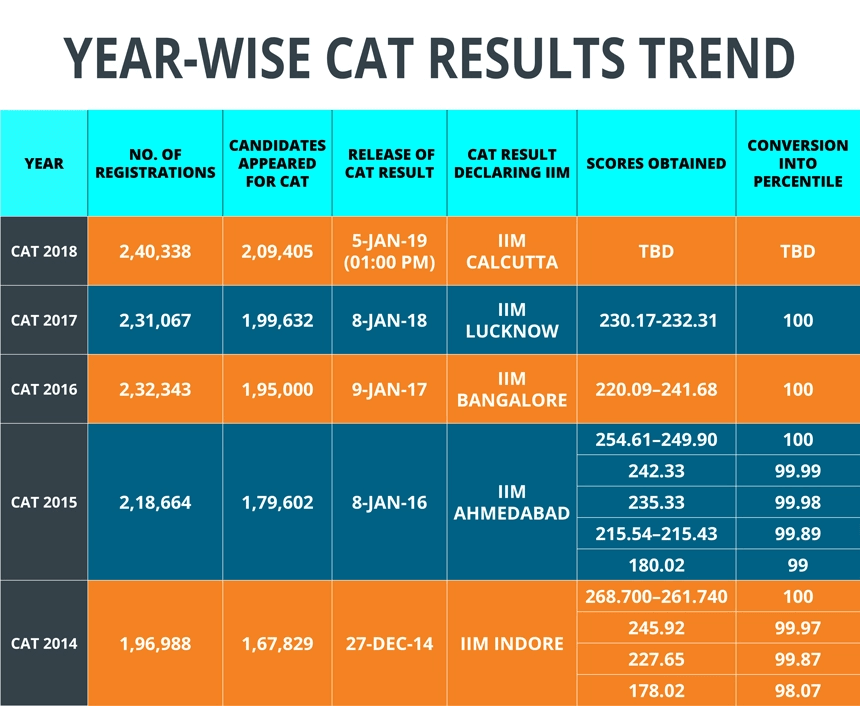 Check Out List of Other Top CAT Coaching Institutes in Various Cities