Introduction
It is a beautiful day to start studying! Well, a cup of coffee, a book, and a pencil, and above all, a learning mindset, is all you need for a successful study hour. Studies have become more accessible with technology; you can study sitting at home, in a café, or while traveling the world. The only thing you need to remember is consistency. Though technology has made our lives easier, it still demands our utmost hard work and dedication to make any task possible. IELTS Online Coaching has successfully filled the gap between students and educators. Technology has made IELTS exam preparation highly easy! With the current pandemic situation and providing the best education to all the students, IELTS Online Coaching is the best option. 
Things to keep in mind during IELTS Online Coaching
1. Be Prepared
Always be prepared before you start your online coaching. Keep your stationary well arranged, a neat book, practice material, and a bottle of water. Yes, it matters! When you are well-prepared, you remain with very few distractions, and it increases attentiveness during your IELTS Online Coaching. Also, make sure to keep your phone on silent mode.
Example: If you have online coaching at 9 A.M, wake up and be prepared at least 15 minutes before your class.
2. Read the Instructions
The first thing you need to do when you start your mock test is to READ THE INSTRUCTIONS properly. The most straightforward reason behind this is that marks are deducted if you do not follow the instructions (even if the answer is correct). So, put this into Practice, read the instructions and then only move forward.
E.g., Instruction: Answer in NO MORE THAN TWO WORDS OR NUMBERS.
Lisa lives at 21 Strandon Street, and every day she uses the bus to travel to the office.
Question: Where in Strandon Street does Lisa live?
Answer: 21
*If you write 21 Strandon Street, it will be considered a wrong answer because instruction clearly states 'No more than two words or numbers.'
3. Maintain Upbeat Practice
There is nothing in the world you cannot achieve with regular Practice! There are just four modules in the IELTS test, and even if you practice two modules every day, at the end of a month, you have practiced 15 times each module! That is just the start!
The more you practice, the better you will be; the harder you train, the great in you they will see. – Curtis Turner
We talked about the critical advice by IELTS Online Coaching earlier; needless to say, Practice is also one of the most crucial pieces of advice to prepare for IELTS at home successfully.
4. Strategize Yourself
Do you remember your school days? When we arranged our books according to the timetable the previous night. Also, months before the final exams, we prepared a daily timetable for studies. IELTS is also a critical test; it is vital to strategize and prepare a study plan before you begin your Practice. Prepare a weekly timetable apart from the daily IELTS Online Coaching. This timetable will ease your IETLS exam preparation.
For example:
Day 1 and Day 2 – IELTS Listening and IELTS Writing Practice
Day 3 and Day 4 – IELTS Reading and IELTS Speaking Practice
Day 5 – Select the test paper where you need more Practice
Day 6 – Mock Test
Day 7 – Rest
5. Download IELTS Mobile App
One of the quickest ways to access the online material and be regular in IELTS Online Coaching is by downloading the IELTS Mobile App. This helps you always to attend the class, access practice material, and study even on vacations! 
Imagine you are on a long trip and do not want to miss Practice. Unfortunately, you did not carry your laptop with you. IELTS Mobile App will come in handy, and you can easily prepare for your test anytime and anywhere.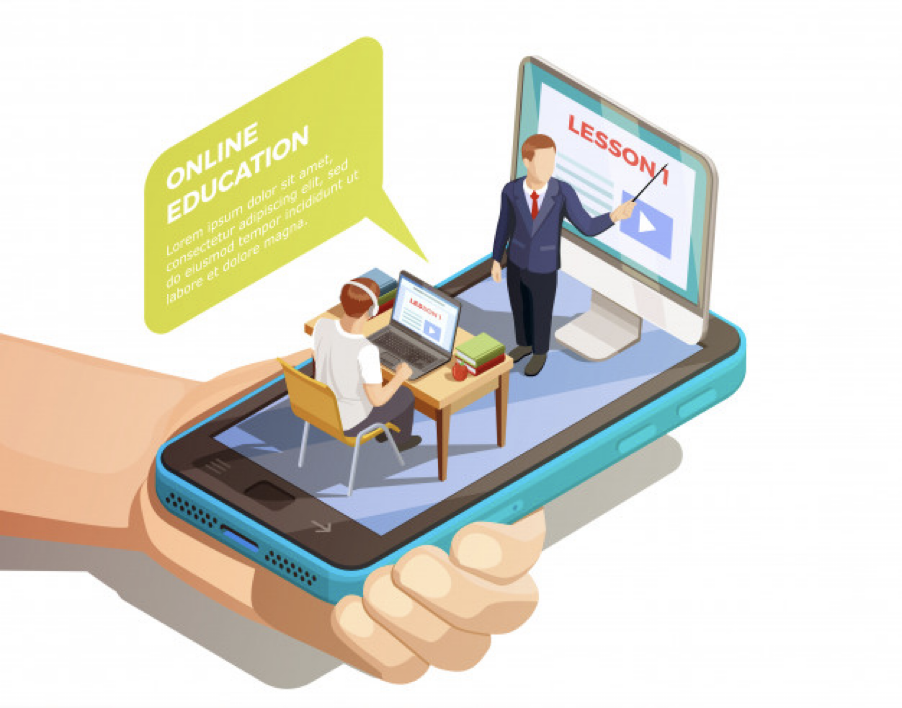 6. Be Consistent
Consistency plays a vital role in cracking the IELTS exam and successfully preparing for IELTS Online Coaching. Your Practice is incomplete if consistency is not maintained.
With consistency and reps and routine, you are going to achieve your goals and get where you want to be. – Mandy Rose
Remember, it takes a lot of hard work and consistency to attempt the IELTS test successfully. Half the battle is won if you practice IELTS test papers and are consistent. When you attend the IELTS Online Coaching class, remember to attend it daily and not miss classes just because you can.
7. Record Test Scores
Test Score will tell you where you stand. Use the first page of your practice book and note down all the previous and current test scores to keep track of your progress. Also, always mention the IELTS Practice Test number to remember which tests you have taken and compare your scores. You can check and record your score on IELTS Online Coaching as well as Test Calculator. The advantage of calculating scores during IELTS Online Coaching is that the tutor will give instant feedback and suggestions for better performance.
8. Find a Reliable Partner
IELTS Online Coaching is a virtual platform, becomes difficult for students to trust the company or individual. Always remember to go with a reliable name. This way, you are sure that the faculties are good, the practice material is reliable, and IELTS preparations will go properly. To find a reliable partner, you can always search IELTS Tutorials Online or IELTS Tutorials at Home. Also, remember to check the company's presence amongst students and their visibility on social media. These all prove that the services are genuine and trustworthy.
Conclusion
IELTS Online Coaching is an enjoyable and interactive way of learning IELTS. It proves to be highly efficient, and a person can learn IELTS in the comfort of their homes. Apart from this, IELTS Preparation can be done at your time as well. If you have worked all day, you can prepare for IELTS late at night as well. This kind of flexibility of time and place is given only by IELTS Online Coaching. This blog has covered everything that is required to prepare for IELTS at home successfully. If there is anything else in your mind, do share! Happy Reading!