Top 10 Places to Visit in Andhra Pradesh
College is important, why not? But, so is a short trip to places to relax and boost your inner self. College life is probably the best life you can ever have, with numerous memories and countless things to remember. Why not make this memory better by visiting these cool places by taking out some time from your busy schedule to enhance your personal development and cultural understanding.
Andhra Pradesh is probably the most serene place having number of places to visit. Andhra Pradesh is home to various beaches with clear waters. Bring out your inner spiritual being and look at some of the places which are easy to visit. I know temples bore the heck out of all students, but not these one's. Go through the beautiful sculptures resembling the mythology of the ancient one's and be ready to get your head dizzy with delight by looking at the some affordable places to see.
Top 10 Places to Visit in Andhra Pradesh
First Place you must visit in Andhra Pradesh is Vijaywada

Vijayawada
Consider Vijayawada to be the starter for your day. Start your to-do-list by visiting Vijayawada. Usually the best time to visit Vijayawada is early in the morning, why so? See the sunset across the foothills; listen to the birds chirping and the beautiful forestry spread across a junction. Leap towards the top of the mountain to see the beautiful Mangalagiri Panakala Narsimhraswamy Temple along with Undavalli Caves. Go through the mesmerizing Rock Cut architecture which is made by Solid Sandstone. Take a boat ride to Bhavani Island, which is centrally located in Krishna River Vijayawada also proclaimed as one of the largest river island. Do various water activities such as Boating, Bridge Crossing and many more.
Second Place you must visit in Andhra Pradesh is Rajahmundry
Rajahmundry
Not being Biased, but this is a must go place for all the History Background students. Often heard about the secret passages through which people used to remotely travel or about the hills situated on top of the hills having a passage straight down to the city? Rajahmundry is a perfect place to get flabbergasted. See the beautiful sightings of the ancient stories you have heard from your Grandparents, about all those Temples which have something special in them. See the Majestic Landscape spread across a very large area covered with beautiful scenery along with the rivers as well. If you are a Photo Junkie this place is a must visit, just don't forget to take your dslr camera along with you and blessings from temple as well.
Three Place you must visit in Andhra Pradesh is Coringa Wildlife Sanctuary
Coringa Wildlife Sanctuary
Who doesn't loves to explore the Wildlife and see the beauty of various flora and fauna? Coringa Wildlife Sanctuary is second largest mangrove after Sunderbans in West Bengal. Unlike other sanctuaries, this one has something special for all of you. See rare species of Mangroves and various other species of birds and animals. This sanctuary is home to various salt water crocodiles, kingfishers, flamingoes and sea gulls. Want to feed them? Go for it. Just don't feed the crocodiles, I mean do it at your own risk. See various types of birds at the various mangroves. Take walk on the pathways and feel the beauty of your surroundings.
Fourth Place you must visit in Andhra Pradesh is Borra Caves
Borra Caves
Located at the Gosthani River, you'll be amazed to see these beautiful caves. Borra Caves are the proof to various types of Stalactites and Stalagmites. Go on to explore these beautiful caves as long as you want with your energy. See the beautiful Stone Carvings which are carved in various shapes and sizes resembling various Humans and Animals. Much to our surprise, these caves are naturally formed and are fitted with Artificial Lights which makes it amazing when the light reflects upon them. Not only you get to see the caves but you also get food as well. How can you say NO to food? Do try the yummy Bamboo Chicken over there, a special delicacy of Andhra Pradesh.
Fifth Place you must visit in Andhra Pradesh is Talakona Waterfall
Talakona Waterfall
Talakona Waterfall is quite an amazing place to visit with your buddies. The high waterfalls, serene atmosphere and dense forests around you make it the most adorable place to visit. If you have your own vehicle there are many perks to be associated with it such as you can go for trekking early in the morning and another one in the evening. There are rooms available by the local community to the people who visit these waterfalls. Enjoy food from the mini stalls and other countless memories while trekking and exploring the beautiful nature around you. Have some fresh fruits and veggies from your surroundings and make a beautiful delicacy out of it for your friends, maybe your inner master chef comes out.
Sixth Place you must visit in Andhra Pradesh is INS Kurusura
INS Kurusura Submarine Museum
Situated in Vizag, this museum is must for everybody to visit. This museum is seriously different from other marine museums all around the world. Going through this museum you'll get to know about the various things our Marine Soldiers go through. Avoid this only if you are Claustrophobic otherwise head towards this beautiful museum and get to know about the various technical apparatus and modules which are operated by the marine soldiers. There are various chambers all connected to each other, this museum looks very beautiful from the outside as well the inside. It is the best place to know about various technologies and other attributes related to how the submarine works.
Seventh Place you must visit in Andhra Pradesh is Yarada Beach
Yarada Beach
Taking about Andhra Pradesh without beaches is just like talking about cricket without Sachin Tendulkar. This beach is some 20 km's away from Vizag and is a must to visit. Bring out your inner Volleyball character and enjoy playing water sports as well on this beach. The water is not of much depth so bring along your younger cousins as well. The beach is well maintained and cleaned, the water is very clear and you can literally see your toes inside the water. This beach has an amazing view amidst the Eastern Ghats and can be considered as a private beach. Just don't think as if you own this beach ha-ha. People don't know much about this beach so take advantage of it as it will be less crowded; spend your day with the waves.
Eighth Place you must visit in Andhra Pradesh is Gandikota Fort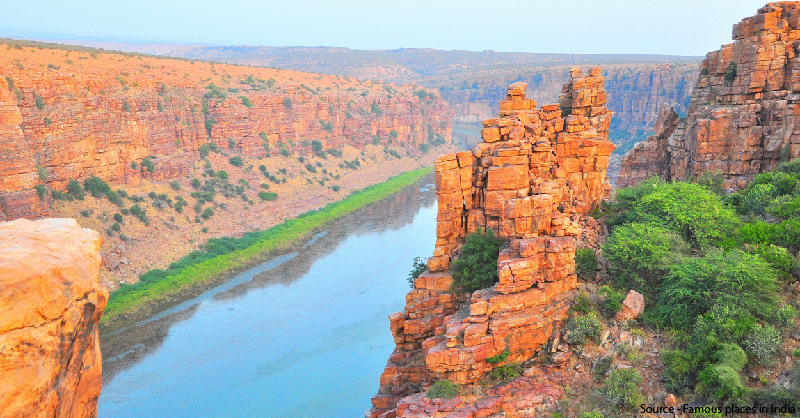 Gandikota Fort
Often known as the Grand Canyon of India, Gandikota is a fort which is built on the gorge between Gandikota Hills and Pennar River. The gorge from the top of the fort looks amazingly magnificent especially during sunset and sunrise. To reach the top of fort you'll have to do a little bit of trekking but trust me when you reach the top, it will be the best view you'll ever get. Also, if you want to get adventurous and bring out the inner adventure junkie in you, you can opt for Kayaking and Rappelling. For the best time, go out trekking in the early morning downhill which is very safe. Also, this is not a crowded place. Do try rappelling under the moonlit night.
Ninth Place you must visit in Andhra Pradesh is Lepakshi Bull
Lepakshi Bull
The Nandi is a huge bull sculpted out of a single rock situated in Lepakshi, Anantapur District. This attraction if well surrounded by various types of trees that are well maintained and provides a shelter to many flora and fauna. Just visit this place to admire its beauty and see what all has been gifted to us by the nature itself. Go through the mini pond which itself is amazing, full of fishes and flowers. Go feed the fishes and remember to take some pictures of the scenery around you. Go through various types of Gardens and see numerous flowers of various colors. Relax and enjoy the majestic surrounding around you and don't forget to click a picture with the bull that is huge and sits calmly across the platform. This place is to rejoice and calm your senses.
Tenth Place you must visit in Andhra Pradesh is Lepakshi Bull
Belum Caves
You will be totally amazed to see how vast these caves are. Belum Caves are situated in Kurnool and are underground. Belum Caves are the largest caves in India. Fully operational with lights and fans, Belum caves give you an astonishing experience. The beauty of Belum caves are that they are natural caves formed by the underground water. The deepest point of all caves can be discovered here along with various types of carvings along the walls of the caves. These caves now operated with the help of Engineers. If you are travelling and Kurnool is in the way, you know exactly what to do.
So what are you waiting for then? Go through these places as soon as your exam end, or you have a semester break because trust me, these will be worth it.