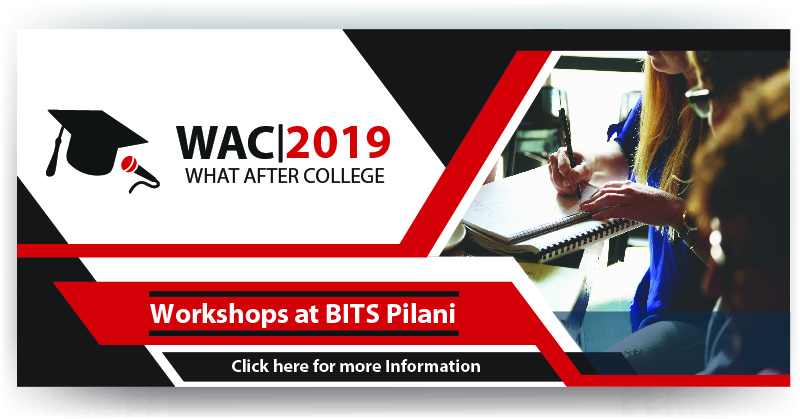 Focusing primarily on undergraduate education in Engineering and Technology, the Birla Institute of Technology & Science fondly known as BITS Pilani is one of the best private technological institutions in India.
Dedicated to providing the young minds with a rigorous academic curriculum and an intellectual stimulation to drive innovation, BITS, Pilani is a nationally recognized private institute of higher education and a deemed university. It is one of the few recognized institutes in the county to follow merit-based admission policy.
Started in 1901 as a small school by the Birlas, this institution has grown leaps and bounds over the years and came into its present existence in 1964 when all the Birla Colleges for higher education (Humanities, Commerce, Engineering, Pharmacy and Science) were amalgamated to form the Birla Institute of Technology & Science with Dr G. D. Birla as Founder Chairman.
With its 15 academic departments, BITS Pilani offers degree and integrated programmes in UG, PG and Doctorate level in engineering and science.
Besides, its main campus in Pilani, Rajasthan, this institution has there satellite centres in Goa, Hyderabad, and Dubai. With a campus spread over 1000 acres, the BITS Pilani has 11 hostel blocks that can house over 2000 students, offices, lecture halls, playgrounds and India fits technical museum.
BITS Pilani: Learning beyond the regular curriculum
Following a practical learning approach in their curriculum, BITS Pilani always strives to expand their students' skill by organizing several workshops, conferences, symposiums etc.
Apart from running regular UG, PG, Doctorate courses, BITS Pilani offers 35 off-campus collaborative programmes and several distance-learning programs under the sponsorships of various reputed organizations.
Integrating work experience with academic learning, this institution offers several online open distance study programs for working professionals. Joined hands with an open source learning platform, this institution offers a variety of online courses in various subjects. It also conducts India's first 11-month PG course in BigData Engineering.
The Students' Union of this institution is a student-centric organization that has always been striving for the betterment of students. From paying attention to student issues, promoting extra-curricular activities to organizing several fests, the Student Union actively participates in everything.
To enable students to foster their talents, BITS Pilani campus houses several hobby clubs that include Dance Club, Debating Society, Film Making Club, Coding Club, English Drama Club, Photography Club, Radio Control Club, Game Club etc.
Be it nurturing the creativity of young minds or motivating them to invent something revolutionary, BITS Pilani offers myriad opportunities for students to help them evolve as skilled professionals.
Workshops and Conferences Schedule at BITS Pilani
Aiming to expose students to the practical application of classroom knowledge, BITS Pilani always looks for new avenues of learning for young students. Organizing a plethora of workshops, seminars, training and guest-talks with industry leaders, BITS, Pilani enables students to expand their knowledge beyond the regular academic curriculum.
For the complete schedule of BITS Pilani workshops visit the upcoming events page of the official website of the college.
Hers is two of the most popular extra-curricular events held on the campus:
APOGEE
Providing a strong platform to exhibit the technical prowess of young minds, BITS Pilani hosts its international tech-fest APOGEE every year. The 36th edition of this technological symposium was held at BITS Pilani campus from 21st February to 25th February 2018.
Encouraging students to think beyond the convention and their limitations, the fest enables them to enthral everyone with their innovation and engineering expertise. Organizing about 80 events that include Coding, Robotics, Quizzing, Designing competitions, Debates, Guest-talks etc APOGEE attracts thousands of students from different colleges across the country.
Apart from several fun events and project presentations, the four-day-long fest also hosts a guest-lecture series which bring together some of the brightest brains in technology and engineering around the globe.
[slideshare id=110821316&doc=portfolio-bitspilani2ndedition-180821084404]
WAC Workshops
Aiming to resolve all career related queries and doubts of students, the flagship event of Vidyavilla Foundation, What after College (WAC) is organized at BITS Pilani campus. Lining up the greatest names in the field of technology, science and skill-building, this one-of-a-kind career counselling workshop helps students to select the best career option after college.
Answering all their career-related doubts, the expert panellists of the workshops not only show students the path of career development but also expand their knowledge. Providing a strong platform to enhance their skill, WAC workshops help young minds to select the most relevant career that has a bright future as well as appeal to their passion.
Who can attend Workshops at BITS Pilani?
Aiming to provide the best technical knowledge to young minds, BITS Pilani conducts several workshops, industry training and distance courses for students. The online courses (MOOC) offered by this institution are accessible for both itson-campus and off-campus students as well as aspirants across the country. Besides, running a slew of workshops and short-term courses for its own students, BITS Pilani also conducts Work Integrated Learning Program (WILP) that is exclusively designed for working professionals.
Why attend workshops at BITS Pilani?
Covering various areas of science and cutting-edge technologies, BITS Pilani conducts workshops, seminars that are attended by some of the greatest minds in the industry. Providing you with a deep insight into the latest global market trend and some upcoming developments it is going to see, the BITS Pilani Workshops enable you to expand your knowledge. Besides, giving you a great exposure, the workshops and events also enable you to build a strong network, which is pivotal for professional growth.
How to reach BITS Pilani?
Located nearly 200 km away from Jaipur and Delhi each, Pilani is a small town in the Jhunjhunu district of Rajasthan. The nearest stations to Pilani are Chirawa(16km) and Loharu(25km). There are several express trains and passengers trains running on these routes that stop at these stations. From Loharu and Chirawa station, you can easily get a cab or bus for Pilani.
There are State transport buses and Volvo buses that connect Pilani with other parts of Rajasthan and rest of the country. Direct buses from I.S.B.T. (Kashmere Gate) Delhi take about 6 hours to reach Pilani main bus stand, which is only 1.5 km away from the BITS campus. In case of break journey, take any bus heading towards Jhunjhunu, get down at Chirawa and take shared jeeps or local buses for Pilani. The bus service from Jaipur to Pilani is very frequent and to cover the distance of 203 km the buses take around 5 hours.
Address
Pilani Campus, Vidya Vihar, Pilani, Rajasthan, 333031, India
Contact: 91-1596 245073/4
Accommodation at Pilani
For a few workshops or seminars, accommodation can be arranged on first come-first serve basis in institute guesthouse. However, for other events or courses, students are required to arrange their own accommodation outside the campus. Located at Jhunjhunu District, Rajasthan, this institution is surrounded by a wide variety of hotels catering to all budget and requirement. Before coming to BITS Pilani for any course or workshop, make sure to confirm your accommodation details with the organizers.
Upcoming workshops at BITS Pilani
For complete details on upcoming events, conferences and workshops scheduled to be held at BITS Pilani, check out this http://www.bits-pilani.ac.in/Pilani/listing.aspx?cid=68&id=36. To get further details on registration, course fee, eligibility, and other important information, visit the particular page of individual workshops, courses, conferences and seminars. Check out the upcoming workshops at BITS Pilani.