Vajiram and Ravi IAS Academy New Delhi Student Review:
Good Reviews:-
Vajiram and Ravi IAS Academy New Delhi's Faculties here are extremely good at their content and delivery.
Polity is taught by four teachers: rating 8/10
Ravindran sir: He's the Director of Vajiram and Ravi IAS Academy New Delhi, I found his class very monotonous but the content after you revise from notes is ultimate. He is one teacher that brings out the soul of the polity at Vajiram and Ravi IAS Academy New Delhi. Even if someone failed to understand what he taught in the class, his comprehensive notes will supplement everything.
Gautam sir: he is one teacher that teaches a lot of things from multiple sources. presentation is good.
Abhey sir: he is a civil servant himself. he teaches but more than that he will give to u motivation and interesting things abt services. But he leaves a lot of topics
Abhilash sir: He is a supreme court lawyer: teaches good.
Geography: rating: 7.5/10
Manocha sir: teaches geo, and ecology: whatever he teaches, I can bet you will not forget ur whole life, joining Vajiram and Ravi IAS Academy New Delhi, for him is a sure bet.
Shiv Arpit sir: he teaches a lot in 2:30 hrs due to huge syllabus he has to cover.
Economics: 3/10
I found the economics of Vajiram and Ravi IAS Academy New Delhi is worst. Eco, is a technical subject that needs continuity and that Vajiram and Ravi IAS Coaching lacks it as daily we had classes of different subjects.
History: 8/10
Taught by Ojha sir, Parnmar sir, Lokesh Jindal sir. they are exceptional teachers. just go along with the class they will complete all your NCERT in an amazing way.
Bindu mam: She is an amazing teacher for biotech in Vajiram and Ravi IAS Academy New Delhi. She will make u learn everything in the class like A for apple.
Rahul sir and Vinoy sir: teaches good content but little fast, to comprehend.
International relations and security: Pavneet sir very straightforward teacher. teaches to the point
Ethics classes: Taught by Pathak sir, Bijendra sir, and Manikant sir at Vajiram and Ravi IAS Academy New Delhi.
The problem with this subject is that we all know it but we can't write it .the terminologies are completely new and difficult initially, however, these teachers classes are good, fun and will be helpful
Social issues: done very nicely by Rajkumar sir.
Governance is taught by Rambabu sir and Ashish sir are very good too.
The student portal is very active. and rather everyone is overactive on it. u ll have daily current affairs, tests there.
Most of the teachers will help u in ur problems except few and will give u the best advice, but you need to give away hesitation for this.
Bad Reviews:-
If you are joining this institute because you need individual attention, better not join because there are 28 batches alone of general studies with 400 strength each .and so most of the solutions wud be very generalist in an approach that may suit you, may not suit you.
Even if you have the desire to go and meet teachers in the staffroom like me, you will have to make a little extra effort.
You will always feel the absence of a personal guide.
Catching teacher after class is a little difficult, so it is better if you clear all doubts in the class itself.
Overall Review:-
Overall, I would recommend that you can join this institute only after going through all ncerts, because the approach they follow is generalist, they won't teach u too high or too low. If you are a complete novice, you will find it difficult to move along with the classes, so better give a quick reading of all ncerts before joining, this is the minimum that is a must for all before joining else classes will not make much sense to you and if you are too highly prepared with the syllabus, you can still join in order to have some push , otherwise not of much use for you.
Classroom Courses offered by Vajiram and Ravi IAS Academy New Delhi
Courses Offered
Public Administration
Geography
Psychology
Sociology
Political Science & IR
Philosophy
Commerce & Accountancy
Anthropology
Economics
Civil Services Aptitude Test (CSAT)
Essay
General Studies (Prelim cum Mains)
Medical Science crash course & Test Series
Mathematics
History
Online Courses offered by Vajiram and Ravi IAS Academy New Delhi
Preparation of Current Affairs is an essential component in a student's preparation journey for the Civil Services Examination. Current Affairs has its presence at the Prelim, Main and Interview stages of the C.S Exam. It has the potential to decide the success of a student in the Civil Services Exam.
The Institute in its strive to help students study effectively, has designed a Current Affairs course to suit the Prelim Test with MCQs and Main Exam with questions & answers. The content prepared by a well-trained team of experts covers the current issues both factually and analytically.
This enriched content on Current Affairs is available to students on Vajiram's App and students' portal in the form of daily events and important articles apart from the monthly Current Affairs Magazine called 'The Recitals'.
To further enhance its coverage of Current Affairs, we have introduced Current Affairs Online Classes to ease learning through lectures and comprehensively cover the important issues for all the stages of the Civil Services Examination.
The online classes would focus on in-depth analysis and providing inter-linkages to current issues. These lectures are based on the academic calendar of the UPSC, from June 2020 to May 2021.
The online lectures would be taught by Vajiram & Ravi's experienced faculty. The videos along with the respective class handout would be uploaded twice weekly on Wednesdays and Saturdays.
To further enhance their preparation regularly, students would also be asked to take online monthly current affairs Test of 50 MCQs.
FAQs related to Vajiram and Ravi IAS Academy New Delhi
Ques: Can we join in between the course period and access the previous videos?
Ans: Yes, you can view the videos that have been uploaded since 20th June 2020.
Ques: Do I have to pay, if I am a current G.S student studying at Vajiram and Ravi IAS Academy New Delhi?
Ans: This course is available free of cost for current General Studies students of the 2019-20 G.S batches, until the Prelim Test 2020. After the Prelim Test 2020, students would have join the online course by paying course fee.
Ques: Is there any discount available to ex-students of Vajiram and Ravi IAS Academy New Delhi?
Ans: Yes. Students of the 2018 G.S batch would be offered this fee at Rs. 25,000/-. A coupon code would be sent to you to avail of the discount.
Ques: What is the relevance of Current Affairs in the Civil Services Examination?
Ans: The Prelim, Main and Interview carry more than 50% of questions based on current affairs. Effective current affairs preparation increases the chances of a student to attempt more number of questions in the exam, correctly.
Ques: How do I integrate my Current Affairs preparation between the content and classes?
Ans: Students should read the daily current affairs articles provided on the portal on a daily basis and extend their preparation further by studying the monthly current affairs magazine along with the current affairs classes.
Ques: Would the classes cover Current Affairs only for the Prelim Test?
Ans: It is advised that the student prepares simultaneously for the Prelim and Main exam. The online classes are designed to cover important content for the Prelim and Main Exams and also helping students to prepare for the interview.
Ques: When should a student join the Current Affairs course?
Ans: Students should begin preparing Current Affairs regularly and not let it pile up closer to the exam. Students should begin preparing for atleast 10 months before the Prelim Test. Regular coverage of current affairs helps a student to stay updated, organize developments on issues, understand deeper and analyze.
Ques: How are the online current affairs classes helpful for a student?
Ans:  Vajiram and Ravi IAS Academy New Delhi has been helping its students with quality content and now it has taken the initiative to help them with classes on current affairs. Quality content and classes are the most effective method to prepare current affairs. The classes help a student to understand what to study and how to study.
Ques: Are there classroom current affairs classes also available?
Ans: Due to the lockdown and Covid-19 emergency, Vajiram and Ravi IAS Academy New Delhi has reached out to students to help them to continue to prepare as the lectures and content are available to them online. Online Current Affairs classes are a form of continuous support to a student's preparation. Current Affairs classes are only available online presently.
Ques: Is there an option to refund the online current affairs course?
Ans: No, the online current affairs course cannot be refunded after a student is admitted to the Vajiram and Ravi IAS Academy New Delhi. However, when a student joins the current affairs online course and later join the General studies classroom program in August-September 2020, then the fee will be refunded back to the student after he/she is admitted to the G.S Prelim & Mains classroom program, as it includes current affairs classes.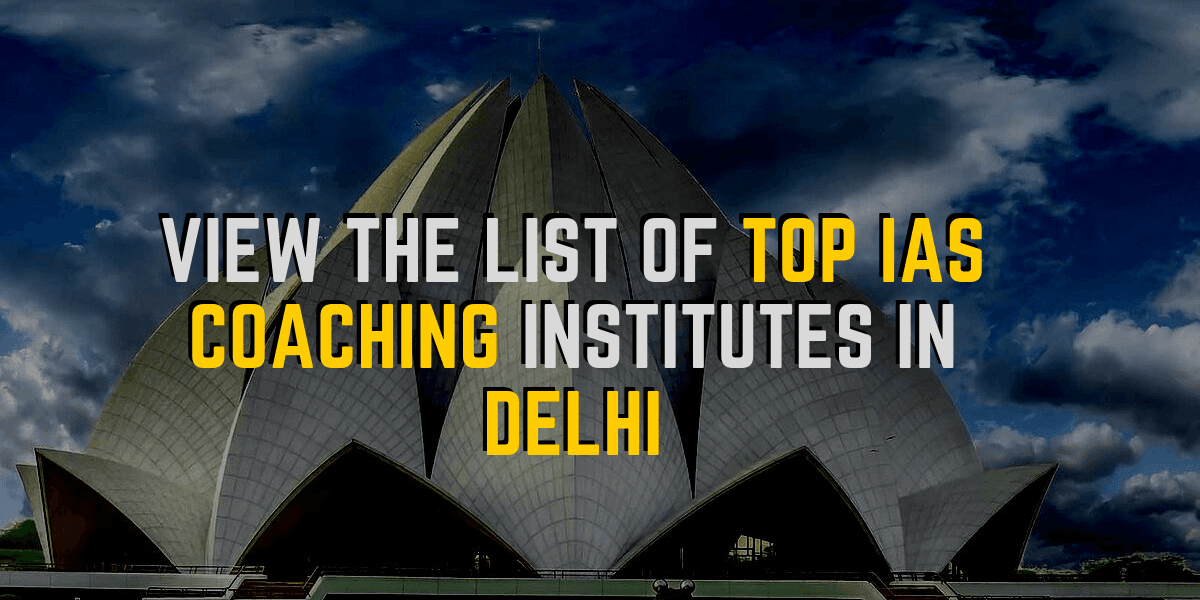 List of Top IAS Coaching Institutes