Top 7 CLAT Coaching in Bangalore is an article drafted and crafted by WAC's Research team as more and more students are finding Professional Training to crack the CLAT exam with the best marks possible. Getting into the best CLAT coaching in Bangalore can give any student an edge over others. It is really beneficial for any student to join the best CLAT coaching centres in Bangalore.
CLAT
Introduced in 2008, Common Law Admissions Test (CLAT) is an all-India entrance exam conducted by National Law Universities (NLUs). There are a total of 21 NLUs in India that organizes this exam on a rotational basis. Based on the results of this exam, the students are then offered admissions in the post-graduate and undergraduate degree programs in law such as LL.B and LL.M of these universities.
The 21 participating NLUs are some of the most coveted law universities/schools in India, including the likes of National Law School of India (Bangalore), popularly known as the Harvard of the East, NALSAR University of Law (Hyderabad), National Law Institute University (Bhopal), and Rajiv Gandhi National University of Law (Patna).
Eligibility Criteria for the CLAT
As the CLAT exam is for undergraduates as well as post-graduate students, the eligibility criteria are different for both categories.
In a 10+2 or equivalent examination, a candidate should have scored at least 45% marks. If the candidate belongs to SC/ST category, the minimum mark required in the 10+2 or equivalent examination is 40%.
The age limit for unreserved candidates to appear for CLAT is 20 years. The same for SC/ST, OBC, and Specially Abled Person (SAP) is 22 years.
In LL.B, Integrated LL.B, or equivalent examination, a candidate should have scored at least 55% marks. If the candidate belongs to SC/ST category, the minimum mark required is 50%.
There is no age limit for candidates appearing for CLAT to get admission to a post-graduate course.
If you do fulfill the above-mentioned criteria, you can start looking for the best CLAT coaching Centre in Bangalore to start preparing for the exam.
To apply for the CLAT exam, a candidate needs to fill an online form at the official CLAT website. The application forms are generally made available in January, and candidates can submit them online until the following April. Hall tickets are offered in May, just before the exam. The results of the exam are declared in June.
While filling the CLAT application form, a candidate must provide details such as their name, email address, and contact details. You will also be required to submit scanned copies of your standard 10th and standard 12th mark sheets and make online payment of the exam fee. If you are applying for a PG course, you will be asked to upload scanned copies of your LL.B mark sheet.
---
Parameters for Selecting the Best CLAT Coaching Centres in Bangalore
Home to one of the most reputed law schools in the country, the National Law School of India, Bangalore is a popular destination for students to appear for CLAT. The locals and thousands of students from all over the country move to Bangalore to prepare for the CLAT exam.
As a result, there are hundreds of institutes that offer CLAT coaching centres in Bangalore. While many options ensure that every candidate can select an institute that best meets their requirements and expectations, choosing the best often proves immensely challenging for most. If you, too, are looking for the best clat coaching centres in Bangalore, here are some parameters based on which you can make your selection-
The most important consideration when selecting a CLAT academy is its faculty. Visit the institute or browse through its website to know more about the faculties. The institute should have faculty with extensive experience in preparing students for CLAT.
The institute doesn't need to have world-class infrastructure or facilities. But it should at least offer the basics so that the candidates have a positive and productive learning environment.
The next important consideration is the course content. Avoid institutes that do not offer clear information about the content of their CLAT program. The course should be designed to make sure that every candidate is adequately prepared for each of the CLAT subjects.
A simple way to analyze CLAT coaching institutes is by checking their past results. Top institutes are able to remain consistent with their results. Check past results of at least 2-3 years to know whether or not an institute is a right choice for you.
As there are several CLAT institutes in Bangalore, you can easily find one that perfectly suits your budget. It is not necessary that the most expensive institute is always the best. There are several top law coaching institutes in Bangalore that have reasonable fees.
Travel Time and Lodging Facilities
If you are moving to Bangalore from another city, you also need to check the lodging facilities around the institute. There are some locations in the city like Rajaji Nagar, Benson Town, Malleshwaram, Richmond Town, etc., that are known to be expensive. Also, check how far the institute is from your location as Bangalore is known for its legendary traffic.
Mock tests are also very important for the students as it helps them understand their progress. The test results can help you know your strengths and weaknesses to focus more on subjects you are weak at.
It will be an added advantage if the CLAT academy also offers online learning resources. This will ensure that you are able to study on your own anywhere and anytime. Some of the top coaching centres also upload classroom lectures so that the students can use them anytime they like.
CLAT is in no way an easy exam to crack. Throughout the coaching process, you will have several doubts and queries regarding different subjects and topics. There should be special doubt sessions at the academy where faculties help students with their doubts.
To get admission at a top NLU, you will also be required to through an interview round. Some of the law coaching institutes in Bangalore also help the students prepare for such interview rounds.
---
List of Top 7 CLAT Coaching in Bangalore
The Institution's / Organization's Ranking done by WAC results from the research done by our team. It is totally Independent of the Rankings done by the Govt. Bodies. If any Institute has any Queries regarding any Information Updates or has conflicting ideas in terms of Ranking positions, can contact us. Email at rishabh@wac.co.in or Call on +91-9818198188.
So in your search of the CLAT Coaching in Bangalore, we are suggesting you the 7 Best CLAT Coaching in Bangalore:
Rank 1 : VPROV
VPROV, an invaluable institute with a veracious educationalist Prof Rajesh (2006 CAT Topper, B.E, MBA, LLB, Ph.D.) as its Founder & Director, is undoubtedly the best CLAT coaching institute in India.VPROV, with 76 learning centers in India and nine overseas complemented by a qualified team, has sent hundreds of students to National Law Universities.
They also train students on CAT, GRE, GMAT, CLAT, SAT, IPMAT, and NRA-CET. If you get into "Prof Rajesh's 100 Batch," wherein Prof Rajesh himself trains the student, then you are almost into TOP NLUs.
Mode of Training: Class Room and LIVE online.
76 Learning Centers in India
100+ Quizzes
200+ Mocks
400+ Sessions
800+ Assignments
Complimentary Access to Non-CLAT Mocks
1000+ VPROV Students in NLUs
250+ VPROV Students scored 170+ in LSAT
CLAT
AILET
SLAT
LSAT
Christ University
VPROV has got 1500+ Pages of Copyrighted content delivered to students via books apart from online content. Three levels of testing on each topic with national-level rankings, which elucidates Students on-ground reality of competition.
WAC recommends VPROV for CLAT Coaching for the following reasons :
VPROV has sent 1000+ students into National Law Universities.
VPROV'S integrated Law entrance course (i.e., Class 11th, Class 12th, and CLAT PREP) is the finest integrated course in India.
Meticulously chosen 'Legal Aptitude' topics make students crack CLAT Legal with ease and act as a foundation course to NLU's BA-LLB.
Students can switch to classroom mode from live online mode or vice versa as per one's convenience.
Even the backup sessions are conducted in 'Live online mode.'
Last but by no means least-Pre-eminent materials of VPROV bolster students 'critical reasoning ability skills.'
Address: MBA Auditorium, Cambridge Institute of Technology, KR Puram, Bengaluru, Karnataka-560036
Phone No: +91 8884008880
Website: www.vprov.com
---
Rank 2 : IMS
With more than 40 years of rich history, IMS is the next best option for Bangalore's best clat coaching centres. It has 5 CLAT centers in the city and is popular among CLAT aspirants for its thoroughly designed course content and experienced faculties.
The institute has strict deadlines for syllabus completion, and 2 rounds of concept revision are conducted to ensure that all the students clearly understand every concept. More than 30 mock tests are conducted throughout the training period along with a number of workshops to not only prepare students for CLAT but for their future career in law.
Apart from classroom programs, the institute also offers correspondence courses. In CLAT 2018, 3 students from IMS were among the top 100 AIRs, with one of them achieving the coveted AIR 5.
---
Rank 3 : Endeavor Career
With humble beginnings in 2005 with a single institute in Ahmedabad, Endeavor Career has become one of the best clat coaching centres in Bangalore, with more than 10 centers all over the country. To date, the institute has helped more than 45,000 students crack CLAT and has consistently produced all-India toppers.
It has two centers in Bangalore, with the head office located at Jaya Nagar and the other center in Koramangala. Endeavor Career focuses on the 360-degree development of the students by providing proven and comprehensive course materials, regular mock tests, and workshops.
The expert faculty at the institute is known to offer personalized mentoring to make sure every student is adequately prepared to succeed at CLAT. Apart from the classroom course, the institute also offers an online course for CLAT admission. 
Address: 23, 1st Floor, Vasavi Plaza, Near Cool Joint, 11th Main, Jaya Nagar, Bangalore
Phone no. : 080-41310888
---
Rank 4 : Paradygm Law Coaching Center | CLAT Coaching in Bangalore
If you are searching for an institute that only excels in law coaching, Paradygm Law Coaching Center can be an excellent choice. A venture of IIM Ahmedabad and NLSIU alumni, the institute focuses on an adult-learning philosophy. It provides students with an open and friendly environment to learn, ask questions, and express their opinions.
It has been able to deliver consistent results with many of its students achieving top AIRs. Personal attention is given to every student and their progress is monitored to make sure that every student of the institute is adequately prepared for CLAT.
The management team of the institute has designed the course content and mock tests are organized regularly to provide students with an edge in their CLAT admission. Paradygm offers daily classroom lectures as well as weekend classes. The daily classroom program is of 8 months but a shorter version of 4 months is also available. The weekend course is available for 1 year and 2 years.
---
Rank 5 : Asian Academy
The next top institute for CLAT coaching in Bangalore is Asian Academy. While the coaching institute is not very popular, it has delivered impressive results in the last few years. Apart from CLAT, Asian Academy offers preparation courses for several other law entrance tests.
Past students of the institute are all praises for the professional faculties at the institute that give individual attention to every student. The effective and innovative teaching techniques at this CLAT academy are known to abundantly help students in their exam preparation. Asian Academy offers course materials, and tests are conducted every weekend to check the students' performance.
The institute offers daily classroom lectures and has recently also introduced a weekend program for CLAT preparation. The institute is located at Banaswadi in Bangalore and does not have an official website.
---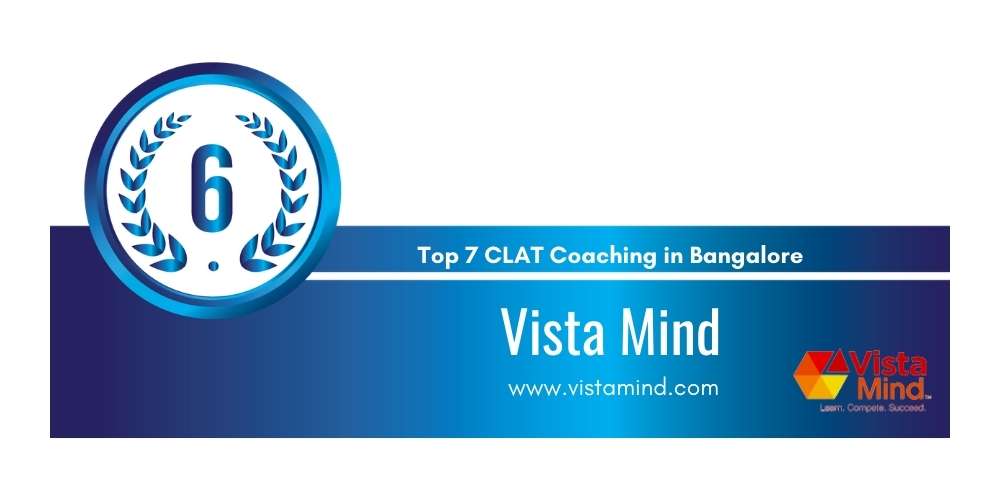 Rank 6 : Vista Mind | CLAT Coaching Centre in Bangalore
With more than 15 coaching centers throughout the country, Vista Mind is also highly recommended for CLAT admission. It has a single coaching center in Vasanth Nagar in Bangalore which also offers several courses for other entrance exams such as GRE and LSAT.
The institute has expert faculties that follow a unique teaching approach to make sure that every student is able to understand all the important concepts with utmost clarity. Printed notes are provided for exam preparation and test series is regularly organized to keep track of the students' progress. Moreover, Vista Mind also offers e-learning material and most of the offline lectures are available in online format too.
Apart from classroom courses, it also offers distance learning courses for students who cannot attend classroom lectures. The institute also has a library for students and also offers accommodation facilities on a first-come-first-serve basis.
---
Rank 7 : Career Launcher
Established in 2003, Career Launcher is one of Bangalore's best clat coaching centres, not just for CLAT but several other competitive exams like CAT, Bank PO, CSAT, PDP, and more. It has 8 CLAT centers in Bangalore and is very popular for its impressive results history.
It has been producing CLAT toppers for 8 consecutive years, making it an excellent option for someone looking for a quality institute with a proven track record. The institute offers its own study materials and mock tests are conducted on a regular basis to make sure that the maximum number of students are able to get admissions at top NLUs.
With a solid team of highly experienced faculty, one can rest assured that they are in safe hands at Career Launcher, Bangalore.
---
Disclaimer
The content published on this page is a compiled result of What After College's Research team. What devises the parameters of the research and the content structure After College's Research Team is not related to rankings done by governmental bodies.
A third party has purely done this research. Kindly contact +91 9818198188 to make desired changes in the contact information related to your college.
---
Top CLAT Coaching Centres in Bangalore will Help You
CLAT Coaching in Bangalore is majorly going to help you while you go through the 5 step procedure of submitting the application form & they give you enough knowledge as per the CLAT Exams Pattern required to crack the CLAT Exam.
Cracking CLAT Exam Pattern
CLAT is an objective type offline exam with different patterns for UG and PG candidates.
200 MCQs divided into 5 sections- Logical Reasoning, Legal Aptitude, GO and Current Affairs, Elementary Math, and English
1 mark for every correct answer with a negative marking of 0.25 for every wrong answer
Exam duration is 120 minutes
150 MCQs divided into 3 sections- Jurisprudence, Constitutional Law, and Other Law Subjects
1 Mark for every correct answer and a negative marking of 0.25 for every wrong answer
Exam duration is 120 minutes
Cracking Syllabus for CLAT
CLAT exam pattern has remained the same over the years with different question papers for undergraduate and post-graduate courses. Undergraduates have a 2-hour paper with 200 MCQs divided into 5 sections- Logical Reasoning, GK and Current Affairs, Legal Aptitude, Elementary Math, and English. Every correct answer will get you 1 mark, and every wrong answer will deduct 0.25 marks.
Even post-graduate candidates have a 2-hour paper with 150 MCQs divided into 3 sections- Jurisprudence, Constitutional Law, and Other Law Subjects. Every correct answer gets you 1 mark, and every wrong answer will result in a deduction of 0.25 marks. Due to the CLAT exam's important role in the career, most candidates prefer taking law coaching for the same.
Roadmap to Becoming a Lawyer in India
Based on the results of CLAT, an undergraduate can take admission in a 3-year LLB program. Once the classroom course is completed, a student is then required to do a compulsory internship. After completing the internship, you can enroll with a state bar council to advocate and clear the AIBE (All India Bar Examination).
After clearing AIBE, you can either start practicing law as an advocate or continue your studies by taking up admission in the LLM post-graduate course.
---
Why Join CLAT Coaching in Bangalore?
If you are searching for an institute that only excels in law coaching, The demand for CLAT has increased remarkably in the last few years. The number of candidates appearing for CLAT exam is consistently growing at the rate of 5%-7% every year. As a result, the competition to secure a seat at one of the top NLUs has become very intense.
The rising competition has made CLAT coaching a must for every student wishing to crack the entrance. While it is possible to clear CLAT without coaching, it is only through a professional CLAT academy that you will get the much-needed edge that will significantly increase your chances of succeeding at the exam.
With top faculties training you for the exam, you will always have someone experienced to rely upon for your CLAT preparation. Moreover, the reputed CLAT coaching in Bangalore is known to have a carefully designed course curriculum and regular mock tests, doubt sessions, and more to ensure that the students are physically, emotionally, and psychologically prepared to succeed at CLAT.
---
Online vs. Offline CLAT Coaching in Bangalore
An increasing number of coaching institutes in Bangalore have now started offering online courses for students who cannot regularly attend classroom lectures. Moreover, there are now also online exam preparation portals that provide coaching for CLAT. While digital classes are getting popular for anywhere and anytime flexibility, most students still prefer the traditional offline method.
Let us have a look at some of the pros and cons of offline and online coaching-
Non-isolated learning process
Faculty to always answer your queries
Higher probability of learning
Presence of other students preparing for the same exam
Fixed timings
Dependent way of learning
Accommodation and travel expenses
Learn anywhere and anytime
Independent way of learning
No wasting time and money on traveling and accommodation
Often cheaper than offline law coaching
Isolated learning
No immediate help in case of doubts or queries
No face-to-face interaction with faculty or other students
Needs regular access to the internet and consistent power supply
The Drop-out rate of online coaching is very high
As you can see, offline and online coaching have their benefits and drawbacks. But after comparing the two, most CLAT candidates generally go with the offline option. However, if online training suits you better, you can go ahead with this option as well.
---
LSAT vs CLAT Coaching in Bangalore
CLAT and LSAT are two of the most popular law entrance examinations in India. As a result, most students find it challenging to select between the two. While CLAT (Common Law Admissions Test) can get you admission in 21 participating NLUs and a few other law institutes that accept CLAT scores, LSAT (Law School Admission Test) has a broader scope and is taken 80 law universities/schools in the country.
As mentioned above, CLAT is organized by 21 NLUs on a rotational basis. On the other hand, LSAT is organized by Pearson VUE for LSAC (Law School Admission Council )India.
---
Different Career Options in LAW
After getting your undergraduate or post-graduate degree in law, you will have many different areas of specialization to choose from. Some of the top options include-
Criminal Law
Civil Law
International Law
Labor Law
Taxation Law
Administration Law
Family Law
Apart from working as a lawyer or advocate, there are also many other career options for law graduates like-
Career Option for Law Graduates
Legal Advisor
Legal Journalist
Legal Analyst
Corporate Lawyer
Government Service
Teaching
Law Firm Administrator
---
Notable Alumni from Renowned Law Colleges
India has some powerful and influential lawyers who inspire students looking for CLAT coaching in Bangalore. Some noteworthy names are-
Ram Jethmalani (Government Law College, Mumbai)
Fall Sam Nariman (Government Law College, Mumbai)
Harish Salve (Dr. Babasaheb Ambedkar College of Law, Nagpur)
Soli Sorabjee (Government Law College, Mumbai)
Mukul Rohtagi (University of Mumbai)
Abhishek Singhvi (Faculty of Law in University of Delhi, Cambridge University, and Harvard University)
---
Conclusion
Top CLAT coaching centres in Bangalore regularly conducts mock tests that follow the exam pattern mentioned above to ensure that the students get an adequate experience of the actual exam. They are then provided feedback based on their exam performance to increase their chances of succeeding at CLAT and landing a seat at one of the top NLUs.
---
Frequently Asked Questions about Best CLAT Coaching Centres in Bangalore