Searching for the Bank PO Coaching Classes in Mumbai? Here's the list of the Top 7 Bank PO Coaching in Mumbai drafted and crafted by the WAC's research team to help you make the right decision. Are you planning to take the Bank PO exam? If so, you'll need to find good coaching classes to help you prepare. Mumbai is a great city to take the exam, as there are many excellent coaching classes available. In this article, we'll share seven of the best Bank PO coaching classes in Mumbai.
---
What is Bank PO?
The position of a Bank Probationary Officer, short-formed as a PO, is generally a Scale 1 Assistant Manager. A person who grabs this position becomes a Grade 1 Scale Junior Manager; hence, being called a Scale 1 Officer.
Usually, after the selection process, a PO has to undergo an extensive training program based on different verticals, like accounting, finance, investment, and more. In a way, a PO has to ensure that the bank's business remains constant by handling customer complaints and issues effortlessly.
As far as the examination goes, the entire process can be quite tricky, thanks to the complex syllabus. That's one of the primary reasons why candidates are suggested to seek help from a renowned Bank PO Coaching Classes in Mumbai, to make the most out of this vacancy.
The syllabus is curated to gauge the aptitude as well as the general awareness of the candidate. There are three different steps, the preliminary exam, the main exam, and the interview. The preliminary paper is divided into three different sections, such as Quantitative Aptitude, Verbal Ability, and Reasoning. The main comprises five sections, namely, Computer Knowledge, General Awareness, Reasoning, Quantitative Aptitude, and Verbal Ability. However, this pattern may differ from bank to bank.
When it comes to the eligibility criteria, the candidate must be anywhere between 21-30 years of age while applying for this examination. For those who belong to SC and ST classes, are ex-servicemen or hold Jammu and Kashmir Quota, age relaxation of 5 years has been provided. Furthermore, those who belong to the OBC category can avail of the age relaxation of 3 years.
Apart from that, the candidate must have a graduation degree from a designated university as the minimum qualification with 55% – 60% marks. Also, there should not be any criminal record against the candidate whatsoever. Furthermore, the candidate is required to have a good knowledge of computers, including MS Office.
Why Coaching for Bank PO Necessary?
There is no denying the fact that bank coaching centers have become a stepping-stone in the career of those who wish to pursue the PO line. Currently, keeping in mind the cut-throat competition it has become essential to create a balance between studies and adequate time management, which is difficult to learn on your own.
That's where these institutes step in. There is a variety of considerable institutes that help you crack PO exams seamlessly. Not just you can have your hands on good study material available in the industry but you can also learn short-cuts and tricks through experts. The weekly mock tests and exams can give you a helping hand in assessing where you stand in terms of the bank level.
Although clearing the bank PO exam without coaching isn't an impossible deal, however, it would take real discipline and time management to study well. Not just that, but you would have to be updated with the industry trends and latest editions. Any sort of negligence can end up causing you a lot of trouble. To save you from this hassle, coaching institutes take up the responsibility for the same.
---
Parameters to Select Bank PO Coaching Classes in Mumbai
There are many coaching institutes in every city which claim to be the best in the business. But not all of them can match their lofty claims. Selecting a Bank PO Coaching Classes in Mumbai for preparing for bank PO competitive exams is a very important step and can decide the fate of your career. Therefore it is necessary to select only the best coaching institutes for a successful career.
Selecting a coaching institute for competitive examinations requires you to look at various aspects of the institute. The most significant criteria that a student should consider before selecting a coaching center in Mumbai are-
The faculty of an institute is the primary factor that decides the credibility of the institute. An experienced faculty will make sure that the students get educated about the subjects in an effective manner.
High-quality infrastructure is a basic necessity of a good bank PO coaching institute. This ensures that the students get a good environment for studying and attending classes.
The structure of the course determines the outcome of the entire coaching program. Institutes that offer well-designed courses help with the all-round development of the student's capabilities.
Past results are akin to a trophy case for coaching institutes. A bank coaching center with consistently good results for many years is a sure shot sign of a good institute.
The value for money aspect should always be considered while selecting a coaching institute. Centers that provide high-quality education at a lower price offer better value and should be opted for.
While selecting a coaching institute, you should keep in mind the availability of low-cost lodging facilities in the vicinity of the institute. Institutes that require long-distance travel should be avoided.
A good institute should have regular Mock tests organized among the students. This helps in knowing the progress of a student and identifies the strengths and weaknesses.
Institutes should have online resources available apart from regular classes. This will be beneficial for students as they will be able to check on the online material in their spare time.
Special doubt clearing sessions are organized by the best institutes to solve the problems faced by the students. This helps the students in securing an extra edge in the exams.
Special Focus on Interview Rounds
By providing special attention to interview rounds of Bank PO examinations, Bank coaching centers can help aspirants secure better results in examinations.
---
List of Top 7 Bank PO Coaching Classes in Mumbai
The Institution's / Organization's Ranking done by WAC is a result of the research done by our team. It is totally Independent of the Rankings done by the Govt. Bodies. if any Institute has any Queries regarding any Information Updates or has conflicting ideas in terms of Ranking positions can contact us. Email at rishabh@wac.co.in or Call at +91-9818198188.
We are going to help you in choosing the right Bank PO Coaching Classes in Mumbai. You can discover a rundown list of the Top 7 Bank PO Coaching in Mumbai as per our research-
Rank 1: Prayas India | Bank PO Coaching Classes in Mumbai
Winner of many awards in recent years, Prayas India is an ISO 9001:2015 certified institution that specializes in the preparation of various competitive examinations like UPSC, Bank PO, MBA CAT, SSC, and many more. A set of experienced and motivated faculty members guide the students through the courses.
A technology-driven approach to exam preparation that helps in simplifying exam preparation sets Prayas apart from other coaching institutes. Prayas also has an E-Pathsala, an online platform where students can access free videos from various subjects like the English language, Quantitative Aptitude, Logical Reasoning, etc which can help in Bank PO preparation.
Having won numerous awards for the best institute, Prayas is constantly striving to deliver the best services at the most reasonable prices. The excellent results over the years have helped Prayas become the leader in the domain of coaching institutes. Because of all these factors, we can conclude that Prayas India is the Best Bank PO Coaching in Mumbai.
---
Rank 2: Guidance Group | Bank PO Coaching Classes in Mumbai
The guidance group is an institute that aspires to guide candidates in becoming successful officers. They specialize in Bank and civil services coaching. Their faculty is very experienced and many of the faculty members have exposure to UPSC and other state civil service examinations. With top-notch infrastructure and effective monitoring of the progress of students, the Guidance group aspires to help clear the examinations in their first attempt itself.
The guidance group also has live classroom facilities that help the students to get their coaching online. They offer a scholarship to meritorious students and to students from economically backward classes. Along with this, the Guidance group also offers a mentorship program where an aspirant is provided with a mentor who acts as a guide for the aspirant. Over the years, the Guidance group has produced many top-ranking students.
Address:14, 1st Floor, Plot No. 6, Mukund Mansion, Opp Nakshatra Mall, Ranade Road, Dadar(W), Mumbai – 400 028
Phone No. : +91 77387 38982
Email: guidanceeducon@gmail.com
Website: http://guidancegroup.co.in/
---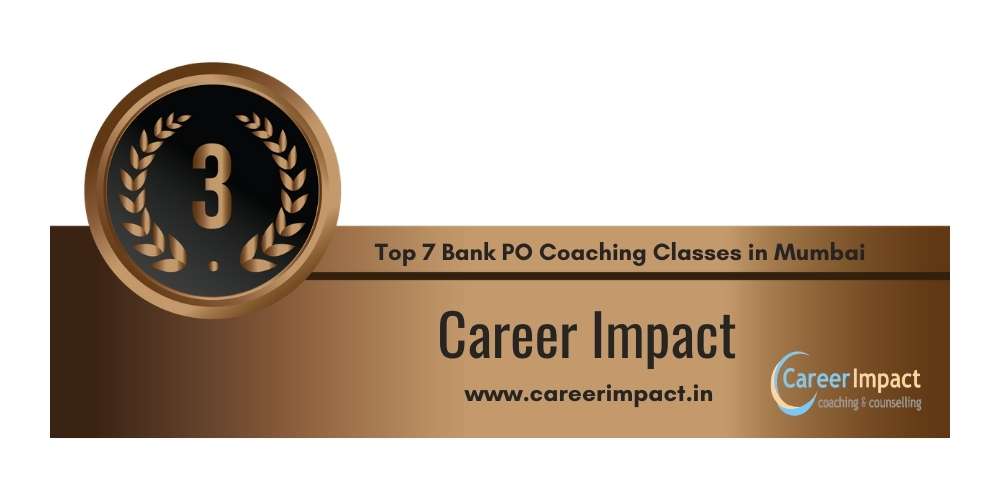 Rank 3: Career Impact | Bank PO Coaching Classes in Mumbai
Career Impact is one of the most trusted names in the field of Bank PO Coaching Classes in Mumbai. Career Impact is different from other banking coaching institutes because of the fact that Career Impact provides personalized coaching for banks and other entrance exams in batches of up to a maximum of 8 students.
This ensures that each student gets individual attention. The trained and experienced faculties of the institute teach the best techniques to maximize the score of the aspirant. The course content is designed to help the candidate achieve better scores in the examinations with the least effort while providing a lucid understanding of the subject.
Career Impact has been shaping the careers of banking aspirants since 1999 and has changed the lives of thousands of students until now. Many top-rankers have been produced by this institute over the years. The consistent record of this institute makes it one of the best institutes for bank coaching in India.
Address: 902, B-wing, Venus Tower, Bldg No 43, Axis Bank Building, Near Azad Nagar Metro Station Gate No. 2, Veera Desai Road, Andheri ( West), Mumbai 400 053.
Phone No. : 09619 248430,  09833511665, 022 26744476,  09820 400325
Email: info@careerimpact.in
Website: http://www.careerimpact.in/
---
Rank 4: Career Launcher
Career launcher aims to cater to learners of different age groups across diverse fields of education. Led by a team of extremely qualified professionals including IIT and IIM alumni, Career Launcher is one of the topmost Bank PO Coaching Classes in Mumbai. Apart from classroom programs, Career launcher also provides online classes for Bank PO, Clerk or SO exams. Aspirants can also opt for the bank correspondence study material for all major bank exams. Along with suggesting a list of books that are crucial in clearing the bank examination, Career Launcher also provides a set of Bank eBooks that can be accessed via an app or through the web at any time by the student.
To prepare the student for the GD and interview round, the institute offers PDP sessions for interviews facilitated by top officers and bureaucrats. With over 20 years of experience in bank coaching, Career Launcher is one of the most reputed names in the business. Having helped define the career of thousands of students, Career Launcher is undoubtedly one of the best institutes for bank coaching in Mumbai.
Address: CL Educate Ltd., A-45, First Floor, Mohan Co-operative Industrial Estate,
New Delhi – 110044
Phone No. : 7303-295-393
Email: support@careerlauncher.com
Website: https://www.careerlauncher.com/
---
Rank 5: Career Power
Career Power is an institute that provides classroom-based coaching to aspirants for banking and government sector jobs. It is a part of Adda 247, one of the largest and fastest-growing education technology companies in India. Established in 2010, Career power has now become a prominent player in the field of bank coaching. Along with classroom training, candidates are also provided with online courses. They have their own YouTube channel through which videos on multiple subjects are made for the benefit of the students.
Led by a team of IIT and IIM alumni, the faculty at Career Power is experienced and talented. Correspondence courses are also provided by the institute for students who do not want to enroll in the classroom program. To check the progress of the students, online test series are organized regularly. Having shaped the careers of lakhs of students over the years, Career Power enables aspirants to realize their true potential.
Address: Metis Eduventures Private Limited India, No. C113, 3RD Floor Sector 2, Noida- 201301
Landmark: Near Noida Sector, 15 Metro Station
Phone No. : +919958500766
Email: info@careerpower.in
Website: https://www.careerpower.in/
---
Rank 6: T.I.M.E.
TIME stands for the Triumphant Institute of Management Education. Established in 1992, TIME is one of the most trusted institutes for taking Bank PO Coaching Classes in Mumbai with over 246 offices across the entire country. TIME offers classroom programs for a variety of competitive examinations and Bank PO is also one of them. Along with offering a classroom program, TIME also offers Distance learning courses and online courses for students who cannot opt for the classroom program. TIME also offers an online test series for the students to check their skills. This online test can be taken through the web or directly through their app. Video courses are also available for students.
With a faculty of excellent experience and a nationwide presence, TIME is one of the most popular institutes for banking coaching. Having helped hundreds of thousands of students realize their true potential and achieve their dreams, TIME is a leader in bank coaching and the list of top rankers produced by the institute is increasing every day.
Address: 1st Floor, Kapadia Chambers, 82, Old Nagardas Road, Nr. Chinai College, Andheri (E), Mumbai – 400 069
Phone No. : 022-26833059,022-26833177
Email : andheri.mumbai@time4education.com
Website : https://www.time4education.com/
---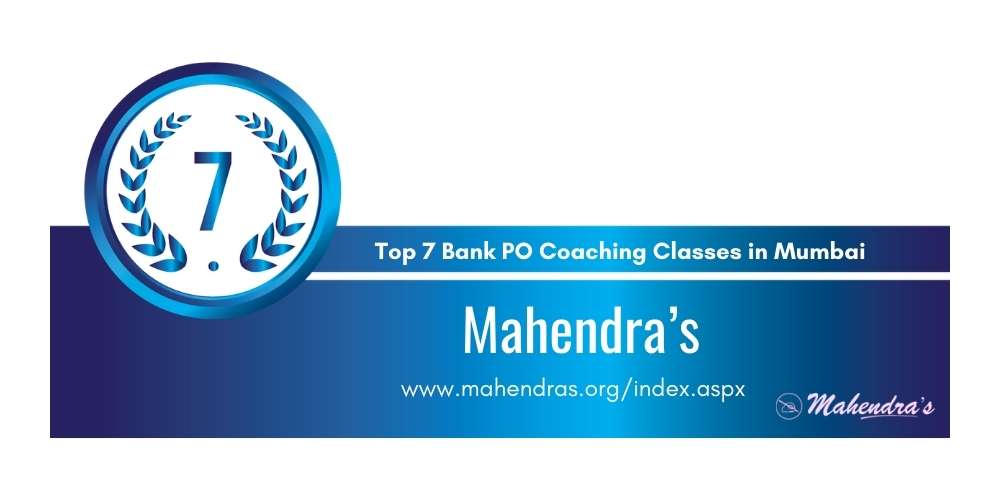 Rank 7: Mahendra's | Bank PO Coaching Classes in Mumbai
Mahendra is a coaching institute that is dedicated to providing the best training to aspirants for a successful career. Mahendra's Institute is ahead of the curve in terms of digitization of its courses and teaching procedure. With cutting-edge infrastructure and technology like Smart classes and smart labs, the students at Mahendra's are given the best of modern technology to help with their exam preparation. With multiple assessment techniques Smart assessments, class worksheets, Mahendra's advanced classes, etc to keep track of the progress of the student, the institute also organizes special classes for clearing doubts and problems as they arise. Speed tests are also organized to help the aspirant get familiar with the pattern of the exam.
By changing the way the course is delivered to the students, Mahendra has made sure of the success of their candidates. With an ever-increasing list of successful candidates, Mahendra has become a staple name in the field of bank coaching.
Address: Mahendra Arcade, CP-9, Vijayant Khand, Gomti Nagar, Faizabad Road, Lucknow, PIN – 226010
Phone No. : 1800-103-5225
Email: info@mahendras.org
Website: https://mahendras.org/index.aspx
---
The content published on this page is a compiled result of What After College's Research team. The parameters of the research and the content structure are devised by What After College's Research Team and it is not in any way related to rankings done by governmental bodies. This research has purely been done by a third party. Kindly contact at 91 9818198188 to make desired changes in the contact information related to your college.
---
Online Coaching Vs Offline Coaching
Cracking a competitive exam, such as this bank PO, is definitely not a cakewalk. It requires serious commitments as well as profound preparation to see the name on the merit list. So, when it comes to deciding between offline Bank PO Coaching Classes and online classes, there are certain metrics and factors that you must keep in mind.
Even though the online mode is trending these days and you get to watch relevant videos by sitting in the comfort of your house, the offline mode has an edge higher than that. By visiting an institute, you can always rely on expert teachers whenever you face any trouble, unlike the online mode where communication hours are restricted.
If you're still unable to decide, this comparison will surely make things easier for you:
Required silence around to concentrate
More independence than others
Ability to gain knowledge on your own
Short of ideas
Lack of presentation skills
Forced to do everything on your own
The right direction provided by experts
Learning the ability of time management
Regular tests and exams to assess where one stands
Higher fees
More distractions
Compulsion of attendance
---
Bank PO Examinations
The PO exam is conducted online. It is divided into three different sections, namely English Language, Quantitative Aptitude, and Reasoning Ability. While the English language section comprises 30 questions, the other two come with 35 questions each. Every question is of 1 mark. The total period provided to complete this exam is of 1 hour.
How to Secure a Job in a Bank?
To get a dignified job in the banking sector of the country, there are two major steps that you would have to follow, such as:
Every designation from a lot of bank jobs comes with certain prerequisites in terms of eligibility. Just make sure that you match all of them for your desired post, and things will become easier for you.
To get a bank job, you'd have to crack the relevant exam. To make this happen seamlessly, you can enroll yourself in an ISB bank coaching center, and you'll be guided well.
---
How to Apply for Bank PO?
The application is divided into three different steps. You would have to:
Fill details
Upload documents
Pay the fee
If you belong to a general category, you would have to pay Rs. 600 to fill up the application form. And, for those belonging to a reserved category, the fee amount is Rs. 100. The mode of paying this amount is online, and there are different methods to make the transactions, like net banking, debit card, and credit card.
Once you have submitted your application, you can then check its status by visiting the official IBPS website and entering your login ID and password. Post the registration, IBPS issues admit card that you can download from the website.
---
Bank PO vs Bank SO Exams
A Probationary Officer is considered the Management Trainee and gets a probation period of at least two years. During this time, the trainee gets to handle several responsibilities, like professional link building, customer service, document verification, and more.
On the other hand, a bank SO would only have to interact with other employees mostly. They are only required to make sure that all the departments of the bank work in peace together. They have fewer responsibilities than a PO, and they are mostly posted in urban areas.
---

Frequently Asked Questions about Bank PO Coaching Classes in Mumbai