Here's 8 Best SSC CGL Coaching in Hyderabad is an article drafted and crafted by WAC's Research team as more and more students are finding Professional Training in order to crack the SSC exam with the best marks possible. Getting into the best SSC Coaching in Hyderabad can give any student an edge over others and it is really beneficial for any student to join the top SSC coaching Centre in Hyderabad. Enrolling in SSC coaching will help in increasing the chances of success.
SSC or Staff Selection Commission, an organization established by the Government of India, conducts examinations to recruit staff at multiple levels in various ministries as well as departments of the Central Government. SSC conducts examinations at two levels- 10+2 and at the graduation level. 10+2 is known as Combined Higher Secondary Level Exam (CHSL) and the graduate-level is known as Common Graduate Level Examination (CGL). Here in the article, we are shortlisting the Top SSC CGL coaching in Hyderabad where you can train yourself for the exams SSC recruitment is done in three stages- tire I, tire II, and the personal interview.
The first two tires contain objective-type multiple-choice questions. A personal interview is the final stage of recruitment for SSC and it focuses on personality tests or post-relevant skill tests.SSC recruits both at 10+2 and graduate level, where students are not well versed with the kind of questions asked in competitive exams. Preparation for a competitive exam is very different from that of the semester or final exam preparation. The young SSC aspirants may often become clueless on how to prepare, what to study when to study etc. Hence, with the guidance of a good coaching institution, their preparation may be brought under the track to ensure success.SSC is popular among job seekers as it recruits for government departments. Government jobs are secure and one of the most sought career options.
Before getting yourself enrolled in a coaching class, do go for a bit of internet research, talking to some of the students who studied in the particular institute (if you know any). You may also prefer to visit the institute yourself, talk to the counselor, faculty, or Director (whoever is available), take a demo class (if that option is available), and get yourself satisfied regarding the quality of education. A good coach can make or break your inner potential and hence it is absolutely necessary to do your bit while selecting the SSC CGL coaching in Hyderabad. Once you are convenient with the quality of teaching, location of the institute, and other similar factors, you can proceed to the next step. Read on to find the
---
List of 8 Best SSC CGL Coaching in Hyderabad | Get SSC Coaching in Hyderabad
The Institution's / Organization's Ranking done by WAC is a result of the research done by our team. It is totally Independent of the Rankings done by the Govt. Bodies. if any Institute has any Queries regarding any Information Updates or has conflicting ideas in terms of Ranking positions can contact us. Email at rishabh@wac.co.in or Call on +91-9818198188.
Rank 1: Rishi Academy of Competitive Exams (RACE)- An Institute for Bank & SSC Exams
Rishi Academy of Competitive Exams is an ISO 9001-2008 certified institution that provides SSC JE coaching in Hyderabad. RACE is the winner of the National Education Excellence Award 2014 and the Education Excellent Award 2013. In RACE, classroom teaching focuses on clearing the fundamental concepts and covering the entire syllabus. But, the competitive examination is all about time management and hence, students are made to solve a set of 25 questions in 20 minutes on a regular basis. This regular task helps students get acquainted with the kind of questions asked in SSC.
Students can also appear in the online mock tests
Get printed copies of Weekly Current Affairs Bit Bank (with 100+ questions).
Dr. G. S. Girdhar, Director
Rank 2: iRise Academy
iRise is one of the prominent SSC coaching institutes in South India and they work with the motto of adding fuel to your inner fire. iRise focuses on quality coaching. iRise believes that SSC aspirants should focus primarily on SSC only as the syllabus is lengthy and only the ones who are well versed with the syllabus and exam patterns can prepare well and crack it in one go.
Bunch of excellent faculty
Best study materials that they provide
Rank 3: Indian Academy of Competitive Exams (IACE)
IACE is an ISO 9001: 2008 certified institute that is well known for quality coaching to the SSC aspirants. IACE, an initiative of a bunch of passionate academicians works with the motto of helping young students choose the ideal career option and guiding them towards success.
Bunch of passionate academicians works
Mentors help students choose the ideal career option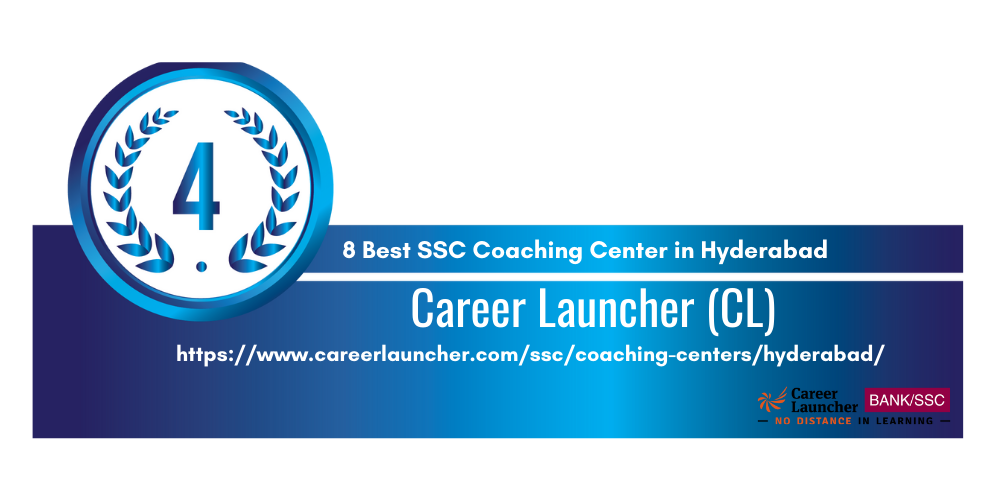 Rank 4: Career Launcher (CL)
Career Launcher is yet another premier coaching institute for competitive examinations in India. It has four centers in Hyderabad- Ameerpet Center, Himayathnagar Center, Madhapur Center, and DilsukhNgr Centre. In the classroom teaching, Career Launcher focuses on maximum output with updated study materials, expert faculties, and regular tests. Career Launcher also provides online SSC classes that contain 61 live sessions and 5 e-books. Apart from these, CL also provides for mock tests, correspondence, e-books, etc. With its result-oriented course, designed by experts, CL focuses on enabling the SSC aspirants to realize their inner potentials and achieve their goals.
Institute will provide updated study materials
Address: 202,2nd floor, Aishwarya Chambers, Survey no-500, Above Ratandeep Supermarket, Rukminipuri colony, A.S Rao Nagar, Hyderabad, Telangana
Phone No.: +91-8882120120
Rank 5: Triumphant Institute of Management Education Pvt. Ltd. (T.I.M.E.)
T.I.M.E. is a premier coaching institute that has guided and mentored thousands of students towards success and their goals. Apart from regular classroom teachings, the online tests of T.I.M.E. are specially designed to provide maximum results to the students. In Hyderabad, T.I.M.E. has nine centers-
Ameerpet,
Dilsukhnagar,
Kukatpally,
Madhapur,
Mehdipatnam,
Narayanguda,
Park Lane,
Tarnaka and
A S Rao Nagar.
Regular classroom teachings
Expert Mentors and Best faculty
Address: D No 1/6-2/1,2/2/,2/3,2/4, P No 100, 3rd Floor, Sharada Plaza, Beside Asian Radhika Multiplex, Anupuram Colony, A S Rao Nagar, ECIL, Hyderabad- 500062
Phone No.: 040-40088300, 040-40088400
Email: hyderabad@time4education.com
Rank 6: Classmate Academy
Classmate Academy, a well-known coaching institute for competitive exams, is an initiative of IITians. In this institute, apart from competitive exam preparation, students are exposed to situations where students can grow in all spheres.
Classmate Academy has five branches in Hyderabad-
Prepare for competitive exam preparation
Students can grow in all spheres
Rank 7: Scholars Chamber
Scholars Chamber is another well-known coaching institute for SSC aspirants. It provides coaching for both 10+2 and graduate-level SSC examinations. This institute is well known for offering free demo classes and special doubt clearance sessions. Apart from the excellent bunch of faculties whose prime focus is to provide exhaustive coverage of the syllabus; Scholars Chamber conducts mock tests to prepare their students for the final day. They also provide time-management tricks, personal interactions and updates, and the best study materials to their students. For tire, I, about four months coaching is provided to the candidates with four to six hours per day coaching. Every day, two to three subjects are taught by the expert faculty of the institute.
Similarly exhaustive caching is provided for tire II and candidates who clear the 2nd tire of SSC are also given the training to face the final interview. Scholars Chamber arranges few mock interviews so that candidates are well acquainted with the kind of atmosphere they are likely to experience at the time of their final interview or personality test.
Institute provide exhaustive coverage of the syllabus
Scholars Chamber conducts mock tests
They also provide time-management tricks, personal interactions and updates, and the best study materials to their students
Rank 8: SSIB or S S Institute of Banking (Coaching for all Competitive Exams)
SSIB, a well know caching institute for all competitive exams in Hyderabad has a good repute among SSC aspirants due to its quality teaching. Students can choose the medium of instruction for SSC coaching in SSIB which may either be English or Hindi. Apart from the regular classes, an online test facility is also provided to the students so as to make them familiar with the kind of questions asked in the SSC examination. Time management is a major factor that determines the success or otherwise of the candidates. Hence, SSIB tries to make their students skilled in all the possible short-cut techniques so that they can utilize their time in the exam hall.
Considering the stability and prestige that a government job brings to one's career; it is certainly not surprising that youths aspire to crack SSC. To crack competitive exams like SSC where applicants are examined in three different stages, one must be well prepared and dedicate a good amount of time to ensure that. Though it is not necessary to join a coaching institute to crack competitive exams; we cannot ignore the benefits of coaching classes. Coaching classes compels one to devote some specified amount of time every week for preparation. A good coaching institute will bring stability, motivation, and discipline to your preparation routine. The study materials provided by the coaching instates work as a base, mock tests increase your speed and shortcut techniques taught in the institute will help you ensure that you complete the paper on time.
A coaching institute often becomes a place where you meet like-minded people. As all of your batch-mates will be SSC aspirants, talking to them, sharing preparation tips or other similar activities will also motivate and improve your preparation. This write-up lists down the eight best SSC JE coaching in Hyderabad. If you are from Hyderabad and looking for a stable career, go and get yourself enrolled. A coaching institute will give you a direction and fasten your preparation. For success to follow, awake, and act. All the best! Meanwhile, you can also check our list of Top SSC Coaching Institutes in other cities
They trained their students with Short-cut Techniques
Trained with highly proffesional skills
The content published on this page is a compiled result of What After College's Research team. The parameters of the research and the content structure are devised by What After College's Research Team and it is not in any way related to rankings done by governmental bodies. This research has purely been done by a third party. Kindly contact at 91 9818198188 to make desired changes in the contact information related to your college.
---
Conclusion:
As you have finished the article, you must know that according to the SSC 2021 qualification models, up-and-comers can show up for the selection test however many occasions as they wish gave they satisfy the previously mentioned measures. Applicants can show up for SSC 2021 twice in a year unexpectedly.
In any case, just one attempt is permitted in one meeting. To crack this SSC exam, all that you require is self-belief and hard work. Focus is the only key to reach what you seek. Rest what need is, we have given to you, the all information about the best SSC JE coaching in Hyderabad.
Hyderabad is truly the city which has the ability to change your life. This city has made the life of millions of students over the years. Students go to this city to make their dream true. The top SSC coaching in Hyderabad have already given our country so many toppers who believe that they can change this world by their talent and hard work.
Now, after getting all this information, don't just sit over your couch confused about SSC coaching and wasting your precious time. If you have decided to prepare for SSC exams, then your every moment is costly. Save your time and get admission to one of these best SSC coaching centre in Hyderabad.
---

Frequently Asked Questions About SSC CGL Coaching in Hyderabad
Which Coaching is best for SSC?
There are various coaching that is said the best coaching in Hyderabad for SSC. We have ranked the 8 Best coaching centre in Hyderabad for SSC in this article. Rank 1 is considered to be the best.
Which coaching in Hyderabad for SSC JE provides the best study material?
All the institutes present in our best coaching for the fees of SSC coaching in Hyderabad list provide good study material, but Rank 1 has been considered the best among students.
How much does coaching for SSC charge?
The fee structure of each coaching is different. Here, we have disclosed the top fees of SSC coaching in Hyderabad.
Is coaching excellent Coaching for SSC CGL?
Coaching has been called the best to go for fees of SSC CGL coaching in Hyderabad many times. SSC coaching centre in Hyderabad has produced a large number of SSCians to date. Here, you will find the 8 Best SSC Coaching Centre in Hyderabad for SSC JE.
How would I know whether the timings for the Best coaching centre in Hyderabad for SSC JE will suit me or not?
We have specified the timings of each online coaching in our article. You can join the one that best suits your requirements & needs.