5 Best SSC Coaching in Jaipur is an article drafted and crafted by WAC's Research team as more and more students are finding Professional Training to crack the SSC exam with the best marks possible. Getting into the best SSC CGL Coaching in Jaipur can give any student an edge over others, and it is beneficial for any student to join the top coaching for SSC in Jaipur. Enrolling in SSC coaching will help in increasing the chances of success.
SSC Exam
SSC is the abbreviation of 'Staff Selection Commission. The SSC exam is a standard exam conducted every year at the national level to recruit staff to various posts. Qualifying for the SSC exams opens a wide array of career opportunities. Millions of students appear for this exam every year, but only a handful of the cut.
The competition is always high. However, once you clear the exam, you can quickly ascend the ladder towards a bright career.
Being one of the most sought-after exams, the popularity of this exam can only elevate up the hill. This post will provide you with all the information about the SSC exam, including the required amount of preparation and the best coaching institutions that will aid the students in their practices.
What Makes SSC CGL Exam More Desirable?
Every person in this world would want to grab a job as soon as they are done with their graduation. Candidates have their reason to choose SSC CGL, and here is why.
Job Safety And Financial Stability 
When it comes to selecting a better career option, job safety and financial stability are the two factors that matter the most. The Indian government offers sturdy jobs to the candidates. Furthermore, a government job features complete financial security. You get to have your salary without any delay, unlike any other private job.
Salary Increments And Timely Promotions 
Pay commissions often monitor the salary offered by the Central Government workforce. Thus, the chances of wages in the public sector climbing up are higher than in the private sector. The recommendations being much more employee-friendly in the past couple of years have made the Central Government jobs even more profitable.
Timely Promotions are yet another perk of Central Government jobs. Employees are sure to get significantly rewarded for their experience and their time on the job.
Equal Opportunities And Career Progression
Central Government practices equality for every employee irrespective of caste, creed, and ethnicity. Every person is guaranteed equal opportunities if they prove their worth in a competitive exam to get chosen. Once you get a job, the SSC conducts "grade-wise departmental competitive exams" for people in the force. Quality performance in the exam can get a person accelerated on their path to a bright career.
The popularity of SSC exams is elevating up the hill. Therefore, every SSC exam aspirant needs to start the preparations at the earliest to ascend towards the perfect future.
Cracking the SSC exams opens the door to many job opportunities featuring a perfect work-life balance. Unlike private jobs, one doesn't have to work late nights or during the weekends. Government jobs provide the employees with time for personal enrichment as well.
---
How to Choose an SSC Coaching Institute?
A plethora of SSC coaching institutes is popping up on the face of the earth. Thus, it is natural that the students feel overwhelmed about deciding which Institute to opt for. SSC exams are among those exams that are much sought for. Therefore, it demands to take into account multiple factors when choosing a coaching institute.
Experienced and qualified teachers are the main factor that makes every Institute successful. Gaining feedback from the former students of an institute will also be beneficial when in a dilemma to choose the right Institute. Institute ranking also helps a candidate in choosing the right coaching institute that suits him.
---
List of 5 Best SSC Coaching in Jaipur | Get Coaching for SSC in Jaipur
The Institution's / Organization's Ranking done by WAC is a result of the research done by our team. It is totally Independent of the Rankings done by the Govt. Bodies. If any Institute has any Queries regarding any Information Updates or has conflicting ideas regarding Ranking positions, can contact us. Email at rishabh@wac.co.in or Call on +91-9818198188.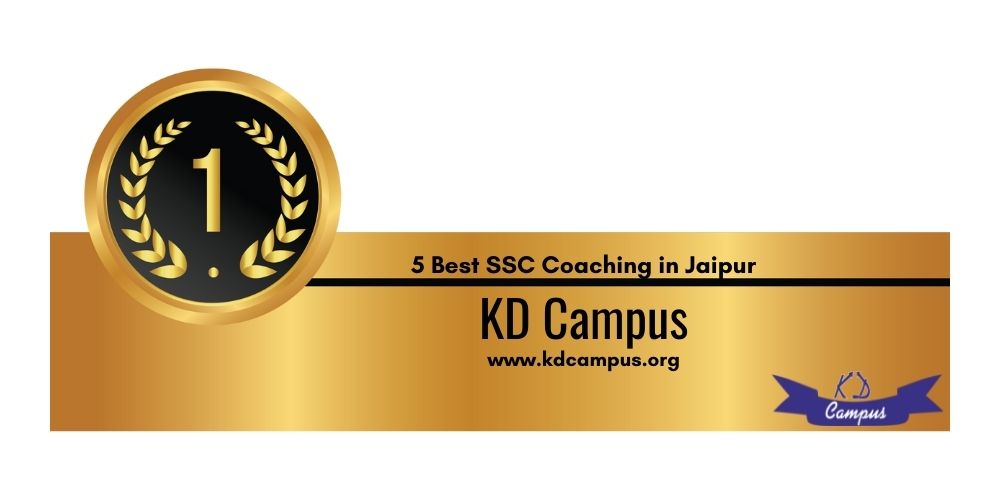 Rank 1: KD Campus
Established in the fond memory of K D Singh, KD Campus offers tutoring for almost all entrance examinations. Though a new face in the market, the campus became immensely popular for its breakthrough results. The Institute was initially headquartered in Delhi and later spread to almost every country, including Jaipur.
Expert guidance and unparallel written materials are among the many factors that make this campus popular. Furthermore, KD Campus provides its students with a unique mobile-friendly app. The app features online tests for every student to polish their skills on the go.
Address: SB 57, RIDHI TOWER, OPPOSITE SMS STADIUM GATE,RAM BAGH CIRCLE, TONK ROAD JAIPUR RAJASTHAN City: Jaipur State: Rajasthan Pin: 302017
Email: support@kdcampus.org
Website: www.kdcampus.org
---
Rank 2: Mothers Education Hub
Mothers Education Hub runs on this simple yet powerful philosophy. This SSC CGL coaching in Jaipur is one among the swiftly expanding campus for competitive examinations in Rajasthan. The institution first appeared on the face of the earth in December 2011. However, within just six years, they have tackled a good lot of challenges.
The Institute started with a handful of students and a couple of chairs in a small room. Nevertheless, today they have about nine branches spread throughout. The Institute proudly boasts about the 10,000 satisfied students they have trained to become triumphant in their journey through life. The institution is also famous for the batch of faculty members they possess and the highest ethical standards they run on.
---
Rank 3: Devotion
Devotion offers a comprehensive training program rather than a Best SSC CGL Coaching in Jaipur program. With over a couple of years of experience in the field, Devotion holds an unmatched selection ratio in all the exams held. The highly qualified teachers and compulsory doubt clearing sessions have earned this Institute the trust of many candidates.
The Institute takes candidates for beginners and trains them from scratch to become successful in their career choice. The personality development sessions that this campus hold is a must-attend session that none of the candidates should ever miss.
---
Rank 4: Sterling Education
Sterling Education is yet another professional training institute for competitive exams in the state of Rajasthan. At Sterling, completion of the syllabus is secondary, and clarity of concepts comes first. The Institute guarantees to build robust ideas out of every topic. Furthermore, their unique way of teaching makes every student want to choose this campus for SSC CGL coaching in Jaipur.
Student satisfaction is the institution's main aim. They mold every candidate into a perfect employee who masters time management. Furthermore, the Institute offers services at a reasonable fee and makes online mock test facilities available to every student.
---
Rank 5: Power Mind Institute
Power Mind Institute indeed has things set in its mind to provide complete student satisfaction. The scientific method of teaching that they adapt to makes them have to commit 16+ hours daily. Moreover, the daily and weekly test series help students ease their way through the SSC exam.
Study materials are updated every year to meet the pattern of examination. They even provide a free library facility from 6 AM to 10 PM every day to top it off.
Now that you know all about the top five Institutes that offer the Best SSC Coaching in Jaipur, it's up to you to choose which campus you want to opt for. Once you enroll yourself in any of the institutes mentioned earlier, your future is in safe hands.
Always keep in mind that the Best SSC CGL Coaching in Jaipur opens the door to a vast lot of career opportunities. If you dream of being a gazette officer someday, then the SSC exam is your one-stop solution. Thus, you must adapt to the best studying methodologies available to score a good percentile.
Meanwhile Also check out our list of SSC Coaching Institutes in:
The content published on this page is a compiled result of What After College's Research team. The parameters of the research and the content structure are devised by What After College's Research Team and it is not in any way related to rankings done by governmental bodies. This research has purely been done by a third party. Kindly contact at 91 9818198188 to make desired changes in the contact information related to your college.
Frequently Asked Questions About Coaching for SSC in Jaipur