This article will help you to find top Business Analytics Training institutes in Mumbai. Business Analytics (BA) and its associated terms like Data Science, etc. have become a useful weapon. That used for development in the modern era. The study says India will add GDP growth of $1.97 trillion. If it can cross the capability gap in advanced technology such as Business Analytics and Artificial Intelligence.
TIPS TO HELP YOU CHOOSE FROM THE TOP 7 BUSINESS ANALYTICS INSTITUTES IN MUMBAI
Are you ready to kick-start your Data Science & Business Analytics career in the fast-emerging fields? Enroll in technical Data Science & Business Analytics course and achieve expertise with Business Analytics. Additionally, the training programs designed for fresh graduates and young professionals. Who want to master and keep driving their careers in this most searched-after skill set. Construct industry experience working on research papers and challenge the idea in real-time. That will help you gain a better understanding of the subject. And also, right After College opens checked Data Science & Business Analytics training institutes in Mumbai.
Imarticus Learning
Imarticus is top Business Analytics institutes in Mumbai. Once you enroll in this business analytics certificate program, a towards on advisor will allocate to you. Someone will be your one-point contact along. 120-hour program. Offering an in-depth study of the market as per BABOK 3.0. Agile and scrum, via a comprehensive curriculum aligned with industry. Additionally, The software also includes five initiatives in the agile business analysis and scrum framework. And also, regular engagement with policy experts.
You will receive a certificate of Quality, pre-branded by Imarticus Learning. And also, SAP, after successfully completing this agile business analyst training. This certificate is an agile certification, scrum accreditation and all rolled up into one BA accreditation. Additionally, This comes in the top Business Analytics ranking institutes in Mumbai. This is the main reason it ranks top in Business Analytics institutes in Mumbai.
IMS Proschool
IMS Proschool the next top Business Analytics institutes in Mumbai. They recognize potential career opportunities, develop new-age training programs. Additionally, explore how youth can be engaged. Mentor, inspire and direct the youth to develop their potential. Visibly, they help individuals acquire skills and industry-leading certifications and also, to find jobs. And also, helping businesses develop a pool of qualified talent. They currently deliver primarily to graduate students skill programs in Economics, Accounting, Analytics, and Marketing.
Additionally, the engineers are typically already familiar with basic IT various knowledge systems. As a developer, you will take advantage and back it up with the program techniques and understanding of the subject. If you have an interest in Business Analytics or Market Research or Finance career, then data analysis might be helpful.
TECHCANVASS ACADEMY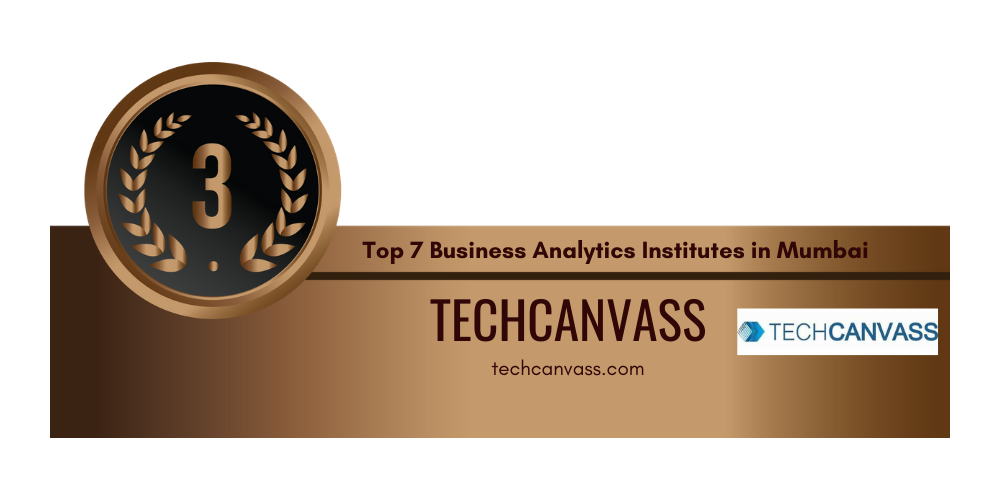 TECHCANVASS ACADEMY holds the next top Business Analytics institutes in Mumbai. This is a training course for IIBA ECBA Certification that covers entrance level business analysis skills. Such as UML modeling, SRS preparation, Agile and SCRUM, user stories, SQL, etc. This course designed for business owners or specialists who want to have their own pace of certification. The course consists of actual recordings of class sessions. Separated into small chapters and subjects with sample question questionnaires and tasks. Eligibility to PDUs-21-hrs.
Additionally, Techcanvass offers certificated training for RPA business analysts. They also offer a dual accreditation option. And also, for the training of RPA business analysts, you may opt for IIBA ECBA accreditation. This place third rank in Business Analytics training institutes in Mumbai.
Edvancer
Edvancer holds the next top Business Analytics institutes in Mumbai. It offers data science, artificial intelligence, and Analytics training courses. It has the branch in Mumbai, Hyderabad, Bangalore, Delhi, Chennai or any other place. To build these skills in your team with a view to providing you with a trained workforce, increasing efficiency processes. And also, improve your operating costs.
Live classes online for 60 hours on weekends + 12 hours of tutorials with 75 hours of duties & tasks. Additionally, Get the value of having from home through online, highly immersive lessons. In this detailed instruction, learn R & predictive modeling. Communicate and ask the professors in the classroom questions and doubts like a regular school. Get 100 percent post-certification placement assistance to get into a data science career. Additionally, Lifetime 24×7 access to the course material and all clips of your courses taken.
Aegis School of Business
It holds the next top Business Analytics institutes in Mumbai. Aegis is a pioneer in exponential development institutes such as Business Analytics, AI, cybersecurity, blockchain technology, etc. It is one of the present education alliance's most successful examples of delivering quality higher education. It established in the year 2002 to establish interdepartmental technology leaders with help from Bharti Airtel. Additionally, Aegis and IBM worked together to launch the Program in machine learning, Business Analytics, and Big Data in 2015. Looking at the success of business analytics, Aegis launched PGP in Cyber Security. And also, PGP in Applied AI in partnership with IBM again. This is the main reason it ranks good in Business Analytics institutes in Mumbai.
COEPD-Technical Development Excellence Centre
COEPD holds the next position in Business Analytics institutes in Mumbai. It aims to minimize quality problems by leading to the Business Analysis areas. Additionally, This COEPD Community gathered and formed all BAs who dedicates to this motive. COEPD raises awareness about the role of Business Analyst and also the advantages of getting a BA in the company. As part of this, Business Analysis expertise imparted all interested experts who eager for this position of BA.
Real-Time professional laboratory delivery. Pedagogy technique is scientific papers, actions, contexts, role-interactive mode play. Additionally, media revised with real-life situations, market issues, and problems. Post-BA preparation given to help nutrition and grooming to survive and grow as effective BAs.
Ziphertech
Finally, Ziphertech holds the next position in Business Analytics institutes in Mumbai. Ziphertech an education and training skills organization focused on generating positive impact through its exclusive offerings. The need for trained and qualified workers is at an all-time high as our economy moves into an inflection point. The difference between the production and consumption of a qualified and skilled workforce across various sources. Additionally, roles have caused many business ambitions to enter the skills field. And also, build ecosystems that can be competitive and sustainable in the years to come.
They are experts in the teaching of business analytics. They developed a training education for people and graduates aspiring to become analysts of the industry. In order to be successful in the IT industry, a business analyst requires special skills. The program designed by senior IT industry leaders, who combined more than 100 years of IT business analysis knowledge. Additionally, this program will carry out by professional IT industry business analysts with a minimum level of 15 years. This process guarantees thorough training and skills development for the candidate to become a highly qualified business analyst. These are top Business Analytics institutes in Mumbai.
Learn Business Analytics
Learn Business Analytics with WAC
Other Skills in Demand