Top 7 CLAT Coaching in Mumbai is an article drafted and crafted by WAC's Research team as more and more students are finding Professional Training in order to crack the CLAT exam with the best marks possible. Getting into the Best CLAT Coaching Classes in Mumbai can give any student an edge over others and it is really beneficial for any student to join the CLAT coaching classes in Mumbai.
---
CLAT
Interested in the legal system of the country and keen to pursue a career in the challenging domain? Consider taking the Common Law Admission Test (CLAT)! It is an entrance test for admission into most of the reputed law schools of the nation. Organized for the first time by the National Law School of India University (NLSIU) in 2008, CLAT and is now held by the 18 participating National Law Universities (NLUs) on a rotational basis.
Eligibility Criteria for the CLAT
National, as well as NRI candidates, can gain admission into NLUs all across India through CLAT. There is no upper age limit for candidates. For unreserved/OBC/SAP minimum of 45% marks and SC/ST minimum of 40% marks are required in class 12th or any equivalent examination. For CLAT LLM, the minimum requirement is 55% for the unreserved/OBC/SAP and 50% for the SC/ST in a bachelor's degree in law.
The law degree can be a five-year integrated or three-year law program from an institution approved by the Bar Council of India. There are several top-notch CLAT coaching institutes in Mumbai to choose from, which will train you excellently to make your CLAT Admission easier.
The 21 NLUs organize CLAT on a rotational basis. You can find out the release date of the application form from their official website consortiumofnlus.ac.in/. The form can only be filled online. You will be required to enter your NLU preferences.
Keep the last date of submission in mind and fill out the form well and before time. You can take law coaching in Mumbai from a good institute to ensure a great score, which will open up your way into the law university of your choice.
---
Parameters to Select the Best CLAT Coaching in Mumbai
It's no secret that CLAT is one of the toughest entrance exams for legal studies in India. Cracking it with flying colors requires top-notch preparation under expert supervision. While there is no dearth of coaching centers in Mumbai, finding the best fit from the sea of options can be tricky. A little research on areas that matter can help make an informed choice. Here are a few parameters to keep in mind when shortlisting CLAT Coaching for professional guidance.
Besides being accomplished and knowledgeable, the faculty should be well-versed with the exam format to extend a quality education for effective preparation. Look for an institute that has a resourceful team of mentors with plenty of experience in CLAT exams.
An institute that is equipped with modern infrastructure, a positive environment, and all the essential amenities will make the learning experience interesting, engaging, and productive.
The study material plays a key role in the success of the examinees. The institute must have well-defined course content that is easy to understand and covers the entire syllabus. Get in touch with past or present students to find out about the same.
Before enrolment, don't forget to check how many students of the CLAT institute have aced or cracked the exam in previous years. A good track record provides a snapshot of its credibility, reputation, and success rate.
You should compare the fee structure before taking a final call. Opt for an institution that provides all the essential facilities to impart quality education at a lesser cost.
Travel Time and Lodging Facilities around the Institute
Too much traveling for taking law coaching classes not only causes fatigue but also wastes time and money. Ideally, the institute should be close to your place of residence.
It's prudent to join a reputed coaching center that offers a sufficient number of test series. Besides providing practice, this helps analyze performance, identify weaknesses strengths, implement expert feedback, and build up confidence.
Online Resources/Recorded Sessions
What if you bunked class or zoned out in the middle of a lecture? The odds of this happening are high! Make sure the institute has online resources for reference. Having access to information on the web can help fill the holes in your exam preparation.
Doubt Sessions/When you'll Miss the Class
The institute must have regular doubt remedial sessions to address queries and clarify concepts/ doubts in missed classes. This reflects the efficiency and the commitment of an organization to delivering top-notch training.
Special Focus on Speaking Skills
Choose an institute that has provision for the overall development of the students with a focus on polishing speaking skills. An all-inclusive preparation helps aspirants gain an edge in the job market.
---
List of Top 7 CLAT Coaching in Mumbai
The Institution's / Organization's Ranking done by WAC is a result of the research done by our team. It is totally Independent of the Rankings done by the Govt. Bodies. if any Institute has any Queries regarding any Information Updates or has conflicting ideas in terms of Ranking positions can contact us. Email at rishabh@wac.co.in or Call on +91-9818198188.
Want to fulfill your lifelong dream of becoming a top-notch lawyer? The first step is to enhance your chances of getting admission into a niche law college by sailing through the highly competitive CLAT exam. We have ranked the institutes on the basis of their performance across a set of widely accepted parameters to help ease the selection process for law school hopefuls. Here's a low down on the 7 Best CLAT coaching classes in Mumbai
Rank 1: VPROV
VPROV, an invaluable institute with a veracious educationalist Prof Rajesh (2006 CAT Topper, B.E, MBA, LLB, Ph.D.) as its Founder & Director, is undoubtedly the best CLAT coaching institute in India.VPROV, with 76 learning centers in India and nine overseas complemented by a qualified team, has sent hundreds of students to National Law Universities.
They also train students on CAT, GRE, GMAT, CLAT, SAT, IPMAT, and NRA-CET. If you get into "Prof Rajesh's 100 Batch," wherein Prof Rajesh himself trains the student, then you are almost into TOP NLUs.
Mode of Training: Class Room and LIVE online.
76 Learning Centers in India
100+ Quizzes
200+ Mocks
400+ Sessions
800+ Assignments
Complimentary Access to Non-CLAT Mocks
1000+ VPROV Students in NLUs
250+ VPROV Students scored 170+ in LSAT
CLAT
AILET
SLAT
LSAT
Christ University
VPROV has got 1500+ Pages of Copyrighted content delivered to students via books apart from online content. Three levels of testing on each topic with national-level rankings, which elucidates Students on-ground reality of competition.
WAC recommends VPROV for CLAT Coaching for the following reasons :
VPROV has sent 1000+ students into National Law Universities.
VPROV'S integrated Law entrance course (i.e., Class 11th, Class 12th, and CLAT PREP) is the finest integrated course in India.
Meticulously chosen 'Legal Aptitude' topics make students crack CLAT Legal with ease and act as a foundation course to NLU's BA-LLB.
Students can switch to classroom mode from live online mode or vice versa as per one's convenience.
Even the backup sessions are conducted in 'Live online mode.'
Last but by no means least-Pre-eminent materials of VPROV bolster students 'critical reasoning ability skills.'
---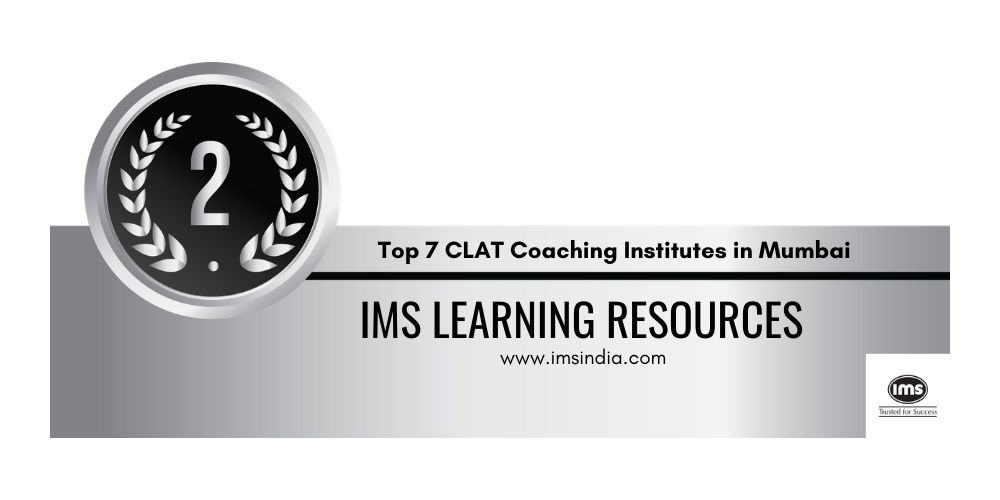 Rank 2: IMS Learning Resources Pvt. Ltd.
IMS is another premier institute for CLAT coaching in Mumbai. The brand was founded in 1977 by Professor N.R. Rane to provide bright minds with a coordinated program of academic tutoring for a successful future. IMS boasts an enviable presence in the country with over 90 branches (14 in Mumbai) across 44 cities.
At IMS, students have access to a healthy learning environment, structured pedagogy, and all the essential tools ranging from state-of-the-art infrastructure, basic facilities, computer labs, a well-stocked library, an updated curriculum, and more for an A-one prep.
The well-read and highly experienced faculty helps cover the entire syllabus meticulously. What's more, the mentors are always around to motivate, guide and offer unbiased feedback. Also, test series and mocks are held regularly for practice along with doubt clearing sessions to address issues/queries.
IMS offers flexibility in batch timings to accommodate students at their convenience. It adopts a student-centric approach with an emphasis on individual attention. The IMS Intensive Workshops based on the previous year help boost confidence in the last stage of the prep.
Address: 6th Floor, NCL Building, E Block, Bandra Kurla Complex (BKC), Mumbai Central, Mumbai – 400036
Phone no. : +912249477957
Website: www.imsindia.com
---
Rank 3: Bright Classes | CLAT Coaching Classes in Mumbai
Bright Classes is recognized as a one-stop destination for the best CLAT coaching in and around Mumbai. It was established in 1991 by alumni of IIT to provide aspirants with an intensive training program to hone their skills for a range of competitive exams. Over some time, the establishment has gained a firm foothold in the educational sector.
Bright Classes offers the most comprehensive program for CLAT prep. Taught by an illustrious team of instructors with vast experience in academics, the classes are interactive, challenging, and engaging. Also, the infrastructure is top-quality, resources first-rate, and environment healthy to help candidates derive the maximum benefits.
There are ample opportunities for revision and continuous practice after the completion of the syllabus via test series, mocks, previous year's papers, etc. A close eye is kept on the time-to-time progress of each individual. To top it all, the success rate of CLAT coaching is remarkable.
Customer satisfaction is paramount at Bright Classes. Also, the faculty is available from start to finish for expert guidance, personalized attention, clarification of doubts, and motivation.
Address: A/432, 2nd Floor, Vashi Plaza, Vashi Sector 17, Navi Mumbai – 400703, Near Apna Bazar.
Phone no. : +91 9152346360
Website: www.bitmms.com
---
Rank 4: Career Launcher | One Of The Best CLAT Coaching in Mumbai
If you are looking for a reliable institute for CLAT preparation in Mumbai, Career Launcher is the place to go. Established in 1996 by alumni of IIM, the organization has carved a niche for itself in the education sector. Career Launcher has a whopping 170 branches across 90 cities of the country.
Career Launcher is renowned for its CLAT entrance coaching program. Backed by outstanding infrastructure, a distinguished faculty, and all the key resources, the establishment concentrates on imparting rigorous training for aspirants to shine in the chosen career path. The study material in tune with the exam pattern covers the entire syllabus with precision.
Other highlights include regular tests for practice and self-assessment, doubt clarifying sessions, flexible batch timings, detailed exam analysis, an exam simulation, and more. Career Launcher has consistently broken records in terms of producing exceptional results and toppers every year.
The CLAT institute features a crash course for aspiring lawyers after the completion of board exams. It also offers online courses complete with tutorials, digital study material, video lectures, etc.
---
Rank 5: Study Campus | CLAT Coaching in Mumbai
Study Campus is another reliable destination for students aspiring to crack CLAT for a flourishing career in law. The training institute that was established in 2014 by Mahmood Hasan provides a CLAT-oriented program under professional counseling to help ace the exam.
Study Campus offers a program that is comprehensive, easy to grasp, and effective. The course content is highly relevant and crafted to consolidate fundamentals and enhance accuracy. The center boasts good infrastructure, superior teaching methodology, the finest resources, and a favorable learning environment to help aspirants maximize their potential.
The highly skilled and experienced faculty is competent in imparting quality education and handling the queries and doubts of each individual with deftness. Other valuable add-ons include workshops, smart test-taking strategies, and routine practice with mock tests to evaluate the students' progress. Study Campus boasts a stunning success rate of 99%.
Study Campus offers intensive practice sessions for weak students. It also helps in grooming the overall personality of aspiring lawyers to make a bold entry into the legal landscape.
Address: Office No. 04, D-Wing, 3rd Floor, Gora Gandhi Apartment, Above Goragandhi Hotel, Chandavarkar Road, Borivali West, Mumbai – 400092
Phone no. : 02241237666
Website: studycampus.in/
---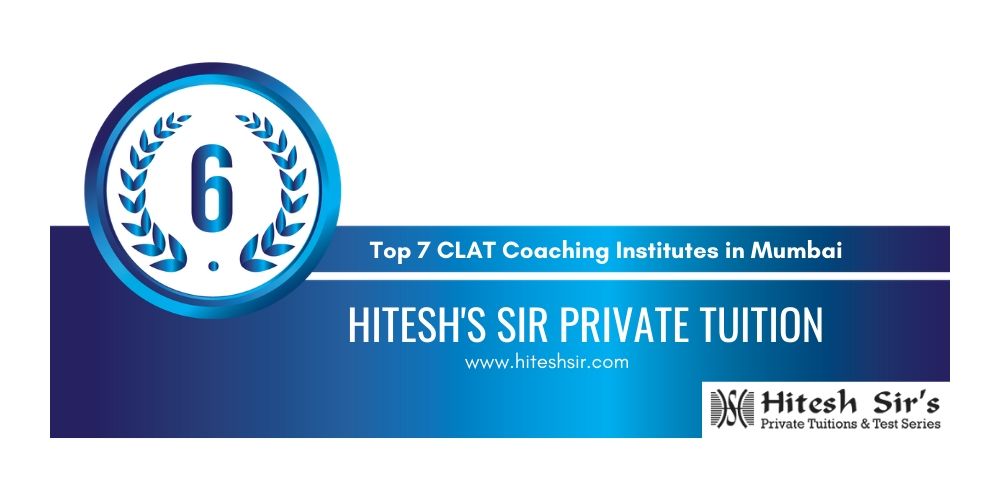 Rank 6: Hitesh's Sir Private Tuition & Private Classes | CLAT Coaching Centres in Mumbai
This is another name that stands tall among the institutes that offer the best coaching for CLAT in Mumbai. It was started by Hitesh sir in a single classroom in 2012 to guide and train students for coveted entrance exams like CLAT. The institution has come a long way from its modest origin. Thanks to quality education under the supervision of a proficient faculty, the center has grown in leaps and bounds within a short span of 7 years.
HSPT & PC strongly believes that individuals can be empowered through education and works relentlessly in doing their bit. It offers an exhaustive study module framed by experts with an accent on the specified syllabus for detailed and efficient preparation.
A team of highly competent mentors uses innovative teaching methods to make the learning process informative and appealing. Also, the infrastructure is top-class, resources perfect, and the environment spirited. There are regular classroom assignments, sectional tests, and online self-assessment tests. Also, there is sufficient time for revision and clarification of doubts. Last but not least, Hitesh Sir's flaunts an incredible success rate.
The institution goes all out to help students acquire academic excellence, vocational aptitude, and dynamic personality for great prospects. It adopts a student-oriented teaching methodology that caters to the evolving needs of the aspirants.
---
Rank 7: Khanna Tutorials | Best CLAT Coaching Classes in Mumbai
Khanna Tutorials has garnered tremendous respect for preparing the next generation of legal experts in the country. The center was founded in 1980 to provide brilliant minds a perfect training avenue to clear competitive exams in Mumbai.
At Khanna Tutorials, you have a wonderful infrastructure, basic conveniences, interactive teaching tactics, and a healthy atmosphere to make learning a breeze. Also, the institute provides the most updated, tried-and-tested study material, based on careful analysis of the syllabus for a result-oriented prep.
There is provision for additional practice after completion of the course through test series, mocks, and classroom assignments. And yes, a team of eminent educators is available 24/7 to help tackle tricky questions and doubts. Khanna Tutorials has consistently produced terrific results over the years.
Students get individual attention and unlimited access to one-on-one doubt clearing sessions by the faculty at the CLAT center.
---
Disclaimer
The content published on this page is a compiled result of What After College's Research team. The parameters of the research and the content structure are devised by What After College's Research Team and it is not in any way related to rankings done by governmental bodies.
This research has purely been done by a third party. Kindly contact +91 9818198188 to make desired changes in the contact information related to your college.
---
Top CLAT Coaching Classes in Mumbai will Help You
CLAT Coaching in Mumbai will help you while you go through the 5 step procedure of submitting the application form & give you enough knowledge as per the CLAT Exams Pattern required to crack the CLAT Exam.
Cracking CLAT Exam Pattern
Aspirants are tested out of total marks of 200 for BA LLB and 150 marks for the LLM program.  The paper for the undergraduate program comprises five sections: English (Comprehension & grammar-based) (40 marks), Mathematics (20 marks), Logical Reasoning(40marks), General Knowledge (50 marks), and Legal Aptitude (50 marks).
Each correct answer awards 1 mark, and for every incorrect answer, 0.25 marks are deducted. The paper for the post-graduate program comprises three sections: Jurisprudence (50 marks), Constitutional Law (50 marks), and other subjects (Intellectual property Law, Criminal Law, International law, etc.) (50 marks).
If you are considering taking law coaching to secure good results in CLAT, choose an institute wisely, for it will pave your path to success. While choosing a coaching institute, keep in mind factors like faculty, infrastructure, location of the institute, lodging facilities, traveling time that you're going to be spending, and the fees, etc.
Keep your priorities and requirements in mind and choose an institute that suits you and your interests best. We have thoroughly analyzed several well-known institutes that offer the Best CLAT coaching classes in Mumbai and have come up with a list of the top 7 for you to choose from.
Cracking Syllabus for CLAT
CLAT is an annual exam conducted across the country for enrolling students in undergraduate and postgraduate law programs.  Anyone who has passed the 10 +2 board examination or an equivalent examination is eligible to apply.
There is no upper age limit prescribed for the CLAT admission test. Coming to the exam pattern, the 2-hour offline test comprises 5 sections of 200 multiple-choice questions. These include English (40 questions), Elementary Mathematics (20), General Knowledge (50), Logical Reasoning (40), and Legal Aptitude (50).
Each question carries one mark, and a negative marking of 0.25 marks is applicable for every incorrect answer.
---
Why Join CLAT Coaching in Mumbai?
With the Indian economy growing at breakneck speed, the need for legal expertise in the country is surging. As a result, Law is being eyed as a lucrative career option by youngsters from all educational spheres. The popularity of the discipline can be gauged from the fact that in 2008 just 8,000 candidates took CLAT whereas over 50,000 are registering for it today.
The demand for the degree is expected to increase further in the coming years. Given the cut-throat competition, it is imperative that CLAT preparation should be top-notch.
An institute that offers the best coaching for CLAT is the answer! Besides having an impressive infrastructure and high-tech amenities, it is a guiding force that motivates, inspires, and pushes aspirants to excel.
Other plusses include access to an excellent study plan, exhaustive study material, and a brilliant faculty that delivers quality education for a successful outcome.  And yes, there are test series, question papers, and regular mocks to evaluate performance along with sessions for time management tactics, question-solving tips, addressing queries, doubts, and revision.
---
Online CLAT vs. Offline CLAT Coaching in Mumbai
Is the conventional classroom experience better for CLAT preparation or the online route? Let's throw some insight into why classroom study still has an edge over offline coaching. Reputed CLAT centers have the resources, infrastructure alongside an amazing learning environment to help aspirants improve their performance and skillsets.
They offer a systematic study plan and a defined curriculum to complete the entire syllabus on time and with precision. Professional institutes have onboard a team of illustrious mentors with vast experience and know-how about the CLAT exam format.
They strive to extend an exceptional learning experience via detailed study material, innovative teaching methodology, and test-taking tactics. Further, candidates are urged to solve test series, question papers, and mocks on a regular basis for practice and self-assessment.
What's more, the faculty is always around to interact, clear doubts, and offer expert guidance. Online coaching for CLAT is a flexible and economical format. It is an ideal preparation mode for candidates residing in far-flung areas with time and financial limitations.
It saves aspirants the hassle of daily commute since classes can be undertaken at convenience from anywhere and at any time. The learning material is within easy reach and can be accessed with a click.
---
LSAT vs CLAT Coaching in Mumbai
CLAT and LSAT are two popular national-level entrance exams for aspirants wanting to pursue a career in legal studies. They grant potential law students admissions into BA LLB and LLM courses at various law schools in India. Both have the same eligibility criterion.
However, there are some differences between the two. CLAT is organized by NLU and LSAT by the Pearson VUE on behalf of LSAC. The CLAT score is accepted in 40 law colleges including the sought-after NLUs. LSAT paves the way for admission into 83 law institutes.
The exam pattern has some distinctions. CLAT is a 2-hour paper with 5 sections while LSAT is a 2 hour 20 minutes exam comprising 4 sections. Unlike CLAT, the sectional time limit is applicable for LSAT.CLAT is a tougher exam to crack because of time constraints and negative marking.
Also, the competition is fierce as there are only about 2984 seats for the LLB course and around 600 for the LLM program. Law coaching from a reliable institute is thus recommended for CLAT preparation to secure admission to a prestigious college.
---
Different Careers in LAW
Law is a challenging and exciting discipline. Savvy graduates from renowned law schools can explore fantastic career opportunities. Besides taking the traditional route and training under a notable attorney, there is the option of joining a corporate entity as legal counsel. You can also sign up with a law firm for experience before starting your own practice.
Legal Journalism is another interesting choice of profession. Other avenues include joining an NGO and fighting for social issues, becoming a professor, or working with international organizations (United Nations, International Court of Justice, International Criminal Court, etc.). Right after completing law, you can take a shot at clearing the State Level Judiciary Exam to become a judge.
---
Notable Alumni from Renowned Law Colleges
India is home to some distinguished and powerful lawyers. Listed below are 5 lawyers who have earned an enviable reputation in the legal fraternity of the country.
He procured his law degree from the Government Law College, Mumbai. Desai was the Attorney General for India (1996-1998) and served as the Solicitor General of India between 1989 -1990.
One of the oldest advocates of the country, Jethmalani's specialty lies in constitutional and criminal law. He received his LLB degree from the Government Law College at Mumbai and his LLM degree from SC Shahani Law College, Karachi. He was India's Union Law Minister and Chairman of the Bar Council of India.
The Attorney General of India, Rohtagi, got his law degree from the University of Mumbai. His clientele includes politicians, celebs, and corporate biggies.
He is India's most esteemed constitutional lawyer. Nariman earned his degree from Government Law College, Mumbai, and has been practicing since 1971. He has served as the President of the Bar Association and the Additional Solicitor General of India.
Counted among one of the best advocates of the Supreme Court, she completed her LLM from the University of Bombay. Indira was the first-ever woman Additional Solicitor General of India.
---
Frequently Asked Questions about CLAT Coaching Classes in Mumbai