An increasing number of degree college students now struggle when it comes to selecting a good course or program after completing their graduation.
Mass communication colleges in Hyderabad!
The study of Mass Communication subject encompasses the academic study of also various means of communication. Successful completion of mass communication courses opens a complete plethora of opportunities for students in various fields of advertising and also mass communication. Mass Communication subject has become an important stream of study. Many of the institutes offering specialized courses in Mass Communication have come up. There a many institutes in Hyderabad for mass communication! Top 7 Mass communication colleges in Hyderabad are given below!
Increasing Demand for Mass Communication
If you have found your passion here and are considering joining one of the top mass communication courses after 12th, you could not have made a better choice.
New businesses are cropping up every day, which brings in the need to reach out to more people, and hence the jobs for mass communication graduates are ever-growing.
Unlike any other fields, mass communication subject has new job prospects coming up that will have massive growth rates in the next few years and the demand is already high.
This field is versatile and has no dearth of opportunities. So, select the best institute, hone your skills, and launch your career!
Mass Communication options In India VS Abroad
A few reputed training institutes which offer media-related courses include MICA (Mudra Institute of communications, Ahmedabad) XIC (Xavier's Institute of Communication Mumbai), also IIMC (Indian Institute of Mass Communication Delhi), Jamia Milia Islamia (Delhi), ACJ (Asian College Of Journalism Chennai), IIJNM (Indian Institute of Journalism and New Media Bengaluru), Christ University (Bengaluru), DU (Delhi University), PU (Panjab University), Mumbai University, Pune University and AU (Ambedkar University).
In abroad, TOEFL is a necessary competitive exam that one needs to take in order to go to an American university. A score of 90-100 out of a total of 120 can promise a decent university to pursue any of the masters in this field. That said, the bigger the better. For the UK and Australia, IELTS will be a lot more acceptable proof of English proficiency.
Types: Print Media, Broadcast Media and Internet
Media outlets have responded to all the increasing reliance of Americans on television and the Internet by making the news even more readily available to people. There are three main types of news media: print media, broadcast media, and the Internet.
The oldest media forms are newspapers, magazines, journals, newsletters, and also other printed material.
Also, these publications are collectively known as the Print Media. Although print media readership has fully declined in the last few decades, many Americans still read a newspaper every day or a newsmagazine on a regular basis.
Broadcast Media are the news reports broadcast via radio and television. Television news is hugely important in the United States because more and more Americans get their news from television broadcasts than from any other source.
The Internet is totally transforming the news media because more Americans are relying on online sources of news instead of traditional print and broadcast media.
Why choose Mass Communication in Hyderabad? – Factors in points
Apart from its historical and also political significance, Hyderabad is also one of the most popular choices for students in India. Also, Some of the reasons that make it a very great choice for students looking for mass communication colleges are as follows-
Career opportunities- From Google, American Express, SAP Labs, to Adobe Systems, some of the biggest global organizations have their Indian headquarters in Hyderabad. This means that even after completing their mass communication, students can look for job opportunities in Hyderabad itself.
Availability of great Colleges – It is home to a number of well-reputed mass communication Colleges that consistently rank among the top mass communication colleges in the country. There are also affordable colleges as well as more expensive ones that are more reputed and offer better amenities.
If you are searching for the best mass communication colleges in Hyderabad, we have a list of top 7 mass communication colleges in Hyderabad!
Top 7 Mass Communication Colleges in Hyderabad
If someone's dream is to work in the entertainment or even news industry and he is confused to choose the best mass communication college or institute.
We must say there are lots of students out there who are going through this problem.
Mass Communication colleges and Institutes in Hyderabad also provide so many full-time, part-time (Graduate & Undergraduate) courses to those students who are seeking to get a proper education in mass communication and journalism.
If we talk about, the process of finding and joining the best journalism and mass communication college or even institute sometimes it can be very tough. There are so many different colleges of mass communication to join and because of their high-scale advertising all over students get confused many times.
Therefore, the given below is a list of the most reputed colleges for mass communication and Journalism, according to 2020 ranking, some of the well-known source's these are the Top 7 mass communication colleges in Hyderabad.
Rank 1: College Of Fine Arts
College Of Fine Arts
College Of Fine Arts is committed to developing outstanding media managers and media creators for films, television, radio, print, and multimedia, as well as creative advertising and enthusiastic marketing professionals. Our standards are also very high, as are our students' performance expectations. They enroll the best and also produce qualified graduates with the skills most sought after by the industry. They have the best and experienced faculties. While they enjoy the recognition of being the best mass communication college in India our efforts are highly focused on providing all our students with courses that enrich their life while they learn.
Course Name – Entrance & Eligibility
They offer a Diploma Course in the Development Journalism to mid-career journalists from Non-aligned and Developing Countries. Students can also enroll in several post-graduate diploma programs that are offered across six specializations, including Radio and TV Journalism, Urdu Journalism, Advertising and Public Relations, Hindi Journalism, also Odia Journalism and English Journalism. The institute also extends to the training for the Indian Information Service, as a noteworthy feature.
Placements at the College Of Fine Arts
It has recorded a decent success rate of student placements in the year 2019. Some prominent also media houses hiring from this institute are Times Now, Hindu, India Today, among others.
Differential Factor
English Journalism is one of the flagship course College Of Fine Arts and here you can have wide-ranging contacts in the media and also various other fields. Exposure is there but eventually, it will also be your capability that will take you forward.
Contact Details
Address: Masab Tank, Telangana Hyderabad
Contact- 9923678946
Website: www.collegeoffineart.com/
Rank 2: Amity University Online
Amity University Online
Established in 1999, Amity University Online has witnessed great and rapid growth in terms of infrastructure, faculty, placement, and performance. The institute has an ultra-modern HD television studio and also a community radio station run by the students. ASCO, Noida is affiliated with Amity University and approved by All India Council for Technical Education (AICTE).
Course Name – Entrance & Eligibility
Amity University Online offers various courses at the undergraduate level such as a bachelor's in Journalism and Mass Communication and at a postgraduate level such as Masters in Advertising and Marketing Management, and so on.
Placements at Amity University Online
The placement cell of the college frequently organizes guest lectures, workshops, and also pre-placement talks by experts in the field. These experts are from the industry as well as academic fields. Also, ASCO strives only for excellence and aims to provide students with the best possible opportunities.
Differential Factor
The College being affiliated to Amity University also has eligibility for the centralized Scholarship programme. Meritorious students.
Contact Details
Address: 1 Block, 3rd & 4th Floor, Amity University Online, Amity Road, Sector 125, Hyderabad
Contact: 7678987678
Website: www.amityonline.com/
Rank 3: Roots Collegium
Roots Collegium
Established in 2008, Roots Collegium is one of the highly reputed management institutes, constructed over also an area of 25,000 s.ft. at Somajiguda, Hyderabad. It is affiliated to Osmania University. It imparts management education through classroom mode of instruction by experienced faculty with experience both in industry and academics.
Course Name – Entrance & Eligibility
Roots Collegium offers a total of five courses across four streams. The course duration for the Global Intermediate Programme is two years; BBA Global, BA in Mass Communication, BCom and BCom (Sales, Advertising & Marketing) is three years
Placements at Roots Collegium
The College has a placement cell that aims at enhancing the employability of eligible students.
Differential Factor
They have faculty who come from leading corporate organizations like Saatchi & Saatchi, Ogilvy & Mather, Ideas Guild, Fourth Estate, also Perfect Relations, and Genesis PR.
Contact Details
Address: Roots Collegium, Opp. B-50 Telangana Hyderabad.
Contact: 9210877877
Website: www.roots.ac.in/
Rank 4: Hyderabad School Of Business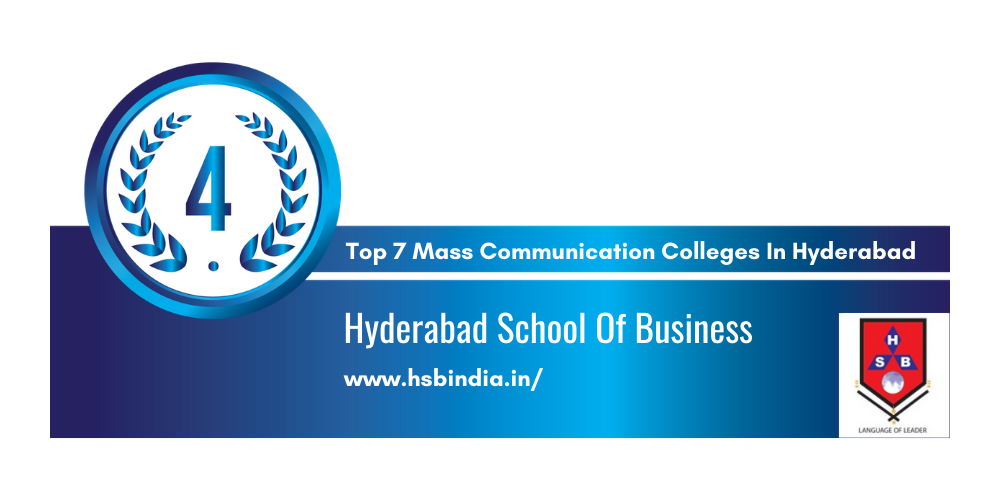 Hyderabad School Of Business
Hyderabad School Of Business was established in the year 1924. It is the only college that offers an undergraduate program in mass media and mass communication.
Course Name- Entrance and Eligibility
It offers BA (Hons.) degree in economics, English, Hindi, history, philosophy, political science, psychology, Sanskrit, also music, sociology, geography, BSc (Hons.) degree in computer science, mathematics, BCom (Hons.), BA (Hons.) in multimedia and mass communication and BA program.
Placement at IP
It trains all the students, equips them with all the skills. In the session 2018-19, the highest salary package was INR 7 lakh per annum and also the average salary package was 4 lakh per annum.
Differential Factor
The college offers scholarships to all the meritorious students.
Contact Details
Address: 31, shiv Gadh Telangana Hyderabad.
Phone: 7890988908
Website: www.hsbindia.in/
Rank 5: Reliance Education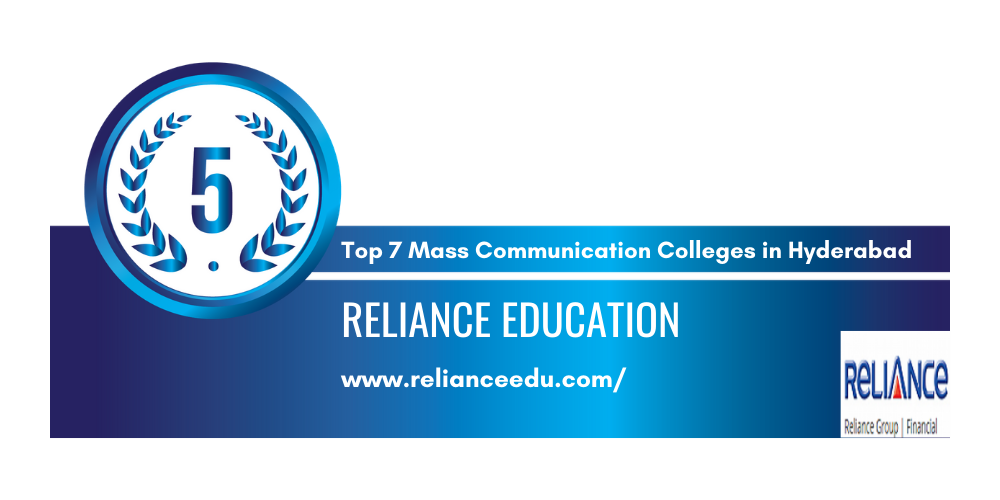 Reliance Education
Reliance Education has all over 16 courses of study, 150 employees and 2000 students. It is also one of the most well-known arts colleges in India.
Course Name- Entrance and Eligibility
The college offers undergraduate courses in English, Political Science, Sociology, Economics, also Journalism and Mass Education, Sanskrit, and Physical Education. The college also provides a one-year diploma program in Conflict Transformation and Peacebuilding. It also has the provision for a BA program.
Placement at Reliance Education
In the session 2018-19, 115 students got placed in the respective recruitment drive. The average salary package was 7.5 LPA and also the highest salary package was 37.8 LPA. More than 100 companies also participated in the recruitment drive.
Differential Factor
The college provides scholarship to all the meritorious students. They are given after analysing also the marks obtained by them in the respective college exam. Scholarships for students who need financial assistance.
Contact Details
Address: Viru Nagar, Telangana Hyderabad.
Phone: 8899009988
Website: www.relianceedu.com/
Rank 6: AimFill International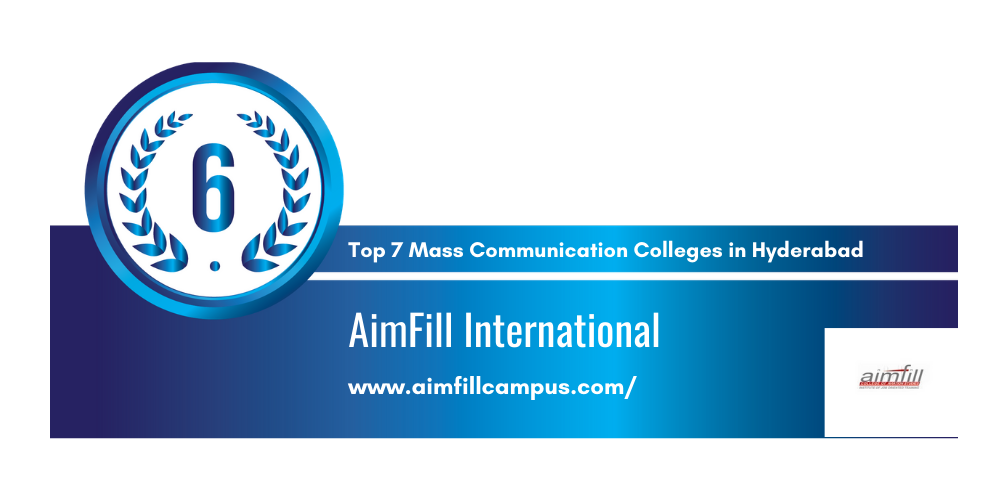 AimFill International
AimFill International has well-qualified and also experienced faculty with specialization in media, journalism, and also mass communication course With 17 long years in media education!
Course Name- Entrance and Eligibility
AimFill International of Mass Communication offers Bachelor's in Journalism and also Mass Communication (BJMC), Postgraduate Diploma in Mass Communication Advertisement Journalism, Masters in Journalism, and Mass Communication (MJMC).
Placement at AimFill International
The placement team would be actively involved in targeting the right kind of job profiles also for students which would be in sync with their abilities and facilitate also their long term career planning. Top media channels, production houses, ad and PR agencies, also research organizations and companies have already visited our campus for recruitment.
Differential Factor
Their library has audio- visual cassettes/CDs and wide range of books related to subjects of management, also aviation, hospitality, tourism, IT and computer application, fashion technology and media.
Contact Details
Address: M -161/1A, Deera, Telangana Hyderabad.
Phone: 98990 45628
Website: www.aimfillcampus.com/
Rank 7: Arena Animation
Arena Animation
Arena Animation is also accredited also by the National Assessment and Accreditation Council (NAAC) in the year 2016.
Course Name- Entrance and Eligibility
As a liberal arts college, AA offers a wide range of courses in Social Sciences, Humanities, Commerce, and also Mathematics. At the undergraduate level, the college offers Bachelor of Arts (Honours) in 13 disciplines, Bachelors of Commerce (Honours), and Bachelors of Sciences in Mathematics (Honours).
Placement at AA
AA placement is very good. Top companies like EY, Wipro, Google Adwords, and KPMG recruit few students and offer them a package of 3-3.5 lakh. The roles also offered are of assurance, auditing in the commerce field.
Differential Factor
Experts of national and international repute are for academic deliberations and engagements.

Also, Students encourage the Use of ICT techniques and e-learning .
Contact Details
Address: Arena Animation, University Of Hyderabad, Hyderabad.
Phone: 9978987656
Website: www.arena-multimedia.com/in/en/
Specialization in Mass Communication
Advertising- Advertising is a subset of marketing and involves promoting or selling products, services, or also different ideas. Also, No one is safe from advertisements as they are everywhere, from highway billboards and newspaper ads to television and radio commercials.
Public relations- Public relations (PR) focuses on maintaining a positive image between a great company/individual and the public and media. This can also be by issuing press releases to the media, scheduling public appearances and managing bad publicity.
Careers after Mass Communication
Like any career option, mass communication also has positive features as well as a flip side.
A career in mass communication also requires commitment, dedication, and sacrifice of personal time for the sake of staying on front or top, particularly in the news industry.
Following are the various job profiles to graduates in mass communication:
Fashion Photographer
Film Director
TV Correspondent
Producer
Conclusion
The study of mass communication also encompasses all the academic studies of various means of communication. Successful completion of mass communication courses opens a plethora of opportunities for students in various fields of advertising, journalism, public relations, event management, broadcast journalism, the internet, and radio. Try to know more about these mass communication colleges, go to their website, visit their facility, and also talk to the past and existing students to get a better idea about the colleges. This will make it easier for you to select the best for your mass communication course.
Meanwhile, you can also check our list of Top Masters of Mass Communication Colleges in other cities:
Disclaimer: The content on this page is a result of What After College's Research team. The parameters of the research and the content structure are by What After College's Research Team and it is not in any way related to rankings done by governmental bodies. This research has purely been by a third party. Kindly contact me at +91 9818198188 to make the desired changes in the contact information related to your college.