Top 7 GRE Coaching in Bangalore is an article drafted and crafted by WAC's Research team as more and more students are finding Professional Training to crack the GRE exam with the best marks possible. Getting into the best GRE coaching in Bangalore fees can give any student an edge over others. It is really beneficial for any student to join the best GRE coaching centres in Bangalore.
Graduate Record Examination (GRE) is a competitive exam for admissions to grad schools abroad. It is a test of the knowledge that you have developed over the years and critical thinking. Each year students from all over India take this test to qualify for admission. Many institutes are training students to prepare for this exam. In This article, we will talk about GRE Coaching in Bangalore. There are so many Best GRE Coaching in Bangalore, Which are offering courses for GRE preparation. It has three parts:
Verbal section
Analytical writing
Math section
---
What Is GRE And Why Is It Important?
GRE was started in 1949 by the Educational Testing Services (ETS), USA, to test aspiring admission seekers into various Master's and Doctoral programmers to judge their knowledge and skills in analytical writing and verbal and quantitative reasoning. The scores the candidate obtains form the basis for admission.
All the information regarding this examination is available at www.gre.org. As the top Universities receive hundreds and thousands of applications each year, the GRE score helps them with a quantitative measure of comparison to select the best and the most deserving students.
 Knowing that GRE is very competitive and thousands of students sit for it each year, students prepare well to get a good GRE score and develop the vocabulary and skills necessary to pursue their higher studies. GRE scores are also used to select candidates to grant fellowships or financial aid. GRE also indirectly builds vocabulary and skills that are expected from an average graduate student in these schools.
---
List of Top 7 GRE Coaching In Bangalore
The Institution's / Organization's Ranking done by WAC results from the research done by our team. It is totally Independent of the Rankings done by the Govt. Bodies. If any Institute has any Queries regarding any Information Updates or has conflicting ideas in terms of Ranking positions, can contact us. Email at rishabh@wac.co.in or Call on +91-9818198188.
So in your search of the GRE Coaching in Bangalore, we are suggesting to you the 7 Best GRE Coaching centres in Bangalore:
Rank 1: VPROV
VPROV, an invaluable institute with a veracious educationalist Prof Rajesh (2006 CAT Topper, B.E, MBA, LLB, Ph.D.) as its Founder & Director is undoubtedly the best GRE coaching institute in India & the U.A.E. VPROV, with 76 learning centers in India and 9 overseas complimented by a qualified team, has sent hundreds of students to IVY league Universities. They also train students on CAT, GMAT, CLAT, SAT, IPMAT, and NRA-CET.
If you get into "Prof Rajesh's 100 Batch," wherein Prof Rajesh himself trains the student, then 320+ in GRE is Guaranteed in one's first attempt, with most of them scoring 330+ out of 340 in GRE General Test. Last but by no means least- "Their Profile building services complemented by the guidance given to the students on Statement of Purpose (SOP), Letter of Recommendation (LOR) and Visa Interview is highly appreciated."
Mode of Training: Class Room and LIVE online.
76 Learning Centres in India
10+ SOP sessions
20+ AWA sessions
50+ Mocks
150+ Sessions
300+ Assignments
1000+ VPROV Students got 330+ in first attempt
5000+ VPROV Students in IVY league universities.
VPROV has got 1500+ Pages of Copyrighted content delivered to students via books apart from online content.
Three levels of testing on each topic with national-level rankings, which elucidates Student on-ground reality of competition.
WAC recommends VPROV for GRE Coaching for the following reasons;
1. VPROV has sent 5000+ students to top IVY League Universities.
2. VPROV'S integrated GRE entrance course (Coaching-Counselling-Consultancy) is the finest integrated course in India.
3. Students can switch to classroom mode from Live online mode or vice versa as per one's convenience.
4. Even the backup sessions are conducted in 'Live online mode.'
5. Last but not least, pre-eminent materials of VPROV and late-night sessions for working professionals help the student balance work and study with ease.
Address: MBA Auditorium, Cambridge Institute of Technology, KR Puram, Bengaluru, Karnataka-560036
Phone no. : +91-8884008880
Website: www.vprov.com
---
Rank 2: IMS
IMS has 40 years of successful experience in guiding, mentoring, and motivating students to realize and live their dreams. When it comes to competitive exams, IMS is the most trusted institute to join. With many highly qualified and experienced mentors, mock tests, well-elaborated and researched study materials, IMS is considered one of the top-ranked institutes for competitive and GRE exam preparation destinations.
---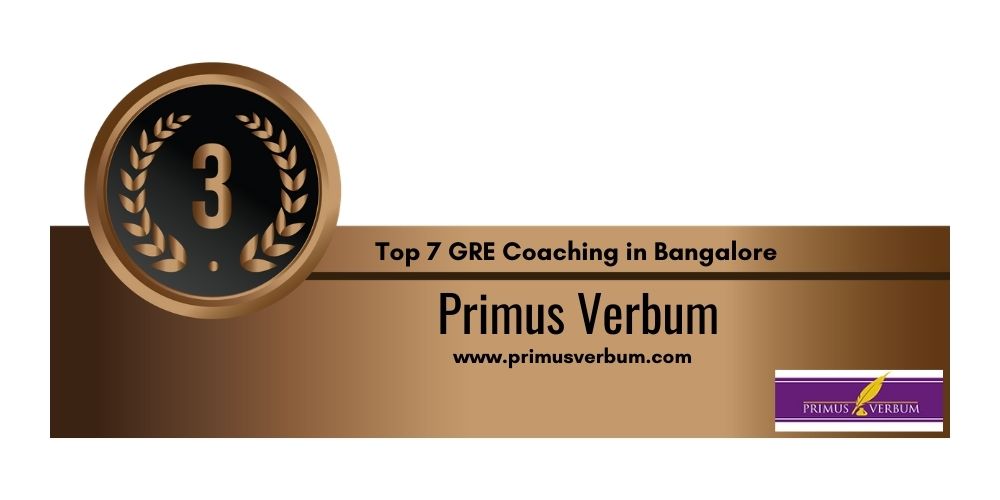 Rank 3: Primus Verbum
Primus Verbum is a reputed GRE preparation destination for students from Bangalore. Individual needs are different, so Primus Verbum tries to keep the format and medium of coaching open. Here, students are given the facility to plan their perfect setup based on their requirements. To help students get a good GRE record is the main aim of Primus Verbum.
---
Rank 4: LogIQuest
LogIQuest is a well-known institute for competitive exam preparation in Bangalore. They are experienced in training students for the GRE and have a good record of success to their credit. They focus on mock tests to give their students the real feel of sitting for a GRE.
---
Rank 5: Crackverbal
CrackVerbal promises to provide the proper guidance to the competitive exam candidates to not deviate from their target. The mentors who will guide you in your GRE coaching at CrackVerbal are meticulously hand-picked and specifically trained to guide students to the best of their abilities. CrackVerbal has three centers in GRE Bangalore – Infantry road, Koramangala, and Marathahalli.
---
Rank 6: Brainstorm Consulting
Brainstorm Consulting is a top-ranked GRE preparation institute in Bangalore. They are known to have excellent faculty with years of experience guiding students through straightforward competitive exams. They keep the sizes of coaching classes small so that every student gets personal attention. They also provide the latest study materials and conduct regular mock tests.
---
Rank 7: Jamboree
A jamboree is a good option for you if you plan to sit for GRE and pursue a higher course in a foreign University. Festival is known for its comprehensive reading materials, standardized classes, 66 hours of classroom teaching, and live webinar support. They have 20+ years of experience in training students to crack competitive exams. Established in the year 1933, Jamboree is yet another well-reputed best GRE coaching centres in Bangalore. It works with the motto 'transforming careers, transforming lives.' Apart from their focus on conceptual clarity, they offer customized learning based on the needs of their students.

To put it in simpler words, coaching is not necessary but is very useful. It all boils down to individual efforts and learning capacity. But a classroom coaching class from a good institute will surely give a boost to your preparation. You will be provided with study materials, mock tests, taught how to make optimum use of your time, and invoke a competitive spirit in you that will drive you to do better. It is almost aggressive how coaching centers make extra efforts to ensure that their students do well because they have to maintain their image and rankings. And getting help from trained professionals is never a bad idea.
A little bit of research on the track record of past students' performances helps. This is because GRE Coaching in Bangalore often twist the statistics they advertise in their brochures. They might not be lying, but they might be telling you the half-truth. So, if an institute claims that 20 of its students scored good marks in any exam, find out how many students from that institute appeared for that exam. The statistics are not very attractive if only 20 students cleared the exam out of 100.
Other things that one must keep in mind when choosing the best GRE coaching centres in Bangalore are the credentials of the teaching staff, distance from your home and the time it will take you to commute, and the overall environment of the place as you will be spending a significant part of your day there. GRE Coaching these days provide services that even the best schools don't. But they also charge exorbitant fees for the same. Therefore you must also be mentally prepared to spend that much money, keeping in mind that it does not necessarily guarantee results.
Thus, the essential factor in choosing GRE Coaching in Bangalore is how much you are ready to invest, not just in terms of money but also in your time and effort. If you are from Bangalore and preparing for GRE, get in touch with these institutes. I hope this write-up makes your decision easy and improves preparation strategies. All the best! Be ready for the good that is coming to you. Go ahead!
To ensure that Jamboree will satisfy your exam preparation needs, they offer demo classes and one-to-one sessions for willing students.
---
The content published on this page is a compiled result of What After College's Research team. The parameters of the research and the content structure are devised by What After College's Research Team and it is not in any way related to rankings done by governmental bodies. This research has purely been done by a third party. Kindly contact at 91 9818198188 to make desired changes in the contact information related to your college.
---
Other Notable Top GRE Coaching in Bangalore
Elite Mentors
Elite Mentors are one of the Best GRE coaching centres in Bangalore. With a team of expert and experienced faculty, Elite Mentors aim at providing professional guidance to the GRE aspiring students.
Knowing that individual needs vary, Elite Mentors offer courses with flexible classroom teachings and customized curriculum based on the requirements of the students. Elite Mentors are confident in the quality of training they provide to such an extent that they offer to refund the fee paid by a student if they find the teaching unsatisfactory.
---

Frequently Asked Questions About GRE Coaching in Bangalore
Which institute is best for GRE Coaching in Bangalore?
Various institutes are said best for GRE Coaching in Bangalore. We have ranked the top 7 of them in this article. Rank 1 is considered to be the best.
How much do institutes for GRE Coaching in Bangalore charge?
The fee structure of each institute is different. Here, we have disclosed the fees of every top GRE Coaching in Bangalore fees.
Which GRE Coaching in Bangalore provides the best study material?
All the institutes present in our Best GRE Coaching in Bangalore's list provide good study material, but Rank 1 has been considered the best among students.
Is Bangalore perfect for GRE Coaching?
Bangalore has been called the best place to go for GRE Coaching many times in the past. GRE Coaching institutes in this city have produced a large number of GRE to date. Here, you will find the 7 Top GRE Coaching in Bangalore.
How would I know whether the timings for the best GRE Coaching in Bangalore will suit me or not?
We have specified the timings of each institute in our article. You can join the one that best suits your requirements & needs.