Top 7 Training Institutes of Artificial Intelligence in Mumbai is an article drafted and crafted by WAC's Research team as more and more students are finding Professional Training in Artificial Intelligence. Getting into the best Institutes of Artificial Intelligence in Mumbai can give any student an edge over others, and it is beneficial for any student to join the top artificial intelligence institutes in Mumbai. Enrolling in Training Institutes will help in increasing the chances of success.
Artificial Intelligence
Artificial Intelligence (AI) is a wide-ranging computer science branch dedicated to developing smart machines that can perform tasks that usually involve human intelligence. AI is a multi-approach interdisciplinary discipline, but developments in machine learning and deep learning are using a paradigm shift in nearly every field of the tech industry. Now, let's check out some top artificial intelligence institutes in Mumbai.
---
Tips To Help You Choose From the Top 7 Artificial Intelligence in Mumbai
Machine Learning, Data Science, and Artificial Intelligence have created quite a buzz within the industry, and if you are looking to change your profession or follow your profession into Data Science or Artificial Intelligence then it would be a wise decision. So, let's see the top training institutes of Artificial Intelligence in Mumbai based on their faculty, fees structure, location, study material, etc as the parameters:
---
List of Top 7 Training Institutes of Artificial Intelligence in Mumbai
The Institution's / Organization's Ranking done by WAC is a result of the research done by our team. It is totally Independent of the Rankings done by the Govt. Bodies. if any Institute has any Queries regarding any Information Updates or has conflicting ideas in terms of Ranking positions can contact us. Email at rishabh@wac.co.in or Call on +91-9818198188.
Rank 1: Technophillia
Artificial Intelligence (AI) aims to develop intelligent machines by allowing computers to do voice recognition, decision-making, and visual perception that would typically need human intelligence.

Technophilia's AI techniques provide a solid foundation that is likely to be helpful in the business and technical worlds. This course is designed to introduce students to the fundamentals of Artificial Intelligence and more advanced applications.
Artificial Intelligence (AI) is growing more intelligent every day to improve performance across all corporate activities. Gaming, media, finance, robotics, quantum physics, autonomous cars, and medical diagnostics are areas where AI is employed. As businesses position themselves to benefit from the ever-increasing quantity of data created and gathered, artificial intelligence (AI) is a necessary component of much of the digital transformation currently underway.

This course is designed to provide a thorough grasp of Artificial Intelligence principles to help you create a successful career in AI. This course will provide you with practical, hands-on experience to allow you to complete real-world tasks with ease. This AI course draws on world-class industry knowledge to help you become a professional data scientist.
Artificial Intelligence (AI) is the next big thing in technology, and many companies are using it. As a result, the need for AI specialists is skyrocketing. The Artificial Intelligence (AI) course with Technophilia will provide you a broad grasp of the ideas of AI and how to use them to create computer programs that solve issues and achieve goals in the real world.
Internet of Things.
Web Development.
Data Science.
Automobile & IC Engine.
Android App Development.
Machine Learning.
Ethical Hacking.
Java Programming.
Python Programming.
Deep Learning Algorithms should be able to construct AI systems.
To be able to execute all Neural Network Machine Learning Algorithms variations.
Be able to work with unstructured data, including photos, videos, and text, among other things.
Study the fundamentals of artificial intelligence and how these technologies are reshaping the AI business.
Study the essential terms used in the AI field.
Through use examples, you'll learn about AI's most critical applications.
Understand how to use Deep Learning Algorithms with Graphical Processing Units (GPUs) and Tensor Processing Units (TPUs).
Convolution Neural Networks may be used to build Deep Learning and Image Processing applications.
To be able to execute realistic implementations of Reinforcement Learning and Q-Learning in the development of AI-driven games.
Be able to leverage various Python libraries to solve AI and Deep Learning issues, such as Keras, TensorFlow, OpenCV, and others.
Fees structure: ₹599.00 /- for Artificial Intelligence Course.
Check the Technophilia website to get information about the faculty.
---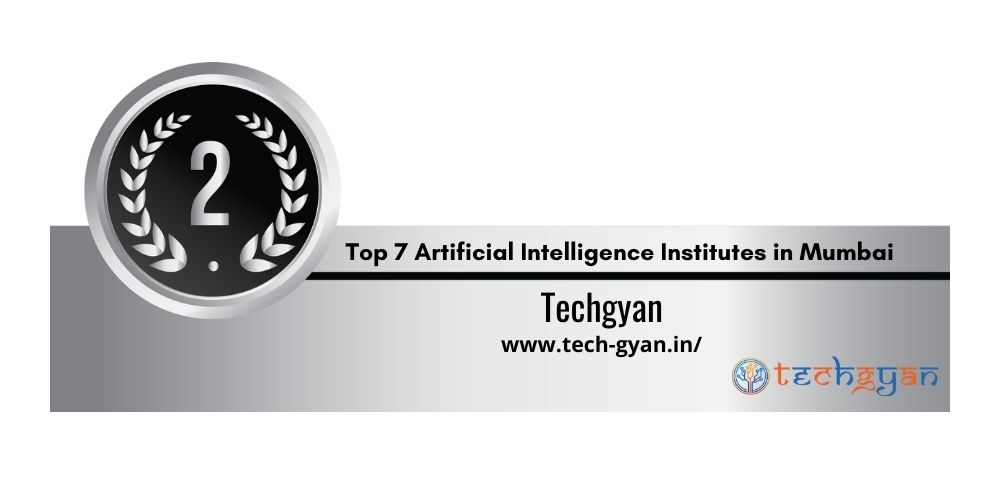 Rank 2: Techgyan
Designed for freshers and working professionals, Techgyan's Artificial Intelligence course in Mumbai is an excellent way for both groups to improve their abilities and advance in the industry. Course content and student mentoring are all handled by industry specialists, allowing students to establish a career in the exciting field of artificial intelligence (AI). To help professionals flourish in AI, Techgyan offers online Artificial Intelligence courses in Mumbai.
We are professional trainers helping bright applicants develop their reputations in Artificial Intelligence. On both a national and international level, we are proud of the achievements of our students.
Our Artificial Intelligence course online sessions enable you to improve your AI abilities and prepare you for a bright future. Our team of experienced instructors gives a complete understanding of the AI programming languages and their applications, as well as a thorough knowledge of the AI programming languages themselves. When it comes to potential and talent, we are pretty proud of our students.
Students or IT professionals, we make sure that no one is left behind in an ever-expanding field. The AI Training in Mumbai is intended to match worldwide standards of teaching so that our students may apply for the most competitive employment in the industry with global certification. Live sessions, assignments, video lectures, and interactive chat rooms are used in the artificial intelligence training in Mumbai so that students may learn about all elements of AI in a few hours.
AI is a good career option in IT, where even a newbie may make up to 6 lakhs a year, and that number grows as one gets competence in the industry. Individuals who have devoted 2-4 years to the project earn INR 10-20 lakhs per year on average.
Javascript.
Java Programming.
Big Data with Hadoop.
Cloud Computing with AWS.
Web Development with HTML/CSS.
Machine Learning.
Blockchain for Beginners.
Android Application Development.
Python Programming.
Ethical Hacking.
AI applications such as chatbots are being developed.
Recognition of speech and images Models of deep learning for many sectors.
Perform activities related to AI industrial applications.
Tensorflow, Scikit Learn, and Keras are used.
Machine Learning and Deep Learning tools and algorithms have been implemented.
Graphical Models, Natural Language Processing, and Deep Learning.
Predictive Analytics in the Real World.
Fees structure: ₹599.00 /- for Artificial Intelligence Course.
Check the Techgyan website to get information about the faculty.
---
Rank 3: GreyAtom Edutech Pvt. Ltd
GreyAtom offers hands-on technology training, mentoring, and exposure. A large group of peers as an artificial intelligence training institute in Mumbai. GreyAtom is an intensive research curriculum for computer technology, machine learning, and artificial intelligence in the form of a Bootcamp. Hence, aspirants gain technologies from GreyAtom's business leaders by focusing on actual question answers, and datasets.
GreyAtom provides the advanced "Artificial Intelligence Course" along with 429 assignments, 16 projects, 18 cheatsheets, GLabs access, and Industry recognized certificates. They also have 80+ mentors for teaching different topics who provide step-by-step guidance and take career-oriented sessions too.
Address: GreyAtom Edutech Pvt. Ltd., 2nd Floor, Innov8 Coworking, Piramal Agastya Private Limited Next to Phoenix Market City, Kamani Junction, Kurla West, Mumbai, Maharashtra 400070
Phone No.: (+91) 7977015952
Email ID: info@greyatom.com
Website: www.greyatom.com/
---
Rank 4: Imarticus Learning
Imarticus Learning is a technology-driven artificial intelligence training institute in Mumbai with extensive experience in job development through sectors such as financial services, analytics, and AI, market research, and core technology. Having trained more than 35,000 students, they have also pioneered the idea of technical degrees, "Prodegree". Moreover, they have a partnership with global giants like IBM, KPMG, Genpact, Raise Mumbai by Barclays, Moody's Analytics, Motilal Oswal, etc. They also have a partnership with many others corporates to revolutionize learning by encouraging aspirants and acquire the skills needed by the industry.
Imarticus Learning provides a "Post Graduate Program in Analytics & Artificial Intelligence". Moreover, this course provides a guaranteed fast track into opportunities within Data Science, Machine learning, and AI. In addition to this, it is a 250+ hour program, with 17 projects and one capstone project to ensure practical learning. It covers in-demand AI concepts such as natural language processing and computer vision. They provide both online and offline training with the help of Smart Classroom and blended learning via technologically augmented classrooms, supplemented by lecture recordings and 24/7 LMS access.
---
Rank 5: Pedagogy Trainings
In the past 5 years, Pedagogy Training has provided professional teaching in Artificial Intelligence courses in Mumbai with clear feedback on the new technology. They build an intelligent workforce for now and for the future. To offer outstanding commercial & realistic instruction solely in data science and business analytics is also a matter of great pride and our specialty. Their trainers also aspire to produce outstanding success with what they offer. When it comes to what is committed, they have a no-nonsense approach.
Pedagogy Training provides "AI using Deep Learning and Neural Networks Course" covering practical orientation to AI using python AI libraries. Tensorflow and Keras are used to solve an AI use case. This course demonstrates the real and practical implementation of AI for manufacturing & industrial use and application. Moreover, it is a 40 hours course which consists of 43 lectures.
---
Rank 6: Livewire Training Institute
The feedback from product firms and business experts helps in designing the courses. Instructors who are certified by-product makers and business leaders are providing the class. Hence, the training center features high-end hardware and sophisticated technology laboratories that are modeled on industry real-world R&D units. Then, the trainers are very well Course Accredited. Also, experienced teachers accredited by B2E Industry provide the value of deep realistic instruction for graduates.
LiveWire Training Institute provides an "Artificial Intelligence Course" that gives a comprehensive knowledge of the basic techniques for creating intelligent computer systems and a perception of how AI is applied to problems by introducing AI's key problems, and the state-of-the-art models and algorithms used to undertake these problems. Moreover, the duration of this course is 56 hours with a Global Competency Certification (GCC) which will add value in resume along with job opportunities in the domain.
---
Rank 7: Learning Catalyst
This artificial intelligence institute is based in Vile Parle, Mumbai. They have 2 options for taking the course. One is offline and online is the second option. Learning Catalyst's Machine Learning course is the first step into careers in Data Mining, Computer Processing, Artificial Learning, AI, and more. Therefore, they teach how to process vast quantities of data and produce knowledge utilizing Python's Machine Learning techniques and become one of the world's most successful Data Scientists.
Learning Catalyst provides "Artificial Intelligence and Machine Learning Course". Moreover, this course consists of 2 months of classroom and hands-on or online training, online project, and internship by industry experts. Placements in Tech industries are also guaranteed by this institute. This is a weekend-based course.
---
Disclaimer
The content published on this page is a compiled result of What After College's Research team. The parameters of the research and the content structure are devised by What After College's Research Team and it is not in any way related to rankings done by governmental bodies.
This research has purely been done by a third party. Kindly contact at +91 9818198188 to make desired changes in the contact information related to your college.
---
Other Notable Artificial Intelligence Institutes in Mumbai
1st: Edvancer
Edvancer seeks to intervene with the education sector and build a modern learning model that relies on business demands and aspirants by delivering realistic, hands-on, short-term degree courses that business specialists can develop and produce, and bridge the void between market needs and university production. Also, they have a top-notch faculty from industries like TCS, EY, Deloitte, Fractal, Accenture, etc. with years of experience & excellent teaching skills in the domain who provides online learnings with the help of Case Studies and Projects. They also provide certificates recognized by the industry with 100% career assistance.
One can access a free "Data Science and AI starter course" that provides the basic learnings of the topics which is a 12 Hours Of Learning + 25 hours of assignments. For an advanced course, they have an "Artificial Intelligence Specialist -TCS iON ProCert Certified Course" that covers predictive analytics, machine learning, deep learning, R, Python, Tensorflow, Keras & SQL. Also, it is 180 Hours Of Learning + 250 hours of assignments & projects along with a final exam with TCS. Hence, they are one of the best Artificial Intelligence Training Institutes in Mumbai.
---
2nd: StrataHive
In the increasing field of Artificial Intelligence (AI), Machine Learning (ML) & Applied Analytics, they offer specialized consultancy & training services. They are built on the premise that Machine Learning and Artificial Intelligence are Transformative Technologies that can provide companies with the next quantum benefit. Therefore, at StrataHive, with a special combination of technology advances and state-of-the-art software, they help clients discover and extract secret value from results.
Stratahive provides "Corporate Training for Artificial Intelligence" which is for the professionals from the industries that are interested in the course along with the use cases, infrastructure, and stack. They also provide a "Professional Program for Individuals" that consists of an entire package of the latest technology courses. Also, they provide a Certificate of Completion to the participants at the end of the program. This is 160 hours of the face-to-face classroom session. They also provide the necessary study material – presentations, references, activities, and practices on datasets.
---
Learn Artificial Intelligence
Learn Artificial Intelligence with WAC
Other Skills in Demand