Android is a Linux based mobile operating system that is making waves in the current industry and encouraging developers to make their careers in the field of Android development. Since 80% of the mobile devices operate on Android, the demand for good quality developers is on a rise. There are many android development institutes in Hyderabad if you want to learn Android development. We have selected a list of top 7 institutes in Hyderabad for Android development. We've also included some tips to help you choose the best institute for yourself.
TIPS TO HELP YOU CHOOSE FROM THE TOP 7 ANDROID APP DEVELOPMENT INSTITUTES IN HYDERABAD
For selecting the best institute for yourself, make sure that the institute has years of experience in providing courses on the particular course that you want to do. The cost is also a thing to consider, make sure that the course is charged based on an industry standard. Moreover, infrastructure and the lab facilities of the institute must be top grade. The faculties and trainers must also be well versed in knowledge and experience.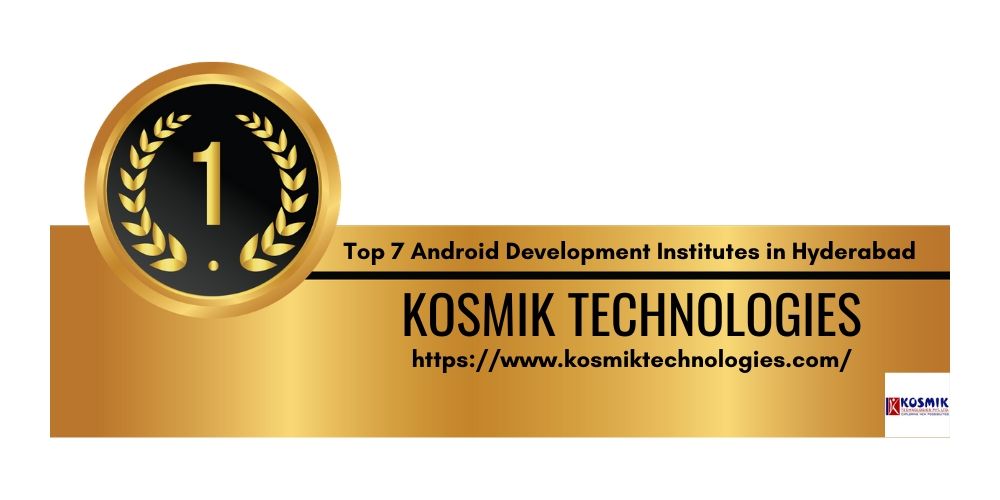 Kosmik Technologies Institute in Hyderabad provides courses in Android Development that include the basic concepts of android, UI widgets, activity, intent, and framework, android menu, and many other modules. You can check out their full module on the website. Moreover, the instruction is based on android development based on Kotlin. Above all, They've trained more than 20,000 students through their courses.
Contact: +918712186898
Email: info@kosmiktechnologies.com
Address: 3rd Floor, Above Airtel Showroom, Opp KPHB Police Station, Near JNTU, Kukatpally, Hyderabad – 500 072. INDIA.
Geosys Institute is mostly known for providing IT solutions to various industries. However, they have a training development in which this institute provides an android application development course in Hyderabad. With the corporate environment, students are exposed to the actual working needs of the industries. The course lasts for a duration of 30 days and there are many batches you can choose from.
Contact: +919493880670
Email: info@geosys.co.in
Address: Geosys Enterprise Solutions Pvt. Ltd, 6-3-841/A/2/C1, Arun Aditya Building, Ameerpet, Hyderabad-500016, India
Config Software Solutions Institute is one of the institutes in Hyderabad that teacher's fundamental features of the Android development system. You can install, develop, and publish the apps all by yourself after the completion of the course. Moreover, they have a dedicated support team that provides support through phone email and even face to face. You will also receive a certification at the completion of the Android development course.
Contact: +919248484466
Email: info@configindia.com
Address: Rajanigandha Complex, 309,3rd Floor, Dilsukh Nagar Main Rd, Hyderabad, Telangana 500060
Ace Web Academy institute in Hyderabad provides Android development training in the introduction to Android, the components of Android, as well as creating your first Android app. They have more than 10 years of experience and have trained more than 7000 students. Also, the duration of their course is 45 days with 2 hours of class per day and a real-time project of 15 days. They provide placements with companies like HCL, Unisys, Mylan ValueLabs, etc.
Contact: +919885010497
Email: hello@acewebacademy.com
Address: Address First Floor, Doshi Chambers, 3-6-327 & 328, Basheer Bagh, Beside Commissioner Office, Hyderabad – 500029.
Teja live tracks institute in Hyderabad provides Android development training so as to provide developers with an easy and complete understanding of the subject. Moreover, they provide training sessions as well as lab assignments to explain the features of Android. Also, the complete syllabus and the modules can be found on their website.
Contact: +919391562820
Email: tejalivetracks@gmail.com
Address: #G2, Naga Sai Nivas, Prime Hospital lane, Maitrivanam, Ameerpet, Hyd.
The Android development training provided by SS labs in Hyderabad comes with a real-time project. also, the trainers of the institute have more than 5 years of experience in the field and are well equipped to train the students. The students are also encouraged to improve their technical skills.
Contact: +919030006509
Email: admin@sslabs.co.in
Address: SSLABS, #203, Manzeera plaza, Opp: Aditya Trade Center, Ameerpet, Hyderabad, Telangana 500016.
The algorithm institute in Hyderabad provides classroom training in Android development. Moreover, the training includes a session of lab assignments as well as theoretical assignments. The training is of 45 working days with classes for 1.5 hours every day. Also, the details module is available on their website.
Contact: +919963930865
Email: algorithm.class@gmail.com
Address: #204 Nandini Residency, Pragathinagar Road, Opp to JNTU, KPHB, Addagutta Society, Kukatpally, Hyderabad, Telangana 500072
Learn Android App Development
Learn Android App Development with WAC
Other Skills in Demand