How important is it to get the best SSC JE Coaching in Patna if you want to crack the SSC Exam? It's very important. Not just that, the best coaching institute can help you prepare well to clear the SSC exam on your first attempt itself so that you don't have to go through any unnecessary burden of preparing again and again. This means it can save you both time and money. So, how do you find the best SSC Coaching in Patna? 5 Best SSC Coaching in Patna is an article drafted and crafted by WAC's Research team.
More About SSC Coaching Patna
For more than four decades, the Staff Selection Commission (SSC) of the Indian Government has been conducting graduate-level exams to hire employees for various departments, ministries, and organizations within the Government of India. Conducted in four phases, the SSC CGL (Combined Graduate Level) online exams are among the biggest and the most sought-after government exams held across the country.
Each year, many candidates join SSC coaching in Patna for a chance to crack these much-coveted exams and bag a safe and recession-proof government job, which ensures an outstanding work-life balance and a distinguished status in society. Many of these aspirants taking the SSC exam paves the way for their dream to hold a gazetted office one day.
Cracking the SSC CGL, however, is not an easy task. A total of 14,25,234 candidates appeared on the online exam in 2016-17, and another 20-25 lakh candidates are expected to give this exam in 2017-18. With such large numbers, the competition here is a tough one. And, joining a good coaching center is your best bet to get through to your dream government job.
Does SSC Coaching help?
As more and more job seekers enter the job market, the competition within these exams is bound to increase. Though it is possible to use all the readily available material and prepare for the SSC exams independently, a coaching center equips candidates with much-required tricks and methods that help them solve the questions within the given time.
Preparing at a coaching center also gives one a chance to experience the competitive environment of the exams, providing a better understanding of where one stands among the competitors. Regular mock tests and drills give one a clear idea of the examination format. This also helps candidates figure out their weaknesses and learn new ways in which they can better themselves. Most importantly, studying at a coaching center makes candidates stick to a routine and regular study schedule.
For aspirants hoping to cut, there are plenty of coaching centers to choose from. But the process of selecting the right SSC coaching in Patna to join can be pretty overwhelming. To narrow down your options, it is advisable to check the overall ranking of the coaching center and understand if their teaching methods suit you by taking a free demo class. Take a look below for a better insight into the five best SSC JE coaching centers in Patna.
Why Choose SSC Coaching In Patna?
There are many reasons to choose SSC coaching in Patna. The city has a long and rich history of education, and it is home to some of the best colleges and universities in the country. Additionally, Patna is a convenient location for students who live in other parts of the country. The city is well-connected by air, rail, and road, and it has a variety of accommodation options to suit all budgets. Patna is also a great place to study for the SSC exams.
The city has a number of coaching institutes that offer comprehensive programs to help students prepare for the exams. These institutes have a team of experienced and qualified faculty members who provide individual attention to each student. Additionally, most of these institutes also offer mock tests and practice sessions to help students familiarize themselves with the exam format and to improve their chances.
Why SSC Coaching in Patna is the Best?
There are many reasons why SSC coaching in Patna is the best. First of all, Patna is the capital of Bihar and one of the largest cities in the state. This means that there are a large number of SSC coaching institutes in the city. That gives students a wide range of options to choose from. Another reason why SSC coaching in Patna is the best is that the city has a very diverse population. Students from all over Bihar and even from other states come to Patna to pursue their studies. This means that there is a lot of cultural diversity in the city, which is a great learning environment for students. Lastly, the cost of living in Patna is very reasonable. This is important for students who are on a tight budget. Overall, Patna is a great city for students who want to prepare ssc exam.
There are Numerous Institutes For SSC Coaching in Patna
There are numerous institutes for SSC coaching in Patna. However, it can be difficult to choose the right one. With so many options available, how can you know which institute is the best for you? To help you make a decision, we've put together a list of the top SSC coaching institutes in Patna. We've considered factors such as the institute's experience, teaching methods, and success rate. With this information, you can make an informed decision about which institute is the best fit for you.
SSC Coaching in Patna fees and Expenses when Compared to Other Cities
The cost of SSC coaching in Patna is relatively lower when compared to other cities in India. This is due to the lower cost of living in Patna, which allows for lower tuition fees. Additionally, the cost of living in Patna is lower, which means that expenses for room and board are also lower. When compared to other cities, the cost of SSC coaching in Patna is quite reasonable.
How Do I Choose The Best SSC Coaching Classes In Patna?
There are a few things to consider when choosing the best SSC coaching classes in Patna. First, you'll want to consider the classes themselves and whether they offer the right curriculum for your needs. You'll also want to consider the location of the classes, as well as the reputation of the coaching institution. It's important to do your research and choose the right coaching classes for you. With so many options available, it can be so difficult to know where to start. But by considering the factors above, you can narrow down your choices and find the best SSC JE coaching classes in Patna for your needs.
How Can One Evaluate the Best SSC Coaching Classes In Patna?
There are many ways to evaluate the best SSC JE coaching classes in Patna. The most important factor to consider is the success rate of the coaching classes. Other factors to consider include the location of the coaching class, the class size, the qualifications of the teachers, and the fees charged.
One way to evaluate the best SSC coaching classes in Patna is by their price. The most expensive classes are not always the best, but they may have more resources available. If you are looking for a class that is very affordable, make sure to do your research so you know what you are getting for your money.
The quality of education is one of the important factors to consider when choosing a coaching class. The best classes will have experienced and qualified teachers who can provide students with the knowledge and skills they need to succeed. They will also use up-to-date materials and methods, and offer a variety of resources to help students learn. Furthermore, the best classes will be able to tailor their teaching to meet the needs of each individual student.
The first thing you should consider when looking for SSC coaching classes is the faculty. The faculty should be experienced and knowledgeable in the subject matter. They should also be able to provide you with guidance and support throughout your studies.
If you are looking for SSC coaching classes in Patna, there are a few things you should keep in mind when evaluating your options. First, consider the location of the coaching class. You will want to choose a location that is convenient for you to get to and from. Second, consider the size of the class. You will want to make sure that the class size is small enough that you can get individual attention from the instructor. Third, consider the price of the class.
It is important to choose a coaching class that specializes in the subject you need help with. For example, if you are struggling with mathematics, you will want to find a class that offers extra help with mathematics. The best way to find out if a coaching class is good is to ask around and read reviews. You can also try attending a trial class to see if it is a good fit for you.
The best way to evaluate any coaching class is by looking at their past results. This will give you a good idea of what the coaching class is capable of and how likely they are to help you succeed. When looking at past results, be sure to pay attention to both the overall success rate and the individual student success stories.
It is important to do your research when you are looking for the best SSC coaching classes in Patna. There are many factors that you should consider, such as: experience, success rate, location, and price. You can find this information by reading online reviews, talking to friends or family who have used a particular service, or by contacting the coaching class directly. Once you have gathered all of this information, you will be able to make an informed decision about which coaching class is right for you.
Tips To Choose Best SSC Coaching In patna
There are numerous SSC coaching centers in Patna that offer quality education to aspirants. But with so many options available, choosing the best one can be a daunting task. Here are a few tips that will help you select the best SSC coaching center in Patna.
Visit More Than One Institute Before Finalizing
It is always a good idea to visit more than one institute before finalizing the best SSC coaching in Patna for yourself. This way, you can get a feel for the different options available and make an informed decision. Plus, visiting multiple institutes will also give you a chance to compare prices and services. H
When you are looking for the best SSC coaching in Patna, it is important to take demo classes before enrolling. This will give you a feel for the quality of teaching and also help you understand the curriculum. Additionally, taking demo classes will allow you to ask questions and get a sense of the coaching staff's expertise. Furthermore, it is a good idea to sit in on a few classes to see if the learning environment is right for you.
Do Your Research Online/Offline
The best way to find a good SSC coaching in Patna is to do your research online and offline. Look for online reviews of the coaching you are considering and read what other students have said about their experience. Also, visit the coaching in person and talk to the staff and students to get a feel for the environment. Once you have narrowed down your options, choose the coaching that you feel will be the best fit for you.
When you are looking for the best SSC coaching in Patna, it is important to talk to alumni. They will be able to give you an honest opinion about the coaching institute and whether or not it helped them achieve their goals. Furthermore, they can tell you about the quality of the teaching staff and the facilities.
WAC's 5 Best SSC Coaching in Patna | Get the Coaching for SSC in Patna
The Institution's / Organization's Ranking done by WAC is a result of the research done by our team. It is totally Independent of the Rankings done by the Govt. Bodies. If any Institute has any Queries regarding any Information Updates or has conflicting ideas regarding Ranking positions, can contact us. Email at rishabh@wac.co.in or Call on +91-9818198188.
Rank 1: IBS institute | Top SSC Coaching in patna
Established in 2006, IBS, with its quality training and guidance, has grown into a premium national-level institute, providing the best SSC CGL – graduate-level coaching. One of their high success rates is their highly trained, experienced, and dedicated teaching staff.
They also offer of its kind a foundation program that strengthens a candidate's conceptual clarity of the fundamentals in quantitative aptitude, logical reasoning, English language, general awareness, etc., giving students a competitive edge against the rest.
With more than 50 centers present throughout the country, IBS has helped more than 10,000 aspirants successfully create their careers and is greatly recommended in coaching for all sorts of government and banking exams.
---
Rank 2: Career Power | SSC Coaching Centre in Patna
One of India's largest and fastest-growing education-technology companies, Career Power focuses on helping unemployed youth with their careers. Having over 80 branches across all key cities, Career Power is recognized as a respected name in SSC coaching.
Since its inception in 2010, by a group of IIT-IIM graduates passionate about high-quality education, Career Power has significantly influenced many of its students' lives and careers paths. Other than SSC, they also train candidates for government job exams like Bank PO, Railways, IBPS PO, IBPS Clerk, Bank Clerk, FCI, LIC, CTET, RBI, SBI PO, SIDBI, NABARD, etc. E-learning Sections, Online Test Series, Correspondence Courses, along classroom training are a part of their many offerings.
Having one of the highest selection rates in the industry, Career Power stands for trust, excellence, and fulfilled promises.
---
Rank 3: KD Campus | SSC Coaching Classes in patna
Initiated under the guidance of well-admired educator Ms.Neetu Singh, the KD campus strives to be the best coaching center for aspirants looking for SSC coaching in Patna. They focus on preparing students for the upcoming exams and make efforts for their overall growth through expert guidance.
KD Campus sets extremely tough targets of quality education and excellence in training with targeted preparations and unparalleled study materials provided by their own publication house. In their effort to be the best, KD PUBLICATION often comes out with exceptionally sought-after books, test series, and magazines.
Another exciting feature is KD Campus's unique Mobile friendly Android App Test Series to assist its students in sharpening their skills at their convenience.
---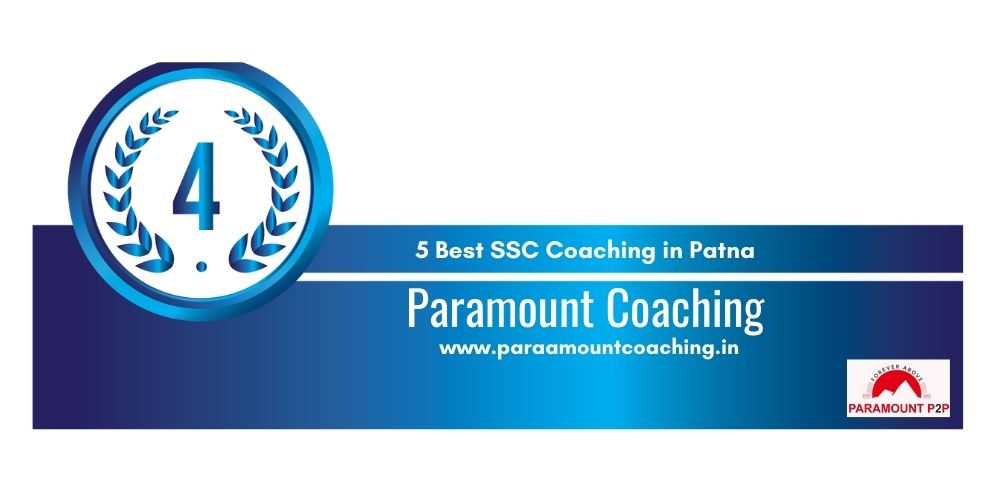 Rank 4: Paramount Coaching | SSC JE Coaching in patna
Started in 2006, with a mere 25 students, Paramount today stands as one of the country's most prevalent and premier coaching centers. With some of the most capable faculty in the education Industry guiding their students to reach their full potential, Paramount has had great success in Online and Offline Education over the years. It aims to provide SSC aspirants with coaching and comprehensive guidance for careers in Government jobs.
All their seven centers are equipped with Hi-tech classrooms and easy connectivity, making them a much sought-after Institute. Their Online test portal helps you analyze your strengths and weakness by taking an online test and comparing yourself to their all-India rankings. They are also the first in the industry to launch a preparation app for their students.
Address: 1st Floor, JJ Complex, E Boring Canal Rd, Opp Bharat Petrol Pump, Nageshwar Colony, Kidwaipuri, Patna, Bihar 800004
Contact No: 070330 97555
Website: www.paramountcoaching.in
---
Rank 5: Mahendra's Coaching | Best SSC Coaching in patna
Specialized in providing coaching for Bank, SSC, Railway & other competitive examinations, Mahendra's believes in preparing its students with a combination of traditional techniques and teaching with the digital world. From 1995 to 2017, they have spread their wings with 151 branches across the nation.
In their effort to digitize their education, they provide an array of digital facilities to their students, including Smart Classes, Labs, and Online Assessments. Online classes, PPT presentations, Video lectures give their students the ability to access information and tools to study at their own will and convenience and helps them to implement the knowledge they gain during the theoretical sessions effectively. Mahendra's has been acknowledged and awarded at the World Education Summit 2017 as the "BEST INSTITUTE IN INDIA" for SSC, Railways, and other competitive examinations.
---
Enrolling for the SSC examinations requires some hard-core preparations. If you are serious about pursuing and securing a government job, it is highly recommended to seek proper training from a reputed and quality coaching center. Since regular, thorough studies and expert guidance are the only way to fulfill your dream of getting a government job.
I hope you find this list of the 5 Best SSC coaching institutes valuable. Make sure you contact these institutes to learn more about them and their expertise. Ideally, it would be best to take a few demo classes at various coaching centers before deciding on the one best suited for you. However, remember that time is of the essence in such cases, and so it becomes vital that you pick the right coaching center and get started as soon as possible. So best of luck, and choose wisely!
Meanwhile, you can also check out our list of best SSC Coaching Institutes in:
The content published on this page is a compiled result of What After College's Research team. The parameters of the research and the content structure are devised by What After College's Research Team and it is not in any way related to rankings done by governmental bodies. This research has purely been done by a third party. Kindly contact at 91 9818198188 to make desired changes in the contact information related to your college.
Why Should One Opt for the WAC's 5 Best SSC Coaching in Patna?
There are many reasons why one should opt for the WAC'S 5 best SSC coaching in Patna. Because Patna is the capital city of Bihar and is one of the largest cities in the eastern part of India. It is also a major educational hub, with many colleges and universities located here. One of the main reasons to opt for the best SSC coaching in Patna is the quality of education. The faculties at the leading SSC coaching institutes in Patna are highly experienced and qualified. They use the latest teaching methods and technologies to help students learn effectively. The syllabus is also regularly updated to ensure that students are prepared for the latest exam patterns. we have prepared a list of the Best SSC Coaching in Patna
Our SSC Coaching in Patna Market Research Team is the best
Our market research team is composed of skilled and experienced professionals who conduct a thorough analysis of the coaching institute's teaching style, the background of the faculties, infrastructure, study material, and other aspects before choosing an SSC coaching institute in a list of WAC's Best 5 SSC coaching in Patna.
Our Blogs have helped students join the Best SSC Coaching in Patna
It gives us great pride and joy to know that our blogs have helped several students join the best SSC coaching classes in Patna. Making the decision of which SSC coaching class to join in the city of Patna can be quite difficult with the many choices that are available. We are glad that our blogs were able to provide students with the information needed to make an informed decision and choose the best SSC coaching class for themselves. In this blog post, we will take a look at some of the best SSC coaching classes in Patna and what makes them stand out.
All Other Best SSC Coaching in Patna
When it comes to SSC Coaching in Patna, there are many options available. But which one is the best? In this Article, we will explore Some Other best SSC Coaching options in Patna so that you can make an informed decision. We will cover everything from the course offerings to the teaching staff to the location and more. So if you are looking for the best SSC Je Coaching in Patna.

Frequently Asked Question about Coaching for SSC in Patna
If you are looking for ssc institutes in patna. Here We have some Frequently Asked Question about Coaching for SSC in Patna.
Which is the Best Coaching for SSC
in Patna?
Various Institutes are said to be the best for SSC JE Coaching in Patna. We have ranked the 5 Best Coaching for SSC in Patna in this article. Rank 1 is considered to be the best.
How much does Institute for SSC Coaching in Patna
charge?
The fee structure of each institute is different. Here, we have disclosed the fees of every top SSC JE Coaching in Patna.
Which SSC JE Coaching in Patna
provides the best study material?
All the institutes n our Best SSC Exam Coaching in Patna's list provide good study material, but Rank 1 has been considered the best among students.
Is Patna perfect for SSC Coaching?
Patna has been called the best place to go for SSC Coachings many times in the past. SSC Exam Coaching in Patna city has produced a large number of Government jobs to date. Here, you will find the 5 Best SSC JE Coaching in Patna.
How would I know whether the timings for the best SSC CGL Coaching in Patna will suit me or not?
We have specified the timings of each institute in our article. You can join the one that best suits your requirements & needs.