Searching for TOEFL Coaching in Bangalore is an article drafted and crafted by WAC's Research team as more and more students are finding Professional Training to crack the TOEFL exam with the best marks possible. Getting into the best TOEFL coaching classes in Bangalore can give any student an edge over others. It is beneficial for any student to join the TOEFL Classes in Bangalore. Enrolling in TOEFL Coaching will help in increasing the chances of success.
TOEFL
Want to pursue higher studies at a reputed international university but are skeptical about your English proficiency level? Not a problem! Take the TOEFL (Test of English as a Foreign Language). It is a famous test that has to be cleared by non-native English speakers to demonstrate their ability to listen, read, write and speak in the language.
A good score in TOFEL is the key to a bright future, be it academics, career, or immigration. Conducted by ETS (Education Testing Service), the TOEFL score is accepted by over 9,000 colleges, universities, professional bodies, and institutions in 130+ countries, including Australia, Canada, the UK, and the US.
What Is The Eligibility For The TOEFL Exam?
As the TOEFL is designed specifically to measure a candidate's proficiency in the English language, there are no set eligibility criteria. While a 10 + 2 qualification may be required in most cases, the test is suitable for all ages beginning from students at high school.
Age may not be a concern when applying for the TOEFL exam but make sure to check the eligibility criteria of specific universities and institutions that are of interest to you. TOEFL tests monitor the candidate's ability in reading, writing, listening, and speaking. While these skills can be trained at coaching centers in your city, self-study using easily available ETS resources also has its own benefits.
How Can I Apply For TOEFL?
Registration for TOEFL is open to applicants all through the year and there are four simple methods of registering for the TOEFL exam:
Phone – Call your regional registration center and make the payment as directed.
Online – Create an online profile on the TOEFL login page and pay the associated TOEFL fee.
Mail – Download, print, and then mail the registration forms to the Bangalore city center address.
Direct submission – Deliver the completed registration form at the Bangalore city center.
Make sure to register at least 4 weeks prior to the scheduled TOEFL exam dates and check the spelling of your name and other details carefully. If required, instructors at coaching centers will be able to guide you and provide you with relevant information regarding TOEFL exam preparation and fees.
The TOEFL is available as an Internet-Based Test (iBT) and the Paper-based Test (PBT). The former is a more commonly taken format. Roughly about 4 and a half hours long, the TOEFL is designed to gauge one's ability to comprehend, speak and write in the English language.
It comprises 4 sections namely Writing (2 tasks in 50 Minutes), Reading (around 36-56 questions in 60 minutes) Listening (around 40 questions in 75 minutes), Speaking (6 questions in 20 minutes). The test is scored out of 120 and is legitimate for a period of two years. The TOEFL exam fee is around the US $170 and its registration requires a valid passport.
---
Parameters for Selecting The Best TOEFL Coaching in Bangalore
TOEFL preparation is all about giving time, dedication, and effort. Scoring well in TOEFL is not very difficult, especially if you take up coaching at a good institute. TOEFL is the first step towards your dream of overseas education and is very important as it measures your English language proficiency. It would help if you keep the following aspects in mind while choosing the best TOEFL Classes in Bangalore:
Select an institute where they have faculty that is highly qualified, experienced who will provide good mentoring to its students.
Make sure the institute you choose provides the adequate infrastructure to make the learning experience as smooth as possible, whilst also providing a healthy and productive environment.
A tailored course improves the success rate by ensuring comprehensive learning and further improving one's basic English language skills.
Past track record of an institute casts light on its credibility. Go for a TOEFL Classes in Bangalore that has had a record number of students with great scores in the long run.
Many aspirants wrongly believe that a coaching institute with higher fess is better. Shortlist a top few institutes based on the other factors and select one that suits your budget while keeping quality education in mind. TOEFL cost in India is already very high. TOEFL Coaching Fees in Bangalore in 2021 is US$ 185.
Travel Time and Lodging Facilities around the Coaching Institute
Traveling can take up a lot of your time in a crowded city like Bangalore. Make sure your institute is not too far away from where you live. In case you are from a different city, ensure there are affordable lodging facilities around the coaching institute you select.
The best TOEFL Classes in Bangalore conduct regular tests to help assess your progress. Simulated mock tests that you have to finish within a time constraint help point out your strong and weak points and count as good practice.
Online Resources/ Recorded Sessions
Go for an institute that has an online portal where study material and recorded sessions are available so that you do not miss out on anything even if you miss a class.
Make sure the institute you select has scheduled regular doubt sessions with an expert faculty member to help in clarifying doubts.
Special Focus on Interview Rounds
The best TOEFL Coaching Classes in Bangalore conduct mock interviews, to give a boost to your confidence and brush up on your spoken English fluency to prepare you well for the speaking section of the exam well before your TOEFL Exam dates, and for interview rounds that you have to face later during the admission process.
---
List Of 7 Best TOEFL Coaching In Bangalore | Get TOEFL Coaching Classes in Bangalore
The Institution's / Organization's Ranking done by WAC is a result of the research done by our team. It is Independent of the Rankings done by the Govt. Bodies. If any Institute has any Queries regarding any Information Updates or has conflicting ideas regarding Ranking positions, can contact us. Email at rishabh@wac.co.in or Call on +91-9818198188.
It's pretty challenging to choose an institute that offers TOEFL Classes in Bangalore that excellently caters to the above criteria. Select an institute that suits you and your interests best. We have thoroughly analyzed several TOEFL institutes in Bangalore based on the factors mentioned above and curated a list of the top 7:
Rank 1 : Master IELTS
Master IELTS Training Centre, Bangalore, has been helping students get the highest scores in TOEFL since its inception. Mr. Anil Kalahastri, the brain behind the institution, is an expert teacher himself, and his impeccable teaching methods have been praised by students numerous times over the years. Master IELTS prepares students for standardized English language tests like IELTS and TOEFL.
They have brilliant faculty who have over 20 years of experience in the field. They have devised very simple and innovative test methods to improve your speed and accuracy. Master IELTS also holds scheduled doubt-clearing sessions for ensuring a clear concept in the minds of students and solving their problems.
Classroom training helps in building a strong foundation in grammar and writing. It consists of full-length mock tests, unlimited doubt clearing sessions, customized essay grading, etc. Master IELTS also provides an online prep course, which includes live classes, class recordings, and unlimited computer practice for TOEFL practice tests.
TOEFL Exam fee is US$180, so some people might prefer a budget course, which makes Master IELTS a viable option for aspiring students.
---
Rank 2 : Good to Excellence
Good to Excellence offers courses in standardized English language tests like IELTS, PTE Academic, and TOEFL. They have been providing quality coaching to thousands of students for over four years now. Located in BMT Layout, Bangalore, Good to Excellence is accessible through a well-connected transport system from all parts of the state.
Good to Excellence has professionally trained faculty who provide proper guidance to the TOEFL aspiring students and help them in a way to get the maximum results in a limited time. They take feedback from students on how to improve on their part. A scrupulous study material for TOEFL, based on the guidelines of ETS is given to students to practice.
Good to Excellence provides the adequate infrastructure to make the learning process as smooth as possible. They have incorporated the latest technology into their teaching methods. Every student is provided with a desktop computer that runs on Windows 10.
Study applications are preloaded onto the computer that enables students to practice mock tests for TOEFL. Individual headphones/microphones are also provided since the test requires the applicant to speak and listen as well. The big training halls provide a peaceful environment for students to study and prepare without any disturbance.
---
Rank 3 : The IELTS Academy
The IELTS Academy has been serving as a training center for TOEFL aspiring students since its establishment in 2002. Over the years, it has improved its rating significantly in the coaching market scenario, and today it is one of the topmost TOEFL Coaching Classes in Bangalore.
They not only prepare students for tests like TOEFL and IELTS but also help with overseas immigration. Their expert faculty and rigorous course content ensure a stellar score in the English language tests which will open up your path to your dream university. They have a team of expert trainers, who with their best experience in test coaching, ensure that you secure the highest scores.
Timed drills, regular mock tests, interview rounds, etc. Prepare you for the actual test in every way possible. Whatever might be your reason for the plan of moving abroad, be it higher studies or a job, The IELTS Academy leaves no stone unturned to help you prepare for your journey.
---
Rank 4 : Aspire
Aspire Global Education, Bangalore is a training institute and overseas consultancy service provider founded about ten years ago to create a holistic approach towards foreign education. They cater to students, working professionals, and people who want to migrate overseas and improve their command of the English language.
Aspire Global Education has a team of expert trainers who have previous experience of teaching, and who are constantly striving towards excellence in providing quality education which will turn into desired results.
They have limited batch sizes so that individual attention is provided to every student. Your progress graph is tracked and the scorecard is analyzed to help you improve consequently. Separate coaching is provided for tests like IELTS, PTE, GRE, SAT, TOEFL, GMAT, and Spoken English, with a definitive course curriculum that is designed to make the most of a student's dedicated time.
Aspire Global Education has professionally trained over 8000 students to date and helped them achieve their dream scores.
The content is upgraded with time. Practice tests, demo class test modules, online resources like video tutorials, explanatory notes, and one-on-one doubt clearing sessions prepare the students to face the competitive exam without any fears and ace it.
---
Rank 5 : Manhattan Review
Manhattan Review, founded in 1999, is a distinguished test prep firm that is famous worldwide. They have branches in all major cities in India, Bangalore being one of them. Manhattan Review trains students and professionals to obtain the highest scores on GMAT, GRE, LSAT, SAT, ACT, IETLS, and TOEFL.
Manhattan Review has trained thousands of students over the years and boasts of entries into top universities worldwide like Princeton, Oxford, Harvard, Stanford, the University of Toronto, Cambridge, Berkeley, King's College London, Yale, Dartmouth, etc. Such a successful track record adds great credibility to Manhattan Review's name.
Manhattan Review has a range of options for you to choose from- online coaching, on-site training, private tutoring, and group course learning modes. The Manhattan Review 'Turbocharge Your Prep' series consists of guide books for TOEFL that are designed to provide integrated test guidance for the best test score outcomes.
Each section is detailed to the core and arranged in increasing order of difficulty. They have a comprehensive approach towards TOEFL preparation that tests the student's abilities in different sections and helps them improve. Numerous practice tests are designed in a way that students learn the most and can retain it until they appear for the actual exam.
Students are also given additional training about stress reduction, time management, strategic ways to approach the exam, and self-support.
---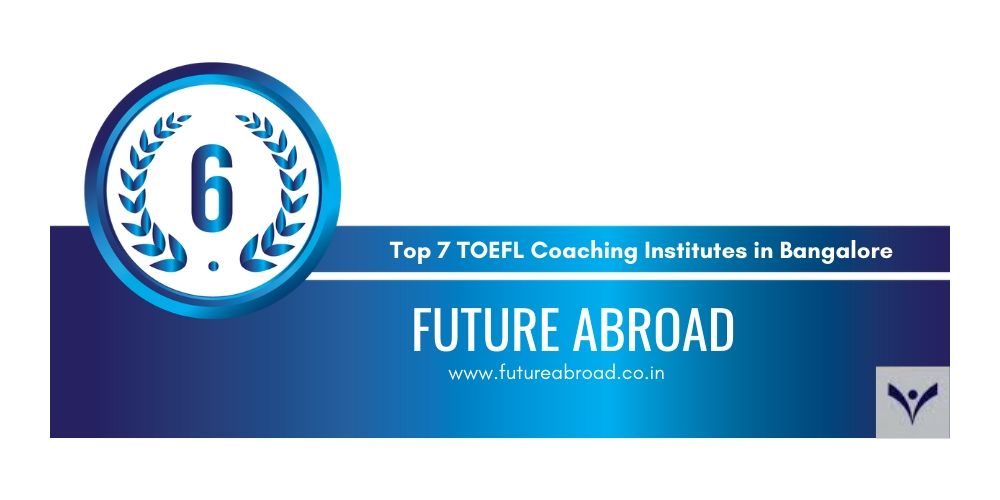 Rank 6 : Future Abroad | TOEFL Coaching Classes in Bangalore
Future Abroad provides training for students as well as working professionals and job aspirants who want to improve their fluency and command over English or appear for global standardized tests like TOEFL.
Expert faculty tell you tips, tricks, and smart strategies on how to ace the TOEFL exam. One-on-one counseling and doubt clearing sessions are conducted for helping students deal with their academic issues.
After admission, they check your educational qualifications to see what you've studied to date to get a clear idea of your capabilities and how to progress further with your training. They take care of everything right from the application process to loan, visa, and travel assistance.
They create a personalized timeline for the prep course which is to be duly followed to get optimum results. Structured study material, timed practice tests, and mock interview rounds are held to increase your speed, accuracy, and confidence Apart from coaching, Future Abroad also helps you choose the correct country, university, course and help you in making your statement of purpose.
---
Rank 7 : Speaking India
Speaking India is an ISO 9001:2015 certified training Institute for TOEFL and other standardized tests required for overseas education or career. They have come up with some inventive training methodologies that make learning easier and more fun.
Mentors give you general skill-building tips and strategies for preparing for the listening and speaking section. You will learn how essays are scored and get time-drilled mock tests to brush up your skills.
Speaking India is a good option for TOEFL Coaching since it has flexible class timings and very economical rates, which is easily affordable for students. As it is the TOEFL Fee is very high (around 12570 INR).
Their TOEFL course is designed to prepare students over the course of a month and obtain the best results. Students are made to practice intensively for reading, listening, speaking, and writing. Meticulously prepared study material and online video tutorials are available for students to make maximum use of.
The content published on this page is a compiled result of What After College's Research team. The parameters of the research and the content structure are devised by What After College's Research Team and it is not in any way related to rankings done by governmental bodies. This research has purely been done by a third party. Kindly contact at 91 9818198188 to make desired changes in the contact information related to your college.
---
Why Coaching For TOEFL Is Necessary?
TOEFL, taken by millions every year is not easy to crack. It requires in-depth preparation, dedication, and perseverance. A self-study option is for students who are supremely disciplined and can follow a structured prep schedule without getting distracted. However, most need an external pull or push in terms of support and good coaching to achieve the desired score.
This brings forth another dilemma pertaining to joining online or offline coaching. Let's dwell on each mode to ascertain which is better. Reputed coaching centers are touted for professionalism, commitment, and efficiency.
Well-versed with the TOEFL format they specialize in making students exam-ready by helping sharpen their reading, writing, and conversational skills. Equipped with smart infrastructure, on-site library, innovative multimedia tools, comprehensive study material, state-of-the-art technology, and latest techniques, they can design a customized training program for success.
A professional institute keeps track of the changing trends and is perpetually reinventing to give the examinees an extra edge. Not to mention, they have onboard a proficient faculty that students can count on for question-solving techniques, test-taking tips, conceptual clarity, resolving doubts, and inspiration to put their best foot forward.
The web platform is the ideal route for candidates facing time and money constraints. It is a flexible and cost-effective mode without the hassle of commuting to and fro. However, it lacks the advantage of an academic environment, personalized attention, or healthy interaction with peer groups which can be motivating. Also, there is no scope of consistent practice, clarification of doubts, strengthening concepts, and critical feedback which are critical components of a good TOEFL preparation.
TOEFL Coaching Vs IELTS Coaching
Both IELTS and TOEFL are designed to test one's ability to listen, read, write and speak in the English language. However, they differ in terms of the exam format, pattern, teaching criteria, preparation, approach, etc. IELTS is typically used for education, immigration, and employment purpose whereas TOEFL is conducted primarily for academics.  
The TOEFL is a multi-choice online exam in American English that takes approximately 240 minutes to complete. IELTS, in contrast, is a 160-minute paper-based test with different question types and various accents. It has a 9-band scoring system while TOEFL is graded out of 120 points. TOEFL is tougher, requires rigorous prep, and is more scoring.
What is a Good TOEFL Score?
TOEFL is a standardized test with a scoring system that is consistent across the globe.  The maximum score on the TOEFL is 120.  The four sections are graded separately and the sum total contributes to the composite score.  While there is no pass or fail in the TOFEL exam, a total score in the range of 90 or more is deemed good.
The score threshold varies from institution to institution. While some focus on the total score, others may look at the grades of each section separately. It's therefore important to check the admissions guidelines before applying.
Things To Do a Day Before TOEFL Exam
Take the day "off" from books and focus on keeping calm and relaxed before the D-day.  Listen to music, read a magazine or watch an English movie. Lunching and conversing with an English-speaking friend may be a good idea.
If you must study, spend some time brushing up the words, phrases, or tenses that you've always found knotty and problematic. And yes, keep your passport, essential documents ready and sleep early to awaken fresh and confident for the big test. 
TOEFL Exam Day Do's and Don'ts
Besides coaching or training, TOEFL preparation also requires you to be well versed with the exam day essentials:
2 forms of original ID include the candidate's full name, a recent photograph, and the candidate's signature.
TOEFL Registration Slip or a TOEFL Admit Card.
No personal items are not allowed inside the test center.
Make sure you have the relevant documents as without these, you will not be permitted to sit the test and your test fee will not be refunded.
There are no minimum passing marks required for the TOEFL exam as each university or educational institution independently decides the minimum score that they require.
How Many Attempts Allowed?
The TOEFL test can be attempted unlimited numbers of times, but to take a re-test the candidate has to wait for a 12-day period after attempting the first test.
---
Conclusion
Students now know everything related to the best TOEFL Coaching Classes from all the information listed above in the article. As there is a lot of competition, you must have come to realize that it is not easy to crack the test. Just a few students can crack the TOEFL exam and get a seat from the lakhs of students who give the TOEFL exam.
Students get all the facilities for TOEFL preparation such as tips, guidelines, study materials, and other amenities. But besides all this, the students need dedication and the right path as well.
Students need to be enrolled in the TOEFL Coaching Classes in Bangalore that provide excellent teaching for TOEFL exam preparation for the best guidance. We listed the list of TOEFL Coaching Classes in Bangalore above.
All you have to do now is make it the right selection for you. For more details, you can visit the TOEFL Coaching Classes in Bangalore or call them on a given contact number. At any point, don't think it's easy to crack the TOEFL exam because it's not. The competition is very difficult, so don't lose hope at any stage and give your best once you start preparing for the test.
---

Frequently Asked Questions About TOEFL Coaching in Bangalore