What is Artificial Intelligence?
Do you need training in this subject?
The answer is YES!
Because, students nowadays choose to learn something different all the time. One such interesting topic is artificial intelligence.
Artificial intelligence (AI) is the simulation of human intelligence in almost all the machines that are programmed in the best way to think like humans and mimic their actions.
The term may also be applied to any of the machines that exhibit the traits associated with a different human mind such as learning and problem-solving in the day to day life.
Also, students prefer the best training institutes in their respective locality as per their convenience.
So on what basis do we choose the training centres?
Listed below are the top 7 training institutes of artificial intelligence in Bangalore!
TIPS TO HELP YOU CHOOSE FROM THE TOP 7 ARTIFICIAL INTELLIGENCE INSTITUTES IN BANGALORE
There are many factors using which the students can choose the best training institutes for them!

Past Results
Results, most of the time show you the exactly true picture of an institute. Past year results not only tell who are the students to clear the Exam but also tell us how many of them were in the top rankers in the subject of artificial intelligence.
Also, past results of all the listed 7 training institutes give us the whole idea of how the institute teaching is!

Fees
Most of the institutes in Bangalore charge a great amount of fee but in return come out with nothing special.
Whereas, all the 7 listed institutes take a very amount of the fee and in return give better outcomes.
Rank 1: Numaware Technology
Numaware Technology is one of the top 7 training institutes of artificial intelligence in Bangalore!
They extend in servicing Recruitment, Training, and also Business Consulting Needs of reputed Corporates, Public Internationally.
They work passionately on the top innovative technologies enterprises through the use of Information Technology.
Also, they offer a team of professionals or the trainers with the technical expertise on leading virtualization products.
And they also have the extensive experience needed to apply these best technologies into practical business solutions.
The fees they charge are very less as compared to the other training institutes in the city of Bangalore!
Also, this training centre is located in the best place such that it can be accessed by all the students very easily!
Contact:
Ashwath Nagar, Marathahalli Bridge, #1, SVM Complex, 2nd Floor, Marathahalli, Bangalore – 560037
http://www.numawaretrainings.com/
Rank 2: DVS Technology
DVS Technologies strives to give all the students the best experience possible.
Through an integrated learning approach, they also deliver a full learning experience starting with the subject assessments, training, support, and also validation.
They also help you find the solution that fits your budget, timeframe, and learning preferences.
They have experienced staff for the students to have a very bright future!
This training institute offers many courses related to the artificial intelligence subject in which the students have interest.
The amount of fees that they charge is very less and reasonable as compared to the other training institutes!
Contact: No. 92/4, Marathahalli, Bangalore – 560037
dvs.training@gmail.com
Rank 3: Sarlakg Technology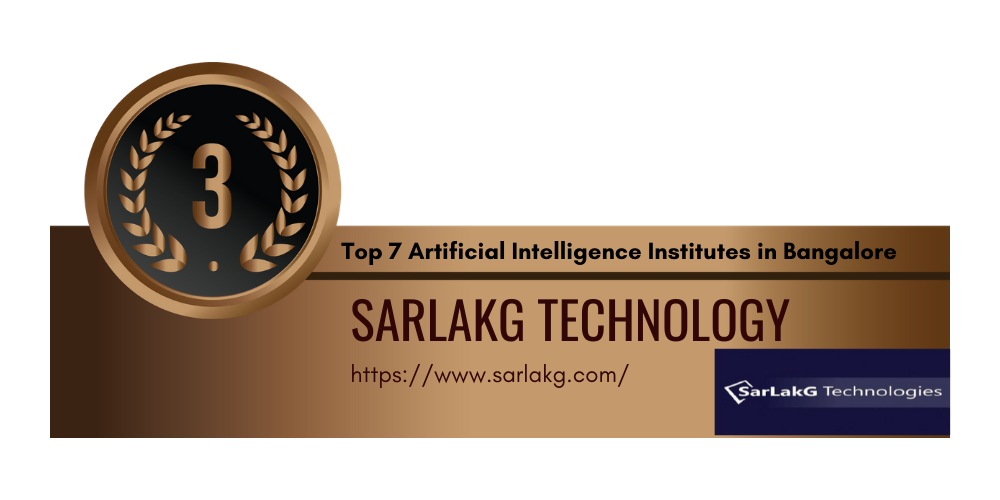 SarLakG Technologies is an IT organization providing the best quality training on various IT technologies which includes artificial intelligence! SarLakG has a track record of training over more than 3800+ candidates, both freshers and also the industry people with the best and top industry standards.
This institute trains and mentors the students in such a way that they learn the subject in detail and achieve high goals.
Hence all the students studying in the institute will be ready-made resources who can adapt to the best IT culture very easily.
This technology offers the best professional training as it has experienced faculties.
Also, it specializes and is well-known for training all the students as well as working professionals in Software Training and Services!
It is run and is managed by seasoned professionals who lead a team of educators and also the trainers having relevant domain expertise.
At this institution, one can get trained in the subject of artificial intelligence by opting from a wide range of courses.
This institute is well located such that it can be accessed by any transport mode by all the students.
Contact:No. 66, 2nd Floor, South End Circle Road, Basavanagudi, Bangalore – 560004
chethan@sarlakg.com
Rank 4: Soc Softech
Soc Softech Technology has an 83% response and a total of 2 years of experience in the training centre.
Firstly, the excellent training method prepares all the students for the job market. In addition to the best technical training, they also prepare candidates for a personal interview!
Secondly, this team believes that training is an art that should be provided by the best creative and technical expert who can build confidence within the student to achieve high goals.
The mission of SoC Softech is a leading development and training company in artificial intelligence and also data science.
We offer training in projects on artificial intelligence which helps the students to learn better
They believe that a high quality of education is always better to build a better individual with the whole knowledge in the institute.
They also provide online training for the students who miss the lectures and also charge very less!
Contact: socsoftech@gmail.com
Rank 5: Codec Networks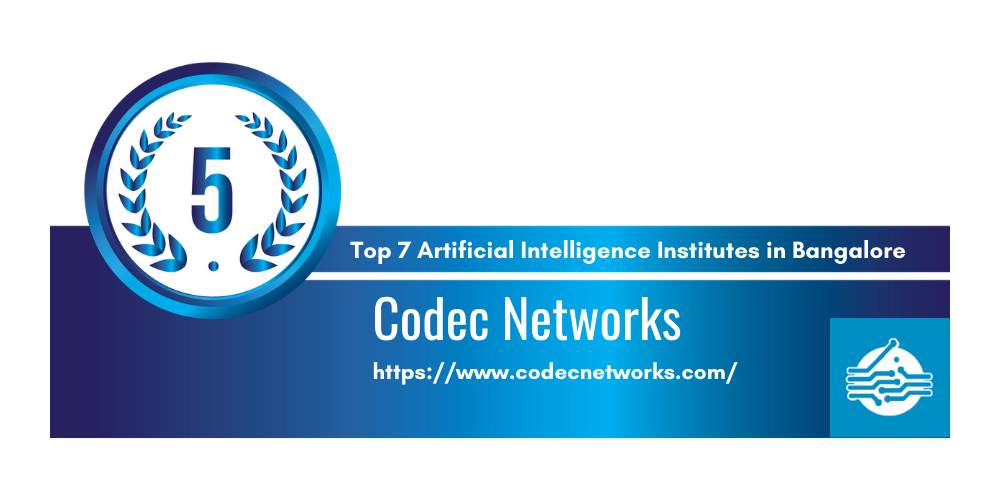 Codec Networks is a very famous training institute of artificial intelligence in the city of Bangalore.
Also, it has a total of 93% response!
Leaders in providing Information Security Training and also other Technical Training to corporates along with the young budding technocrats with a class apart experience by the industry experienced Subject Matter Experts in this evolving world of technology according to the per market demands.
This training institute provides high-quality education and they also have experienced faculty!
Contact: piyush@codecnetworks.com
Rank 6: Career Focus IT Solns
Career Focus IT solns training institute is one of the top 7 institutes of artificial intelligence in Bangalore!
Most importantly, they charge a very less amount if we compare it with the other institutes in Bangalore.
This is one of the leading Software Training & also the Consulting institute located in Bangalore.
They offer training for all the graduates and postgraduates.
Contact:
No. 402, 1st Floor, SLV Plaza, Dr. Raj Kumar Road, 6th Block, Rajaji Nagar, Bangalore – 560010
cfocusit@gmail.com
Rank 7: Surabhi Technology
Surabhi Technology has a response rate of 80%.
The training is classroom mode where they are not into any batches or groups, individual one to one training is provided in detail.
They have experienced faculties from all over the world.
Also, they do classes on weekdays and weekends too.
Surabhi Technology is training for 18+ years and the trainers are real-time consultants with 20+ years experience in training in all the subjects.
Contact:
No. 124, 80 Feet Road, SBM Colony, Banashankari, Bangalore – 560050
surabhi.technologies@gmail.com
http://www.surabhitechnologies.org/
Learn Artificial Intelligence
Learn Artificial Intelligence with WAC
Other Skills in Demand