7 Best Bank PO Coaching in Delhi is an article drafted and crafted by WAC's Research team as more and more students are finding Professional Training in order to crack the exam with the best marks possible. Getting into the best coaching for Bank PO in Delhi can give any student an edge over others and it is really beneficial for any student to join the Top Banking Coaching in Delhi.
Bank PO
Bank PO stands for Bank Probationary Officer. It is an entry-level appointment for officers in a bank. After induction, a Probationary Officer must undergo a probationary period, generally of two years, during which they have to go through an intensive training program to learn the various duties and functions. After the completion of the probationary period, the candidate is appointed as a Junior Manager of the Grade I scale at a branch of the bank.
Why Bank PO Coaching is Necessary?
Although many might be of the opinion that coaching for Bank PO is not necessary, it might be smart to reconsider and opt for a Bank PO coaching. In this day and age of high competition, good bank coaching centers can provide you with the edge necessary to crack the exam.
Since the Bank PO question paper comprises of different subjects, coaching institutes in Delhi can help you prepare equally for all the subjects to guarantee your success. Since the exam for Bank PO is time-limited, coaching for Bank PO can also help you develop techniques to complete the question paper within a limited time.
There are many who claim to have cleared the Bank PO exam without any coaching. While they may say that all resources are available online, it must be considered that most of us don't have the luxury of time to go online and keep searching for study material.
Good quality study material is always readily available with any bank exam coaching center. Moreover, a coaching center can help you meet many other like-minded bank PO aspirants which can uplift your motivation to study even more and help you crack the exam.
For a candidate to be eligible for the Bank PO exam, high qualifications are not necessary. Any candidate with a graduate degree from any designated university is eligible to apply for the Bank PO exam. However, anyone with higher qualifications can also apply. However, each bank has its own specialized criteria for being eligible for the post. It is also necessary for the candidate to have no criminal record of any kind. Any candidate with a criminal history is liable to be disqualified.
Aspirants from all age groups cannot directly apply for Bank PO exam. A candidate must be at least 21 years of age for applying for the Bank PO exam. The upper age limit for the candidate is 30 years. However, age limits are relaxed for candidates belonging to reserved categories. Aspirants from SC or ST categories are given an age relaxation of 5 years while those from OBC are given a relaxation of 3 years. Ex-Servicemen and the students with Jammu and Kashmir quota are also given an age relaxation of 5 years each. ISB bank coaching can help aspirants of all ages prepare for the Bank PO exam.
Parameters to Select the Bank PO Coaching in Delhi
Undeniably, the capital of the country doesn't have any lack of a number of coaching institutes that can help you crack the bank PO exam seamlessly. However, when it comes to selecting the one out of the rest, the procedure should be cautious and attentive. So, here are some of the factors that you must keep in mind while selecting the best coaching center in Delhi for Bank PO.
For any bank coaching center, qualitative faculty is the backbone. Think of any imminent institute and the first thing that'd cross your mind is the kind of faculty they have. So, make sure that you always check upon how strong the teaching profiles of the faculty members are for better results.
Before you enroll in any of the centers, keep in mind to cross-check on the infrastructure. The well-equipped it is, the more competent it will be. A well-maintained institution with advanced facilities will provide an edge to your banking preparations.
The content of the course can play a significant role in making the preparation easier. If the institute is providing quality content, you'd be able to understand the concepts efficiently. Moreover, if the teachers can provide precise and updated study materials, the process will become even enjoyable.
Nothing would speak better for a coaching institute than the previous success record. If the coaching center is thriving enough, they won't shy away from boasting about the students who cleared bank exams under their guidance. However, you must not get carried away by their advertisements. Always execute genuine research and then decide upon it.
The fee structure varies from institute to institute. However, make sure that the one you're selecting in Delhi is actually providing value for your investment. The fee must be reasonable, and education should be qualitative.
The bustling city of Delhi consumes a lot of time when it comes to traveling from one place to another. So, be a bit more calculative and ponder upon it. If the travel time seems more than expected, you can also look for lodging facilities nearby to cut down the hassle.
It's important for a coaching institute to help you comprehend where you stand in terms of preparations. And, that can only be done by conducting a test series. So, see to it that the selected institute does organize competitive test series from time-to-time.
Online Resources- Recorded Sessions
Thanks to the internet, everything can be found online easily. Before taking the plunge, verify whether the institute has its resources published online or not. It'll be beneficial in case you bunk classes or couldn't attend some for genuine reasons.
It's quite essential to understand how the faculty helps to solve doubts and queries in case you missed the class. Their interest shows how dedicated they're towards assisting you in cracking the exam. However, if they don't take the initiative, maybe some other option would be better for you.
Special Focus on Interview Rounds
Last but not the least, interview rounds should get the attention that they deserve. Talk to the faculty about how they prepare students for this aspect. If in doubt, you can also contact the previous students to get more clarity on the institute's promises.
List of 7 Best Bank PO Coaching in Delhi | Enroll in Banking Coaching in Delhi
The Institution's / Organization's Ranking done by WAC is a result of the research done by our team. It is totally Independent of the Rankings done by the Govt. Bodies. if any Institute has any Queries regarding any Information Updates or has conflicting ideas in terms of Ranking positions can contact us. Email at rishabh@wac.co.in or Call on +91-9818198188.
We are going to help you in choosing the right Bank PO Coaching in Delhi. You can discover a rundown list of the 7 Best Bank PO Coaching in Delhi as per our research-
Rank 1: Singh Academy of Competitive Success
Singh Academy of Competitive Success has been a leading name among the bank coaching centers in Delhi for the past 16 years. The course curriculum here has been designed with a special focus on training analytical thinking, IQ, and logical development among its students.
In recent years, most of the bank exams have shifted online; therefore, Singh Academy of Competitive Success conducts time-bound digital test series to give its students a thorough experience of the same. Also, it offers an in detail section-wise analysis of each section of the test to pinpoint your areas of improvement. Aptitude training, individual attention during doubt sessions, and weekly evaluation of the students are also paid heed to.
Some key features at Singh Academy of Competitive Success that makes it one of the best banking coaching institutes in India are:
Specially tailored video lessons
Small-sized batches for better understanding
Faculty members who provide the best bank coaching in Delhi
---
Rank 2: IBT Institute
IBT Institute Pvt. Ltd., headed by Managing Director, Pardeep Singh, has the aim of providing the best coaching of banking courses in Delhi. With over one lakh students acing the various professional competitive examinations, IBT is definitely one of the most sought-after coaching institutes in Delhi. It is known to provide excellent ISB bank coaching and has over 1600 selections in ISB alone.
IBT has a highly informative blog that provides you with Notifications, Articles, Quiz, Video Lectures, and has a learning App that can be downloaded on your iOS and Android device easily. Plus, they host Daily Quizzes to boost your skills and knowledge and an E-Magazine to improve your Current Affairs. Their GK Zone is aimed at enhancing your general knowledge.
---
Rank 3: Tara Institute
The Managing Director at Tara Institute, Satyendra Kumar, is aimed at taking the footsteps of Tara Institute to higher and higher grounds with every passing year. According to him, the sole secret behind this is the motivated and inspired work of a team of highly experienced faculty members who are bent upon working on the weak points of each student and enhancing their strengths.
What makes Tara Institute the best institute for bank coaching in Delhi is its perfect amalgam of excellent faculty members and interactive study course material. It offers high-quality and free video lectures, free standard online tests, current affairs and General Knowledge as key resources that lead up to an aspiring student's success. It is also known to provide handsome scholarships to handicapped and (or) orphaned-seeking students.
---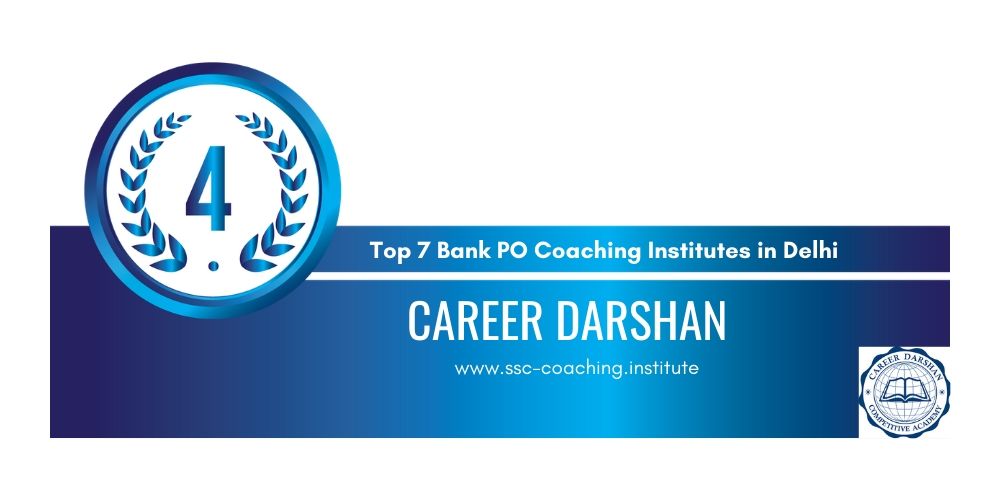 Rank 4: Career Darshan
Among the bank coaching centers in and around Delhi, Career Darshan is a much-trusted name and as the name suggests, paves the careers for thousands of students.
Career Darshan pays a lot of attention to detail and aims to provide maximum opportunity to its students, besides quality learning.
Some of the key features that set it apart from other bank coaching centers in Delhi are as follows:
Complete coverage of an otherwise vast syllabus
Morning, evening as well as weekend batches that students can avail themselves according to their convenience
The latest pattern is followed by instructors and weekly test setters
A thorough discussion of previous year question papers
Regular doubt clearance
Tips and tricks for time management during exams
Individual attention to its students
---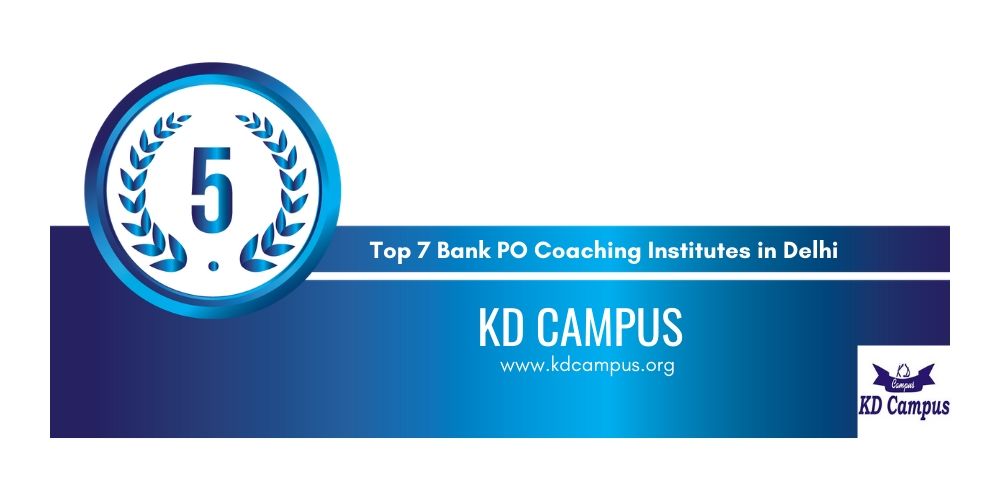 Rank 5: KD Campus
KD Campus Pvt. Ltd. is another institute that bestows quality bank coaching in Delhi and is directed by renowned author and educationist Neetu Singh. The highly qualified and experienced faculty members at IBT provide excellent classroom learning, doubt clearing sessions and give regular class assignments to improve the skills of its students.
Plus, its exhaustive course material is designed so as to expose the students to maximum knowledge and useful facts.
KD Campus also features a Mobile-friendly Android App Test Series that students can download and access from anywhere, including the convenience of their home. With selections for numerous students every year, KD Campus also boasts of providing the best coaching for Bank PO in Delhi. Its online bookstore is also breeze-worthy, as are their tutorials and video lectures.
Rank 6: Koncept Academy
Koncept Academy, since its very inception in 1996, has been providing excellent banking coaching in Delhi and thereby, leading to the success of its ambitious students. The bank exams are a test of your knowledge IQ, concepts you have learned in school, and your general awareness levels. However, time management during the actual exam as well as saving yourself from losing marks through negative marking are more important skillsets.
Koncept focuses on these. Plus, the general MCQ pattern of the paper may come as a bit of a surprise for new test-takers- so Koncept gives you a lot of prior experience through their time-bound tests. Koncept Academy is aimed at featuring the best Bank PO coaching in Delhi through their experienced faculty who guide the students diligently and help them realize their goals.
Rank 7: Getsuccess Point
Getsuccess Point is one of the other leading coaching institutes in Delhi which got established in 2010. It provides quality learning and practice sessions to its students that prepare them for facing the important competitive professional examinations. The highly experienced faculty members here are also motivators who support the students in every step of their journey and not just in their selection.
Get success Point also has suitable and cheap PG facilities for providing easy residence to its students. Also, it specializes in RBI grade B coaching in Delhi leading to the selection of several students for the same. Their course curriculum and study material lay emphasis on the skills that exclusively get tested during the actual bank exams- English language, Reasoning, Mathematics, General Awareness, Computer Knowledge, and Marketing Knowledge.
Address: Getsuccess Point Head Office, D-23, 60 Feet Road, Mangal Bazaar, Chattarpur, New Delhi-110074, Opposite Yes Bank, Above Shabhu Dayal Automobile.
Contact Number: 1126303673, 9971787677, 9821218177, 8178856767, 9999604153
Email: getsuccesspoint@gmail.com
Website: https://getsuccesspoint.com
The content published on this page is a compiled result of What After College's Research team. The parameters of the research and the content structure are devised by What After College's Research Team and it is not in any way related to rankings done by governmental bodies. This research has purely been done by a third party. Kindly contact at 91 9818198188 to make desired changes in the contact information related to your college.
---
Online Coaching VS Offline Coaching
With more and more online platforms trying to cater to the bank aspirant crowd, one cannot deny the impact a good bank PO coaching can have on the aspirant. Coaching institutes can help in shaping up the mindset and give the aspirants an added edge to qualify for the Bank PO exam.
A good coaching institute can make a night and day difference for a Bank PO aspirant. Coaching institutes have qualified and experienced staff that is competent in training the candidates with the skills necessary to crack the exam. Apart from providing study materials, the best banking coaching institutes of India also provide regular mock tests to make sure that the skills of the candidate always stay sharp.
Also, a coaching institute can help a student clear his doubts personally from the dedicated teaching staff. Personal attention to candidates is one of the most important advantages of taking classroom coaching for Bank exams. A person who is preparing on his own for Bank PO does not get these benefits.
While coaching institutes have many advantages, there are some disadvantages too. One primary disadvantage is when a candidate finds the wrong company and stats wasting time instead of studying. Some coaching institutes without experience in teaching advertise false claims to lure in candidates. One should always avoid such bogus institutes and opt for a reputed bank coaching center.
Bank PO v/s SO Exams
There are a few minor differences between Bank PO and Bank SO exams.
The pattern of examination for Bank PO and Bank SO is the same with the primary difference being in the fact that in the case of Bank SO, the candidate is assigned a specific department like IT, Marketing, HR, Law, Agriculture field officer, etc. Other than that, there are not many differences in pay scale, exam patterns, or career prospects.
A Bank SO generally has a more repetitive job profile while a Bank PO has a more challenging and exciting job profile. Banking courses in Delhi at a reputed institute can help you sharpen your skills and easily crack the Bank PO exam.
Bank PO Examinations
The bank PO exam consists of two stages- a written preliminary exam, and a mains exam.
The preliminary exam consists of 100 questions from the fields of Quantitative Aptitude (35 marks), English Language (30 marks), and Reasoning Ability (35 marks).
The IBPS PO Mains exam, on the other hand, has 155 questions in 4 sections- Reasoning Ability and Computer Aptitude (60 marks), English Language (40 marks), Data Interpretation and Analysis (60 marks), and General/Economy/Banking Awareness (40 marks).
The syllabus covered for bank PO is generally a vast one and dedicated practice is required for one to crack it. Being a vast and tricky syllabus, the candidate needs to have proper professional guidance to cover the entirety of the syllabus. The Bank PO exam is held in two stages. In the preliminary exam, the candidates are asked questions to test their general aptitude. The preliminary exam consists of 100 questions from three sections- Quantitative Aptitude, Reasoning Ability, and English Language.
The mains examination consists of 200 questions encompassing Quantitative Aptitude, Reasoning Ability, English Language, General Awareness, and basic computer knowledge. Current affairs and banking-related questions are also sometimes asked.
How to Secure a Job in a Bank?
To secure a job in a bank, one has to qualify the required qualifying examination.
Securing clerical positions, one has to qualify for the IBPS Clerk examination. Many banks also independently hold their own examinations for the positions of Clerks.
An aspirant can qualify for the Bank SO or Bank PO exam to get a position as a Specialized Officer or a Junior Manager. However, one has to qualify for both preliminary and mains exams to get the job.
How to Apply for Bank PO?
Bank PO exams are organized by the Institute of Banking Personnel Selection and SBI separately. Every year, selected dates are mentioned on the respective websites which the aspirants can check at any time. The dates for commencement of application for the exam are also mentioned. Candidates can apply online once the dates for the application start. Bank coaching in Delhi is another step you can take after applying for the bank PO exam to make sure of your success in the exam.
---

Frequently Asked Questions About Bank PO Coaching in Delhi