Searching For Best TOEFL Coaching Centers in Hyderabad is an article drafted and crafted by WAC's Research team. More and more students are finding Professional Training to crack the TOEFL exam with the best marks possible. Getting into the best TOEFL coaching in Hyderabad can give any student an edge over others. It is beneficial for any student to join the best TOEFL coaching in Hyderabad. Enrolling in TOEFL Coaching will help in increasing the chances of success.
---
TOEFL
If you are aspiring to study at a foreign university for higher studies, TOFEL (Test of English as a Foreign Language) is a necessary Standard English proficiency test for you. TOEFL Exam is a test accredited by more than 10,000 universities and colleges worldwide.
More than 130 countries, including Australia, Canada, the United Kingdom, and the United States, rely on this esteemed exam to assess the English proficiency of the non-native speakers aspiring to attend schools where English is usually heard, spoken, read, and written. Educational Testing Services (ETS) is the body that designs and administers the TOEFL Exam.
What Is The Eligibility For The TOEFL Exam?
There are several misconceptions prevalent about eligibility which is misleading. The ETS has not specified any eligibility criteria to appear in the exam. However, there are some guidelines one should keep in mind before starting TOEFL preparation.
Age : ETS, the administering body of TOEFL has not defined any age limit required to appear for the TOEFL test.
Educational Eligibility : There is no specific requirement, but students who want to study at a foreign university or college and have successfully finished high school or equivalent are suitable to appear for the exam.
Various TOEFL coaching institutes assist aspirants from varied age group and educational qualifications, qualify the TOEFL exam.
How Can I Apply For TOEFL?
You can register for TOEFL in four different ways, by phone, online, mail or in person at the official TOEFL test center. The easiest of all four procedures is online registration. Online registration for the TOEFL exam closes seven days before the test date. One can register for the exam throughout the year. However, to get the desired slot and test center, one should register a few months before the TOEFL exam date.
To register online :
Go to the official ETS website and create your profile.
Fill in all the necessary details such as your name, phone number, email-id, etc.
Ensure the details are accurate as it appears on your passport.
Complete the application by paying the TOEFL exam fee using a credit/debit card.
If you are doubtful about your TOEFL exam preparation after the registration, seeking specialized coaching assistance is a smart way to ignite your mind and prepare better.
There is no as such syllabus specified by ETS which makes it a little tricky. That being said, an aspirant requires proper guidance and time management skills to cover different aspects of this exam. The TOEFL test is divided into four sections, i.e. Listening, Reading, Speaking, and Writing.
Listening : This section requires a candidate to listen to classroom discussions, lectures, conversations, and then answer questions related to the topic.
Reading : This section includes reading three or four passages and answering questions.
Writing : Aspirants will have read, listen, and then write in response to a question.
Speaking : The test takers have to express an opinion on a familiar topic based on reading and listening tasks.
---
Parameters For Selecting TOEFL Coaching Centers in Hyderabad
Wanting to study abroad but know nothing about TOEFL and how to decode it? Selecting the best coaching for TOEFL preparation could be a nerve-wracking situation. Picking the best institute to propel your preparation in the right direction is essential as it can shape your career for the best or worst in the future.
Selecting a coaching institute in the vicinity is not a reliable approach to go about it constantly. It can indeed be a contributing factor, but consider every other important aspect of a good institute. Here are a few factors you should bear in mind to choose the best TOEFL Coaching.
Right guidance is vital for the TOEFL exam as it is competitive in nature. Always go through the profile of the faculties before joining the institute. A TOEFL teacher should be a certified trainer and have relevant experience in the field of teaching.
For a healthy and prolific learning environment one does not require a state of the art infrastructure to study. Just make sure that it has all the primary facilities and infrastructure to promote a pleasant learning ambiance.
Course content should be the king for every reputed TOEFL exam coaching. No matter how many facilities they are providing or the low TOEFL Fees they are charging for their program if their course content is mediocre, you should not be joining those classes.
Always check the credibility of the merit list of the former students while selecting a TOEFL institute. The performance of the previous students represents everything about the institute's potential.
Selecting a mediocre institute with a high TOEFL Fee structure is not a wise choice to make. Every glitter is not gold; one should always narrow down the best institutes based on different aspects that suit your pocket as well.
Travel Time and Lodging Facilities Around the Coaching Institute
Time is a valuable asset in a student's life and wasting it away shuttling to the institute frequently can mess up your entire self-study schedule. Ensure you choose a center near your location or if you can relocate, check the lodging facilities available in that area first.
Most reputed TOEFL coaching institute offers a wide range of practice Test series or Mock Tests. These test series help you formulate exam strategies and polish your weak subjects, which are crucial for your TOEFL preparation. Be assured your institute also offers highly competitive and well-structured Test series.
Online Resources – Recorded Sessions
It is always beneficial to have an alternative resource to access study material and recorded sessions. Choose institutes that have a systematic online platform with all the course content effortlessly available in digital format.
Doubt Sessions/When you'll miss the class
Consult the institute to ask about their doubt-clearing session's policy. Regular doubt sessions help the students to enhance their understanding of the topics and excel in the exam.
Special Focus on Interview Rounds
However, the TOEFL exam doesn't include a personal interview round per se, but it does test your English speaking skills. Select an institute that also focuses on providing classes to improve your English speaking proficiency.
---
List of 7 Best TOEFL Coaching Centers in Hyderabad | Enroll in TOEFL Coaching in Hyderabad
The Institution's / Organization's Ranking done by WAC is a result of the research done by our team. It is Independent of the Rankings done by the Govt. Bodies. if any Institute has any Queries regarding any Information Updates or has conflicting ideas in terms of Ranking positions, can contact us. Email at rishabh@wac.co.in or Call on +91-9818198188.
Excellent coaching, along with, diligent self-study can lead to sure-shot success in the TOEFL exam. However, narrowing it down to the best TOEFL institute can be an exacting experience. To help you with this, we have listed the top 7 TOEFL institutes in Hyderabad city following rigorous research.
Rank 1 : Texas Review
Texas Review is one of the fastest emerging leaders when it comes to overseas education services. With 12 centers over eight cities in India, Texas Review offers result-oriented coaching to help students realize their dream of studying abroad. Apart from TOEFL coaching, it also provides coaching sessions for GRE, CAT, GMAT, TOEFL, SAT, IELTS, PTE exams.
The institute delivered exceptional results due to the small batch sizes, ensuring personalized attention to each student. Moreover, their team of experts from different fields of education is always ready to work with the students to build and deliver what is required. With the help of the high-grade faculty, specialized in TOEFL training, students can succeed in the exam easily.
The institute aims to complete the course well in time and facilitate its students with skilled assistance to make their journey hurdle-free. The institute provides updated materials quarterly and guided assignments to help the students kindle their TOEFL preparation. Texas Review also claims to conduct personalized one-on-one classes for 20 days and TOEFL classroom training for 30 days.
---
Rank 2 : IELTS Review
IELTS Review is another top contender in the list of best TOEFL Coaching centers in Hyderabad city. Established in 2015, the institute is rendering leading-edge learning solutions in the field of test preparation, career guidance, and language proficiency programs.
The institute delivered exceptional results due to the small batch sizes, ensuring personalized attention to each student. Moreover, their team of experts from different fields of education is always ready to work with the students to build and deliver what is required. With the help of the high-grade faculty, specialized in TOEFL training, students can succeed in the exam easily.
ELTS Review coaching center is located in Hyderabad, offering training for IELTS, PTE, GRE, TOEFL and SAT, and specialized test preparation classes. This institute maintains to provide India's prominent language trainers to help you attain your TOEFL goals.
Their uniquely designed classes, mind-boggling tips, practical techniques, and shortcuts empower young students to taste the success in the TOEFL exam. It also ensures to give detailed learning online and video tutorials that anyone can access at their convenience. IELTS Review assists you with end to end solutions to simplify the immigration process for the students as well.
---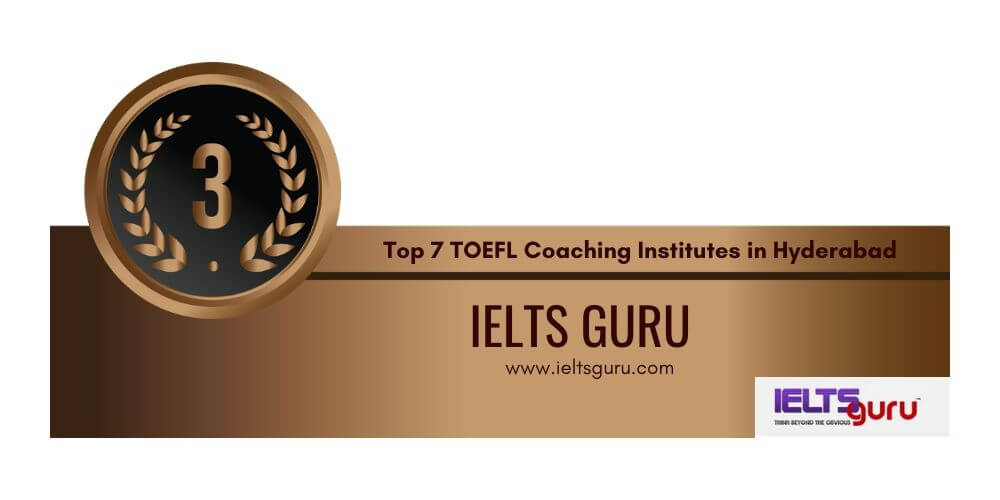 Rank 3 : IELTS Guru
IELTS Guru is the third top pick on the liest TOEFL exam coaching classes in Hyderabad. It iforone of the most popular and reputed coaching institutes among students in Hyderabad. The institute is known to recruit some of the highly experienced trainers who have a reputation of invariably producing results for the institute.
The institute delivered exceptional results due to the Medium batch sizes, ensuring personalized attention to each student. Moreover, their team of experts from different fields of education is always ready to work with the students to build and deliver what is required.
The flexibility in the programs and their batch timings helps students and working professionals to attend the classes in a hassle-free setting. If you are planning to study abroad, then IELTS Guru is another best choice you can opt for.
It provides interactive classes with a pragmatic approach toward various exams such as GRE, IELTS, SAT, PTE, GMAT, and other language courses. Well-researched study material, quality education, and other services make the learning experience more engaging and productive for the students.
---
Rank 4 : Novus Education
The next favorite institute on the list is Novus Education, a pioneer in providing extensive educational services for all the exams such as GRE, ELTS, TOEFL, GMAT, and PSAT/ SAT.
The institute also provides instructors get the iBT practice tests to s and weaknesses of the students that aid improvement in each section. The small batch sizes and flexible timings help the instructors get the most care and attention.
Specialized curriculum designed by the expert faculty members gives its students an edge in the TOEFL exam. It also allows special grammar and vocabulary review classes to equip them for the exam.
Novus education also offers various other additional services like financial aid to bear TOEFL cost, scholarships, assistance through the immigration process to help its students grow and prosper throughout the journey. Their experienced counselors work vigorously with students to pick the best universities matching their potential and help them through the whole admission procedure.
---
Rank 5 : People's career
TOEFL students looking for the best TOEFL coaching in Hyderabad can also settle on People's Career for its impressive TOEFL career guidance and success rate. Their services are committed to helping the aspirants in overseas education and immigration to countries of their choice.
The Institute is highly equipped with a team of efficient, attentive, and supportive trainers to understand the needs of the students and help them improve their English proficiency. The institute organizes special English speaking activities for the students to enhance their grammar, articulation skills and imparts confidence to speak English fluently.
Many former students have ranked this institute among the best TOEFL, IELTS, PTE and Spoken English coaching centers in Hyderabad. It happens to provide both offline and online materials and Test Series so that every student gets enough training and confidence to excel in the exam.
---
Rank 6 : English Springs
English Springs is another top-rated TOEFL Coaching center in Hyderabad city. English Springs hires instructors who have considerable experience, suitable qualifications to polish the students adequately for the Test. They work with students actively to generate tangible results in the TOEFL exam.
The institute claims to utilize teaching techniques that are innovative and systematic, solely aimed at obtaining the highest possible scores. It also provides the students with exhaustive, genuine standard course material, including audio files and Mock Tests at reasonable prices for TOEFL preparation.
They makes the learning experience flexible with their regular week-day batches, weekend batches, Fast-track batches, and most notably, online classes for the students.
One of the best unique features of this institute is that it charges a fee, not for a duration or course but to help the student achieve the required score in the exam. They take the responsibility of the student until one secures the score needed for the admission, no matter how long it takes and how many hours it demands to achieve that goal.
---
Rank 7 : Global Tree
The last institute on the list is the Global Tree Coaching Institute for TOEFL preparation. It is one of the pioneers in proffering support to students who want to pursue their education abroad. Since its inception in 2006, this institute is serving hundreds of students to accomplish their goals.
Global Tree provides dedicated TOEFL training using a comprehensive program and a team of expert faculty to help in improving the student's score. Its TOEFL course also includes many mock practice tests, which will help its students to endure the real-time test situations and customized evaluation after the mock test as well.
This coaching institute said to have state of the art classrooms, which utilizes the latest study aids to improve the learning experience.
It supports the students with their immigration consultant aids to apply in various colleges, guiding and coaching them to succeed in the exams like TOEFL, SAT, GMAT, GRE, ACT, and IELTS.
The content published on this page is a compiled result of What After College's Research team. The parameters of the research and the content structure are devised by What After College's Research Team and it is not in any way related to rankings done by governmental bodies. This research has purely been done by a third party. Kindly contact at 91 9818198188 to make desired changes in the contact information related to your college.
---
Why Coaching for TOEFL is necessary?
Studying abroad is a multifaceted experience that requires you to be familiar with their native language to survive. TOEFL test helps to prepare for this in advance. Investing time and effort in preparing for the exam is a critical element while considering doing well in the future.
So, the question remains what the best preparation method for TOEFL is? Is it necessary to take Coaching for TOEFL preparation? Any aspirants can self-study for this exam with the help of online resources and content. However, one can also consider taking professional guidance. Taking up a TOEFL course is a smart approach to tackle exams having cutting-edge competitions.
They provide you the best opportunity to learn new things and help you grow both mentally and academically, making it easier to crack the exam. These classes are a one-stop-shop for all your preparation needs. Whether you want updated subject materials, assistance in learning methods, or regular mock tests to evaluate your performance, these coaching institutes provide them all.
Furthermore, coaching institutes give you the opportunity to study along with other aspirants, which may boost your competitive spirit.
---
Online TOEFL Coaching Vs Offline TOEFL Coaching Centers in Hyderabad
It is no mystery that the competitive exam landscape is changing swiftly. With the infiltration of the internet, there are more resources and study material available online than ever. Choosing between online and offline coaching mostly depends on your personal preference. While online Coaching requires no commutation, on the other hand, offline coaching offers face-to-face interaction with teachers and other students.
Joining an offline coaching institute would ensure that one devotes a minimum amount of time and effort to prepare, which most new aspirants prefer. Contrarily, online coaching is a more flexible and innovative learning experience for the student.
TOEFL Coaching vs. IELTS Coaching
TOEFL and IELTS are two of the well-recognized tests to assess your English proficiency. However, there are some differences between the two.
TOEFL is entirely multiple-choice based exams but, IELTS includes a mix of short answers and essay questions.
The IELTS exam is only available as a paper-based test. TOEFL is both an internet-based test as well as a paper-based test.
TOEFL's structure and language are more academic-centered, while the IELTS has a more real-world communication feel.
The exam fee is similar for both, TOEFL exam Fee is USD 180, and IELTS fees are approx USD 189.
What is a Good TOEFL Score?
A good TOEFL score depends on many things like your college, your program, your country, and more. However, there is no passing or failing score for TOEFL; usually above 90-100 is considered a good score according to several universities. Check the minimum TOEFL score requirement before applying to your desired university.
Things to Do a Day Before TOEFL Exam
The last day right before any exam is definitely stressful, so these are some things to consider making it less so.
Arrange the bag, putting all the required test documents such as passport and registration numbers.
Try to eat healthily and sleep well before the exam day.
Give yourself a break the day before you take the TOEFL to distress your mind.
TOEFL Exam Day Do's and Don'ts
Arrive at the test center at least 30 minutes before the official exam time to avoid last-minute hassles.
Do carry your registration number/admit card, passport with you.
Wear comfortable clothes on exam day to avoid any distractions during the exam.
Don't study on your exam day as cramming words or anything related to the exam will stress your mind and create anxiety.
Read or follow the directions carefully before answering. Keep yourself calm and composed while reading or listening to the questions.
---
Conclusion
Students now know everything related to the best TOEFL coaching institute in Hyderabad from all the information listed above in the article. As there is a lot of competition, you must have come to realize that it is not easy to crack the test. Just a few students can crack the TOEFL exam and get a seat from the lakhs of students who give the TOEFL exam.
Students get all the facilities for TOEFL preparation such as tips, guidelines, study materials, and other amenities. But besides all this, the students need dedication and the right path as well. Students need to be enrolled in the best coaching institutes that provide excellent teaching for TOEFL exam preparation for the best guidance.
We listed the list of TOEFL best coaching institutes in Hyderabad above. All you have to do now is make it the right selection for you. For more details, you can visit the TOEFL Coaching Institute or call them on a given contact number. At any point, don't think it's easy to crack the TOEFL exam because it's not. The competition is very difficult, so don't lose hope at any stage and give your best once you start preparing for the test.
---

Frequently Asked Questions about Best TOEFL Coaching Centers in Hyderabad
Which institute is best for TOEFL Coaching in Hyderabad?
There are various institutes that are said best for TOEFL Coaching Centers in Hyderabad. We have ranked the top 7 of them in this article. Rank 1 is considered to be the best.
How much do institutes for TOEFL Coaching in Hyderabad charge?
The fee structure of each institute is different. Here, we have disclosed the fees of every top TOEFL Coaching in Hyderabad.
Which TOEFL Coaching in Hyderabad provides the best study material?
All the institutes present in our Best TOEFL Coaching in Hyderabad's list provide good study material but Rank 1 has been considered the best among students.
Is Hyderabad really good for TOEFL coaching?
Hyderabad has been called the best place to go for TOEFL coaching many times in the past. Here, you will find the 7 Best TOEFL Coaching in Hyderabad.
How would I know whether the timings for the best TOEFL Coaching in Hyderabad will suit me or not?
We have specified the timings of each institute in our article. You can join the one that best suits your requirements & needs.