Top 7 Bank PO Coaching in Bangalore is an article drafted and crafted by WAC's Research team as more and more students are finding Professional Training in order to crack the Bank PO exam with the best marks possible. Getting into the best Best Bank PO Coaching in Bangalore can give any student an edge over others and it is really beneficial for any student to join the top Bank PO Exam Coaching in Bangalore.
Bank PO Coaching
Bank PO is an entry-level appointment for bank officials. PO stands for Probationary Officer. After being inducted, a Probationary Officer must undergo a probationary period of two years after the completion of which they are appointed as a Junior Manager of Grade I scale at any branch of the bank. During the probationary period, the PO is trained with regard to various activities of the bank.
To be eligible for appearing in the bank Po exam, one does not need to have very high qualifications. Any aspirant with a graduate degree from any recognized university can appear for the exam. However, candidates having higher qualification can also apply. But it is mandatory for all candidates appearing in bank PO or SO exam to not have any criminal background.
There is a strict age limit set for aspirants who wish to appear for bank PO exams. A candidate must at least be 21 years of age to be able to appear for the bank PO exam. The upper limit for appearing for the examination is 30 years.
However, the age limits are relaxed for candidates with reservations. OBC candidates are provided with an age relaxation of 3 years while SC and ST candidates are given an age relaxation of 5 years. Ex-Servicemen and the students with Jammu and Kashmir quota are also given an age relaxation of 5 years each. ISB bank coaching can help aspirants of all ages prepare for the Bank PO exam.
A bank PO exam has two stages-
The preliminary stage has 100 questions from Quantitative Aptitude (35 marks), English Language (30 marks) and Reasoning Ability (35 marks).
The Mains exam for IBPS has 155 questions from 4 sections- Reasoning Ability and Computer Aptitude (60 marks), English Language (40 marks), Data Interpretation and Analysis (60 marks), and General/Economy/Banking Awareness (40 marks).
The syllabus for the Bank PO exam is extensive and covers a lot of subjects and topics. A candidate requires dedicated practice to hone their skills of all the subjects to be able to solve the question paper within the stipulated time.
The Bank PO exam contains questions from Quantitative Aptitude, Reasoning Ability, and English Language in the Preliminary exams. Quantitative Aptitude refers to the numeric ability and problem-solving ability of the test taker. Reasoning Ability checks the capacity of the candidate to use logic and sound reasoning to solve a problem.
The Mains exam consists of questions from Quantitative Aptitude, Reasoning Ability, English Language, and General Awareness. Banking courses in Bangalore can help you cover the entire bank PO syllabus with ease.
---
Why Is Bank PO Coaching Necessary?
With millions of aspirants trying to crack the bank PO exam, bank PO coaching is opted by many. While some may be of the opinion that bank coaching is not absolutely necessary, the number of successful aspirants from bank coaching centers is rising with each day. A good coaching center can give the student a push in the right direction and help them qualify for the Bank PO exam.
The syllabus for the Bank PO exam is very diverse and a multi-faceted preparation is needed to be able to solve questions from all subjects. A bank exam coaching center can help you prepare for your PO exam in the correct manner so that you perform well equally in all the subjects. Coaching institutes can also help you develop methods and techniques to be able to solve the question paper within the limited time which cannot otherwise be developed while studying alone. Along with providing high-quality study material, a good bank coaching center also help you meet other aspirants that can help you get motivated.
---
Online Coaching Vs Offline Coaching
More and more platforms are trying to reach out to bank aspirants through the online medium. While it can be agreed that online coaching is easily available to aspirants at the comfort of their home, one cannot deny the impact bank coaching can have on an aspirant. Bank coaching institutes in Bangalore can help aspirants develop their skills and also keep track of their progress through regular tests. Also, the best bank coaching centers in Bangalore organize doubt clearing sessions and prepare aspirants for interview stages of the exam too. A student preparing by himself does not get these benefits. Coaching institutes can also provide RBI grade B coaching in Bangalore.
Although bank coaching has many benefits, there are some drawbacks too. For example, a candidate might get caught up in the wrong company of people and may deviate from studies. Also, some institutes make false claims to dupe students of their money. However, one can easily avoid these pitfalls by making smart and informed decisions.
---
Bank PO vs Bank SO Exam
There are not many differences between the bank PO and Bank SO exams. The structure of both exams is similar. The difference lies in the fact that a SO is assigned a specific department of the branch to look after- like IT, agriculture, HR, etc. The job profiles for a Probationary Officer (PO) is slightly different than a Specialist Officer (SO). POs have a more exciting and challenging job profile than that of an SO.
---
How to Secure A Job in A Bank?
To secure a job in a bank, one has to crack the qualifying examination and undergo a training or probationary period of two years following which the aspirants will be given a permanent post.
For securing a clerical position, one has to qualify the IBPS clerk examination
For the post of SO or PO, the aspirant has to crack the IBPS SO or PO exam.
Bank coaching in Bangalore can help you prepare equally for all bank related examinations.
---
The Best Ranking Bank PO Coaching in Bangalore
Bank PO exams are very competitive and you require the best guidance possible to make it through the exam. Many aspirants opt for Bank PO Exam Coaching in Bangalore to get proper counseling for bank PO exams. Selecting a good institute can propel your career into new heights. Therefore, it is necessary to select the best Bank PO Exam Coaching in Bangalore to assist with your exam preparations.
Many important factors play a key role in determining which Bank PO Exam Coaching in Bangalore is suited to your needs. The important criteria that an aspirant should consider before selecting a coaching institute are-
The faculty of an institute are the ones who train the candidates for their bank examinations. Selecting an institute with dedicated and experienced faculty members will confirm a candidate's success.
A Bank PO Exam Coaching in Bangalore should have good infrastructure to make sure the candidates have a proper environment for studying.
A candidate should opt for an institute that offers a well-structured course that helps sharpen the capabilities of the candidate in all the subjects. The course should be all-inclusive and should aim for all-around improvement of the aspirant.
The results of the previous years are a sure shot way to tell if an institute lives up to its claims. Good bank Coaching centers have consistent superior results.
The best bank coaching institutes have great value for money. They offer high-quality training to candidates with a reasonable fee structure.
Location and Lodging Facilities
Low-cost food and lodging facilities around the coaching institute mean that the student can spend more time studying instead of commuting to coaching centers.
Reputed coaching institutes conduct regular competitive tests among candidates to ensure that the aspirants can keep track of their progress.
The best coaching institutes have their course content available online which makes it easier for the candidates to access study material whenever they prefer to.
The best coaching institutes organize special doubt clearing sessions to keep the aspirants ahead in terms of preparation.
Special Focus on Interview Rounds
Many institutes provide special attention to training for interview rounds which make sure that the candidates are always successful in cracking the bank PO exam.
---
List of Top 7 Bank PO Coaching in Bangalore
The Institution's / Organization's Ranking done by WAC is a result of the research done by our team. It is totally Independent of the Rankings done by the Govt. Bodies. if any Institute has any Queries regarding any Information Updates or has conflicting ideas in terms of Ranking positions can contact us. Email at rishabh@wac.co.in or Call on +91-9818198188.
After taking into consideration multiple factors affecting the performance and reputation of a bank coaching institute, and after much scrutiny, we have narrowed down the 7 best bank coaching institutes in Bangalore. The 7 best institutes have been listed below-
Rank 1 : Bharat Banking and SSC Coaching
Bharat Banking and SSC coaching is a premier institute of Bangalore that is a pioneer of Bank and SSC coaching. With an experience of over 8 years and helping over 2000 students to appear for the exams, Bharat Banking and SSC coaching have an excellent track record. The institute has different classes targeted towards students or professionals. They also have high-quality test series that challenge the candidates and test their capabilities. The test series are designed with probable questions in mind. The institute also offers postal courses for students who cannot directly attend classroom coaching. The study material is up to date and can be easily understood by students.
The institute has experienced faculty who are the best in the business. They also have a library stocked with all daily and fortnightly current affairs magazines. The classrooms of the institute are state of the art and equipped with digital projectors. The institute also offers RBI grade B coaching in Bangalore.
---
Rank 2 : Vidyasagar
Founded by passionate academicians, the institute is known for its faculty and quality of education imparted to its students. The institute provides coaching classes for Government Exams, Government Job, SBI PO, SSC, Banking Exam, Banking Service, IBPS PO, SSC CGL, IBPS SO Exam, Insurance Exam, as well as the Railway Exam.
The faculty here is known for excellence and has garnered high reviews on several sites for its focus on delivering excellence.
Address : Bus Stop, #15, 3rd floor, CRM Soubhagya Complex, Opposite to Shikharam Apartment, Varthur Rd, Spice Garden Layout, Near, Marathahalli, Bengaluru, Karnataka 560037
Contact : 072046 25717
Email : NA
Website : www.vidyasagarinstitute.in
---
Rank 3 : TIME
TIME is an acronym for the Triumphant Institute of Management Education. TIME was established in 1992 and has become one of the best coaching institutes in Bangalore. With almost 250 branches spread all over the country, TIME is one of the best institutes for taking bank coaching in Bangalore.
The institute also offers to coach for many other competitive exams like railways, SBI PO, SSC, etc. Time offers both classroom programs and distance learning programs to the aspirants. Video courses are also available for the students. The institute organizes online test series for students to check their progress. These tests can also be taken online through an app.
TIME is renowned for its excellent faculty. Hundreds of thousands of students have tasted success through the guidance of TIME. The past results of aspirants through TIME is proof of the excellence of the institute.
---
Rank 4 : Career Power
Established in 2010, Career power can be regarded as one of the best banking coaching institutes in India. They are an institute that provides coaching for banks and other government sector jobs to aspirants. The institute is a part of Adda 247, one of India's largest and fastest-growing education technology companies. The institute with its well-structured course provides one of the best bank coachings in Bangalore.
The candidates are provided with both classroom and online classes. They even have a YouTube channel where videos of various topics are posted regularly.
The faculty of Career power consists of IIT and IIM Alumni who are both well trained and experienced. The institute also offers correspondence programs to aspirants. Regular online test conducted by the institute to check the progress of the students. The institute has helped lakhs of students realize their dream.
Address : 3rd Floor, Manandi Court, No. 346, 2nd Floor, 27th Cross Road 3rd Block Jayanagar, Bangalore – 560 011.
Contact : 8296775221
Email : info@careerpower.in
Website : www.careerpower.in
---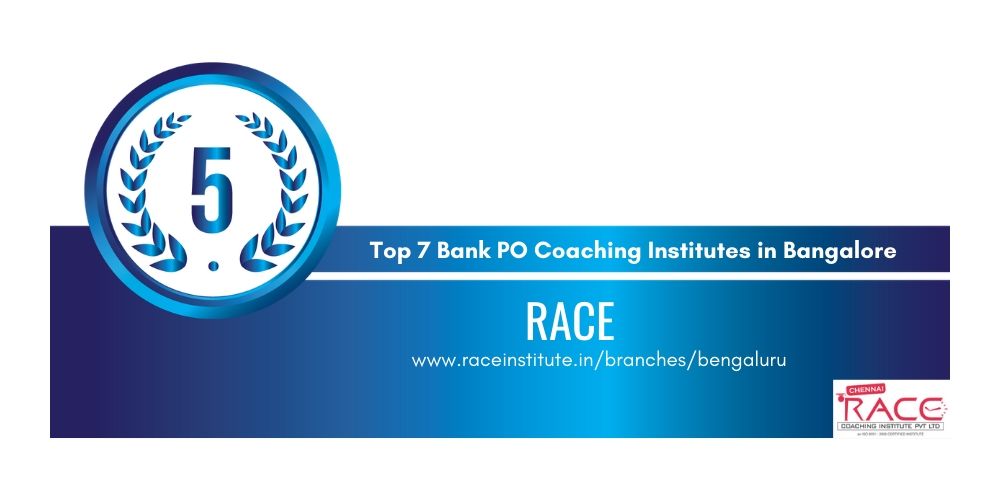 Rank 5 : RACE
The RACE Institute is one of the best bank coaching centers in Bangalore dedicated to helping aspirants crack bank exams. The institute organizes a mock interview with real panel members to train students for interview rounds. It also boasts of low fee structure thus making it affordable for students.
The study material is available to the student for a lifetime. Having helped thousands of aspirants realize their dream, RACE Institute is surely one of the best institutes for bank coaching in Bangalore.
The classes are conducted by retired officers from RBI, NABARD and other field experts with years of experience. The study material is extensive and is designed to help the aspirants learn with the highest efficiency. The institute has a library with around 8000 books and boasts of a solo practice lab to help candidates' practice in private. The institute also has a computer lab with over 1800 computer systems.
---
Rank 6 : Global IAS
Global IAS is an institute that offers various coaching classes for many competitive exams. The Institute dedicated to providing the best training to aspirants for a successful banking career. Led by a team of qualified professionals, Global IAS is one of the most reputed bank coaching centers in Bangalore.
Global IAS institute has been shaping the careers of thousands of aspirants since 2001 and has produced many top rankers till present. The consistent results of this institute are a testimony to the quality of education provided by the academy.
The academy organizes workshops and seminars by inviting top-ranked bank officials and civil servants to trains the candidates and to motivate them.
The institute provides the best banking courses in Bangalore and ensures the success of its candidates through result-oriented classroom training. The academy also stresses leadership development, ethics and social responsibility to ensure the future officials do not suffer from moral bankruptcy.
Address : #361, STERLING ARCADE, 7th Block, II Floor, I Main Road, 80 Ft Road, Koramangala, Bangalore-560095
Contact :  9964093666, 9964094666.
Email : info@globalias.in
Website : www.globalias.in/
---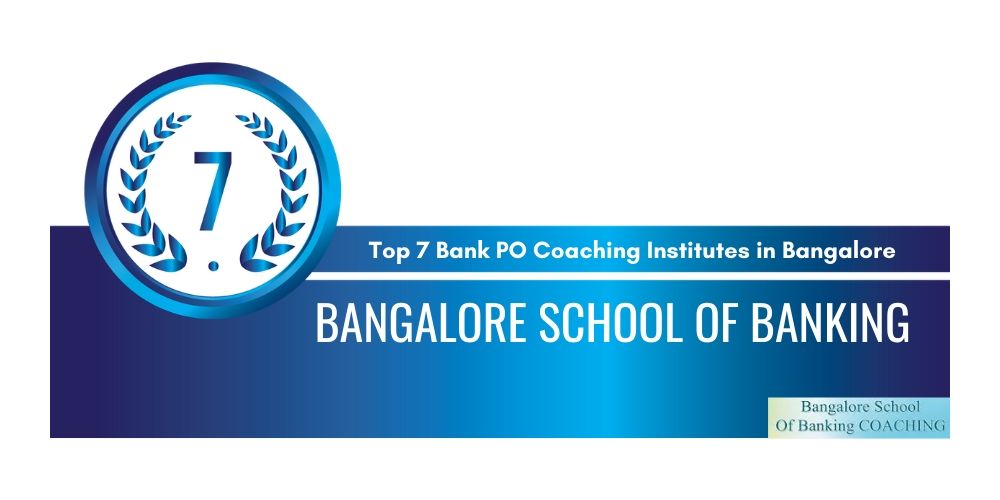 Rank 7 : Bangalore School of Banking
The Bangalore school of banking is a coaching institute that offers ISB bank coaching for IBPS and SBI PO and Bank Clerk exams. The institute has different study packages at different price points to meet the needs of different aspirants. The institute offers good quality study materials and has qualified staff.
Address : No.124, Murugeshpalya Bus Stop, A Cross, Nanja Reddy Colony, Old Airport Road, Bangalore – 560017, Opposite to Mm Street Ores, Near Palki Restaurant
Contact: 080 25270091
---
The content published on this page is a compiled result of What After College's Research team. The parameters of the research and the content structure are devised by What After College's Research Team and it is not in any way related to rankings done by governmental bodies. This research has purely been done by a third party. Kindly contact at 91 9818198188 to make desired changes in the contact information related to your college.
How Can I Apply for Bank PO Examination?
Bank PO exams are organized by the Institute of Banking Personnel Selection and also independently by SBI. Every year the dates for the examinations are mentioned in the respective websites and also at various job websites. One can apply for the bank Po exam by applying online for the exam at the website for IBPS. The best banking coaching institute in India can help you prepare for the Bank PO exam from the very beginning right after the dates of the examination are announced.
---

Frequently Asked Questions About Bank PO Coaching in Bangalore