Top 5 GATE Coaching in Bhubaneshwar is an article drafted and crafted by WAC's Research team as more and more students are finding Professional Training in order to crack the GATE exam with the best marks possible. Getting into the best GATE Coaching classes in Bhubaneshwar can give any student an edge over others and it is really beneficial for any student to join the top GATE coaching centres in Bhubaneshwar.
What Is GATE ?
GATE stands for Graduate Aptitude Test in Engineering. GATE is a computer-based examination very popular among engineering and science graduates. Through GATE engineering and science graduates can get admission for higher studies. GATE score is also valid for entry level jobs in Public Sector Unions(PSUs). Thousands of students from different branches appear for GATE and the number increases every year.
With increasing amount of students applying every year the competition is increasing. GATE examination is mainly conducted by the Indian Institute of Science and seven Indian Institutes of Technology on behalf of National Coordination Board . The duration of GATE examination is three hours and is conducted once in a year mainly in February.
Eligibility Criteria
To appear for GATE examination, a candidate needs to satisfy certain conditions. Anyone with bachelor's degree in science / engineering/ technology can attend GATE examination. Candidates who are having master's in any branch of science /technology/architecture can also appear for the examination. There is no age limit for appearing in GATE examination, a candidate just needs to satisfy basic educational qualifications.
GATE Examination
GATE examination was started in 1984 for the students from various engineering branches. At present , GATE is conducted in 23 disciplines across 660 centers in India ,Ethiopia, Nepal, Bangladesh, Singapore, Sri Lanka and the UAE. GATE examination tests candidate's knowledge in the selected discipline.
GATE is conducted once in a year normally in February. The medium of the examination is English. GATE score of a candidate reflects his/her understanding about various subjects in the chosen disciple. The GATE score is used by various colleges providing post- graduate education and several public sector Indian companies hiring engineers.
GATE score is used by several other institutes outside the Indian borders. Students with a good GATE score are provided with financial assistance by MHRD (Ministry of Human Resource Development) and other government agencies. Through a good GATE score a candidate can get in a good university inside or outside India for higher studies.
GATE Examination Pattern
GATE tests candidate's knowledge about his chosen stream. GATE paper consists of two sections that cover the subjects from the engineering and science stream. Each section has 10 questions on general aptitude. These general aptitude questions test language and analytical skill of the candidate.
There are 65 questions and the total marks are 100. Though, the pattern of the examination does not change often, there is variation in the difficulty level of the examination. There is negative marking in the examination i.e. candidate will be negatively marked for a wrong answer. The result is announced one month after the examinations are over.
With an increase in the competition level a great deal of hard work, patience and commitment is required to crack GATE examination. There are many coaching centers across India providing good training to students. These training centers provide coaching for almost all branches in engineering.Here are some of the top institutes in Bhubaneswar that offer good GATE coaching :
Top 5 GATE Coaching Centres In Bhubaneshwar
With an expansion in the opposition level, a lot of difficult work, tolerance and responsibility is needed to break the GATE assessment. There are many instructing focuses across India giving great preparing to understudies. These instructional hubs give training to practically all parts of designing. Here are a portion of the top establishments in Bhubaneswar that offer great GATE training :

Rank 1: The Gate Academy | GATE Coaching in Bhubaneshwar
The Gate Academy founded by alumni of IISc and IIT which provides Best GATE coaching centres in Bhubaneshwar following are regular course curriculum. The faculty consists of GATE toppers who work hard to help students to meet their potential. Having around 57 centers across India, the institution's student centered guidance has helped many students in achieving their goal.
Gate academy provides correspondence as well as regular courses for students. Regular course includes class room training along with study material. While in correspondence course student is provided with study material, it is meant for distant learners. Apart from this, there is online course as well in which there are online classes by a faculty of the institution. Hence, a student can get training from anywhere using the digital facility of the institution.
Gate Academy founded by the alumni of IITs and IIMs with the aim of training engineering students aspiring for GATE/ PSU/IES examinations. The faculty of Gate Academy has been engrossed in developing good quality course curriculum for the engineering government examinations.
Website: www.thegateacademy.com
Address: THE GATE ACADEMY Amrita Shopping Complex 2Nd Floor, Crp Square Bhubaneswar-751012
Email: bhubaneswar@thegateacademy.com
Rank 2: Made Easy | GATE Coaching in Bhubaneshwar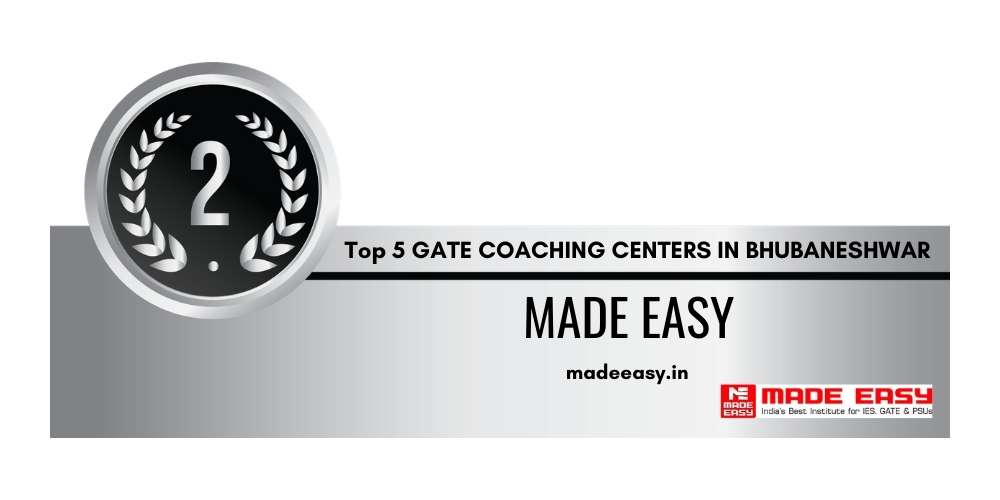 Made Easy is one of the best GATE Coaching in Bhubaneshwar it's an institution that has been achieving good result in PSU/ GATE . IES examinations for a decade. The faculty consists of pool of experienced teachers who provide excellent coaching to their students. The institution also provides post examination support by guiding and preparing students for interviews.
The students are groomed in an environment that helps them to develop a strong personality. The main reason behind the consistency in achieving good results every year is the team work of the faculty members who implement the course curriculum with new techniques. The institution was awarded with National Educational Excellence Award in 2015.
The institution has systematic, well- defined and focused course curriculum which is completed on time. The study material is thoroughly revised and updated regularly. There are regular tests for students to analyze their performance. Through this test series the students can track their preparation and plan things in a smart way. In short, the institution provides good environment and training for grooming students to achieve their dream.
Website Address : www.madeeasy.in
Address: Plot No – 1441, CRPF SQUARE, Opposite Of IOCL Petrol Pump, Bhubaneswar – 751015, Orissa
Ph :9040299888, 09040999888
Email Id: infobhubaneswar@madeeasy.in
Rank 3: T.I.M.E
Triumphant Institute of Management Education Private limited is one of the best test preparation institutes in India with pan India presence. The institution was established in 1992 and has its headquarters in Hyderabad. The institution provides coaching for various examinations like GATE, MBA entrance, SSC etc.
The institution has been guiding thousands of students for over 25 years in various examinations. The core team of TIME consists of 40 graduates from IIT/IIM who have quit their corporate jobs to provide training to students. These passionate professionals have taken the institute to the top.
Website: www.time4education.com

Address 1: Plot No- N1/289, IRC Village, Nayapalli, Bhubaneswar-751015
PH: 08118057211, 08118057212,

Address 2: KIIT College Lane, Patia, Bhubaneswar
PH: 08118057214,B-43,
Address 3: Sahid Nagar, Opp. RD College, Bhubaneswar – 751001
PH: 08118057213, BJ – 29, BJB Nagar, Bhubaneswar Pin – 751014
Email: bhubaneswar@time4education.com
Rank 4: PiSquare Academy
PiSquare Academy offers one of the best coaching centres for GATE aspirants in Bhubaneswar. The institution has digital classrooms and all necessary guidance. The students get full support from teachers who are former IITians. Under the guidance of such an expert faculty, the students are trained to excel in their field.
The institution provides one of the best trainings at an affordable price. The course curriculum covers not just theory papers but also focuses on interviews. The institution has focused on grooming the overall personality of students. There are frequent online and offline mock tests that help students in revision. The coaching is result oriented and there is money back guarantee if the student is not satisfied.
Website: www.pi2.in
Address: 200mts from Patia petrol pump, Patia station road, Bhubaneswar, Odisha-751024 Phone: +91-99899 39982
Email: bbs.pisquare@gmail.com
Rank 5: Vani Institute
Established in 1991 and having its branches in seven states, Vani institute is a well known name in providing GATE coaching. The institution was first established in Hyderabad and now it has branches in cities like Bangalore, Pune, Chennai, Kochi, Kolkata and Bhubaneswar.
The students are guided by experienced faculty who inspire students to work hard in a smart way. The institution provides training for GATE/ ESE/PSU examinations. Every year more than 10000 students enroll for coaching in Vani institution. The students get regular updates about examinations and are also aware of latest pattern.
Apart from providing online and offline test series, the institution has its own publications. The institution provides various guidebooks and practice sets to students. The testimonials conclude that Vani institution is dedicated in this field and helps to bring out the best among the best.
Website address : www. vaniinstitute.com
Address: PLOT NO- 3rd floor, Opp:- RD Women's College, Sahid Nagar, Janpath, Bhubaneswar 751007
Odisha, India

PH: 9040999977
Email: vani.bhubaneswar@gmail.com
The content published on this page is a compiled result of What After College's Research team. The parameters of the research and the content structure are devised by What After College's Research Team and it is not in any way related to rankings done by governmental bodies. This research has purely been done by a third party. Kindly contact at 91 9818198188 to make desired changes in the contact information related to your college.