What is Bank PO?
Banking sector jobs are very prestigious jobs. Every year, lakhs of candidates attempt to clear the competitive exams for jobs in the banking sector. However, each year, only a few hundred or a few thousand vacancies are only available. Therefore, there is extreme competition from candidates all over the country to qualify for the bank exams.
The bank PO exam is the most popular and competitive exam among all the competitive exams in the banking sector. PO or Probationary Officer is an entry-level appointment for officers in a bank who must go through a probationary period after induction. After the probationary period of two years is over, the candidate is appointed as a Junior Manager of Grade I.
The bank PO exam has two stages. The preliminary exam and the mains exam. The subjects covered in the bank PO exam are Quantitative Aptitude, Reasoning Ability, English Language, and General Awareness.
Why Bank PO Coaching Is Necessary?
Many aspirants from all corners of the country attempt to clear this examination. While the examination is not as tough as a civil service examination, it still is quite a daunting task because, for the few hundred vacancies, there are lakhs of aspirants. Therefore, many candidates take the help of bank coaching centers.
This step of joining a coaching institute can make a huge difference in your exam preparation for bank PO and can give you an advantage over candidates who don't opt for bank PO coaching. Since the syllabus for the Bank PO exam consists of multiple subjects, taking bank coaching can help you be equally expert in all the subjects. This can help you score better in the exams. Going for bank coaching in Hyderabad can make a big difference in your bank PO exam results.
Although many aspirants appear for the Bank PO exam without any coaching classes, it is not entirely advisable. A candidate needs to excel equally in all the subjects included in the syllabus. Opting for coaching in the best banking coaching institute in India can help any candidate to improve their exam performance.
Online Coaching Vs Offline Coaching
In the past few years with the development of technology, many online platforms are trying to cater to the needs of the bank aspirant students. These online platforms provide online lessons and videos to help students prepare for their bank PO exams. However, such platforms cannot provide any doubt clearing sessions like classroom coaching institutes. Also, there is no guarantee that the lessons provided online will be in a format that is understandable by the student unlike that of the best institute for bank coaching in Hyderabad where student understanding is always considered.
Opting for a banking course in Hyderabad can help you in different ways. Coaching institutes have experienced staff, good quality study material, and advanced infrastructure to help students in the best possible way. The best coaching institutes in Hyderabad also keep track of the students' progress through a mock test and also make their content available online.
But there are also many institutes which make high claims but fail to deliver on their promises. To save both time and money from such bogus institutions, one should always opt for a trusted and reputed bank exam coaching center.
Bank PO vs Bank SO Exams
Bank PO and bank SO exams are quite different from one another. The following are the differences-
After qualifying the bank SO, the candidate is inducted as a junior manager of grade I. However, after qualifying the bank PO exam, the candidate is inducted as a junior manager of grade I.
The job profile of a SO is more repetitive than that of a PO. For a PO, the job profile is much more exciting and challenging. There are also more chances for a PO for career expansion than a SO.
Bank PO Exam Pattern
The bank PO exam is held in two stages
At first, the preliminary exam is held which consists of questions from Quantitative Aptitude (35 marks), English Language (30 marks) and Reasoning Ability (35 marks)
The second stage is the Mains exam which consists of questions from Reasoning Ability and Computer Aptitude (60 marks), English Language (40 marks), Data Interpretation and Analysis (60 marks), and General/Economy/Banking Awareness (40 marks).
How to Secure A Job in A Bank?
To get a job in a bank, an aspirant has to pass a qualifying examination. There are separate examinations for separate posts in the banking sector. After passing the examination, a candidate has to undergo a probationary period following the completion of which the aspirant is given a permanent placement. For a sure shot placement in the banking sector, you should always go for a banking coaching in Hyderabad.
Many banks independently organize exams for clerical posts. For securing clerical positions, the Institute for Banking Personnel Selection organizes IBPS Clerk examination while for managerial positions, IBPS organizes Bank PO and Bank SO exams. Bank coaching centers in Hyderabad can help you prepare for any bank related exam.
Parameters to Select the Bank PO Coaching Institute in Hyderabad
The rich capital of Andhra Pradesh, Hyderabad comes with innumerable things that are famous across the world, be it infrastructure, food, or education. So, for those who're trying to discover the best bank PO coaching institutes in this city, here are specific parameters to follow to avoid committing any mistake during selection.
The first step to consider the worth of any institute is by assessing the faculty that they have. Right from their educational qualification to the experience that they hold in the teaching sector, you must consider every aspect.
The next one would be the infrastructure. Your undivided attention should be invested upon discovering the kind of amenities, equipment, technology, and facilities that the coaching institute has for better preparations.
Ensure that the institute is not following outdated content. Make sure that the center you're selecting uses up-to-date study material to help you crack the PO exam.
Before you make an institute a part of your present, ensure that you're not missing upon their past successes. Such records can help you judge the competency of the institute better, and you wouldn't have to regret your decision in the future.
While there are such institutes that are charging lower than the expected, there are such as well that are putting a high amount of fees in front of the candidates. Irrespective of the package you select, make sure that the institute provides proper value to your money.
Regardless of the traveling modes in Hyderabad, the commute time is what you must not forget. Not just the hours you're going to spend traveling; however, you should also think about the time when the classes are going to conduct. And, in case anything seems impossible to attend, you can look for lodging facilities around the institute.
Next on the list would be a competitive Test series. Talk to the assistant and find out how often the institute conducts series. And, how do they generate results? What is the value of these test series and how they can help you understand your strengths and weaknesses?
Online Resources and Recorded Sessions
Almost every other coaching institute has an online presence today. So, find out if your select institute has or not. How about their online resources? Do they post recorded sessions? If yes, how can you access these resources in case you miss your class?
Moving forward, you must also concentrate on how the faculty solves doubts and issues. Until you aren't completely backed by the teachers and professors, cracking bank PO might become a bit difficult. So, clear the air in this regard before enrolling yourself in the institute.
Preparation for Interview Rounds
Once you've cracked the exam, you'd have to appear for the last interview round. Thus, make sure that the institute helps you adequately in this arena. Know about the mock interviews institutes conducts and how often they do so for better results.
List of Top 7 Bank PO Coaching in Hyderabad
The Institution's / Organization's Ranking done by WAC is a result of the research done by our team. It is totally Independent of the Rankings done by the Govt. Bodies. if any Institute has any Queries regarding any Information Updates or has conflicting ideas in terms of Ranking positions can contact us. Email at rishabh@wac.co.in or Call on +91-9818198188.
So in your search of the CAT Online Coaching, we are suggesting you the 10 Best CAT Online Classes:
Rank 1:- Rishi Academy of Competitive Exams (RACE)
Rishi Academy of Competitive Exams was founded by Dr. G. S. Giridhar, who had his vast eighteen years of bank PO coaching experience to offer.
The RRB JE coaching here emphasizes free online training along with ample interaction with the faculty members to facilitate better understanding. Regular courses in this bank exam coaching center include Basics, Daily Tests, Previous papers explanation and Mock Tests. Subjects that are taught here, like Quantitative Aptitude, English, Reasoning, Computers, Marketing, General Awareness and Speed Mathematics are suited well for all bank exams, be it ISB bank coaching or SBI PO coaching.
RACE has won the 'National Education Excellence Award' of 2014 as well as the 'Education Excellence Award' of 2013 on account of being 'The Best Training Institute for Bank Exams'. Therefore, it can be known to offer the best banking coaching institute in India.
Address: Rishi Academy of Competitive Exams, 2nd Floor, Rehmath Complex, Ameerpet X Roads, Hyderabad, Telangana, India.
Website: https://www.race4bankexams.in
Contact Number: +91 9912 544 004
Email: enquiry@race4bankexams.in, raceinstitute@gmail.com
Rank 2:- IBT Institute Pvt. Ltd.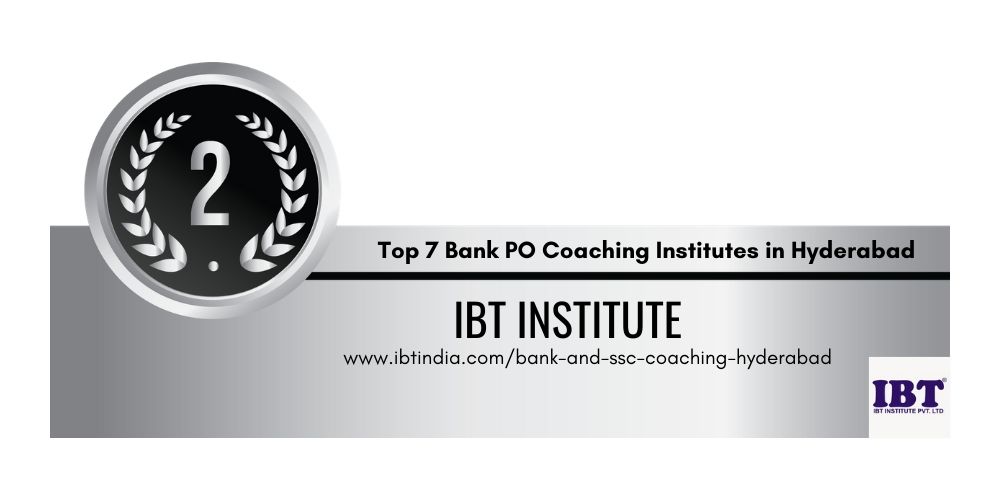 IBT Institute Pvt. Ltd., headed by Managing Director Pardeep Singh, is known to provide the best-experienced trainers and high-quality class study material to its students in order to ascertain maximum success. At this point, this bank coaching center has more than a hundred branches all across the country.
The test series that IBT offers has been ranked 1 all across India and its USP promises students a one hundred percent commitment until selection. In fact, this is one of the best bank coaching centers in Hyderabad in terms of providing motivation, support, and ample before-time practice. The sole reason behind such a strong back is that the faculty and staff here have themselves successfully aced the exams. IBT is also known to provide excellent RBI grade B coaching in Hyderabad.
Address: IBT Institute Pvt. Ltd., Flat 211, Second Floor, Seeman Rama Towers, Opp. to McDonald's, Hyderabad, Chaitanyapuri, Dilsukhnagar, Hyderabad.
Website: https://www.ibtindia.com/bank-and-ssc-coaching-hyderabad
Contact Number: 081850 04422, 9696960029
Email: headoffice@ibtindia.com
Rank 3:- Career Power
Career Power, which is a coaching company founded by IIT and IIM alumni, lies under the vast umbrella of Adda 247 which provides free bank PO coaching through their website, mobile App and Youtube Channel.
Career Power provides specialized bank coaching in Hyderabad to students who want to sit the various government entrance exams, namely banking. The training sessions include online and offline Test Series, Video Courses and E-Books. You can judge exactly how popular it is from its stats, for instance, it has more than three million daily views.
Plus, it has the best-skilled faculty teaching banking courses in Hyderabad who help students attain an all-over professional growth by imparting both knowledge and guidance. What makes it the best institute for bank coaching in Hyderabad are its free Demo classes that enable students to choose the aptest courses for themselves.
Address: Career Power Franchise, 1st, and 2nd Floor, Karachi Bakery Building, Opp. ICICI Bank, Ameerpet Foot Over Bridge, Hyderabad, Telangana- 500038.
Website: https://www.careerpower.in/bank-coaching-hyderabad.html
Contact Number: 91+ 8750508840
Email:franchise@adda247.com
Rank 4:- National School of Banking (NBS)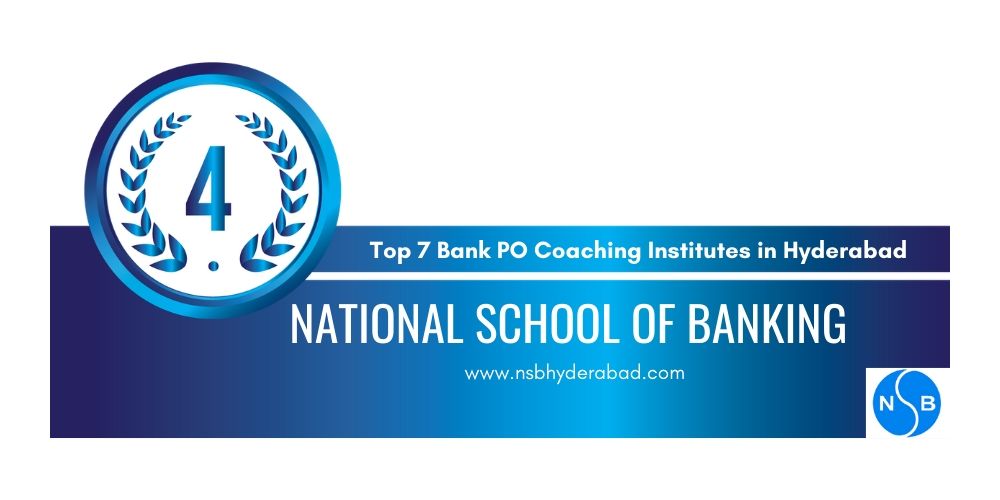 The National School of Banking, which got established in 1978 by Shri E. K. Thakur, is known to provide the best bank PO coaching in Hyderabad. For the past 38 years, it has been teaching the 'Success Mantra' for banking exams to students.
NBS also provides Free GD and Interview training sessions to its students for preparing them for the final rounds of the entrance procedure- something that gets overlooked more often than not by other bank coaching centers. In the process, the students learn to be better versed in their speaking skills as well as enhance their confidence during the mock GD sessions. The trainers and faculty members here have trained thousands of students to get through interviews successfully and have themselves done it too- hence their experience in the field is quite impeccable.
Address: National School of Banking, NSB, 103, 1st Floor, Delta Chambers, Lane adjacent to Chennai Shopping Mall and Jeans Corner, Near Bus Stop, Ameerpet, Hyderabad, Telangana – 500 016.
Website: http://www.nsbhyderabad.com
Contact Number: 9908 600 600, 9014 600 600
Email: info@nsbhyderabad.com
Rank 5:- Indian School of Banking (ISB)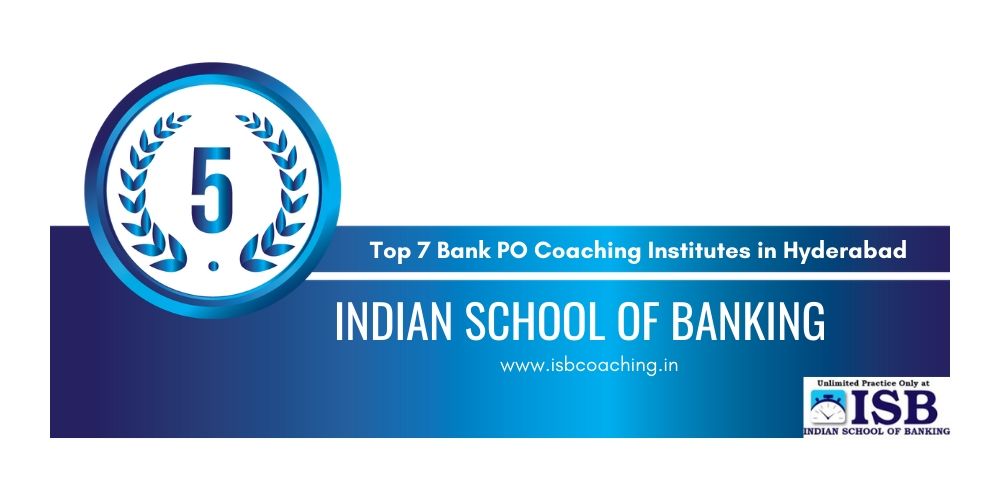 Indian School of Banking was founded by Chilukuri N. V. Suribabu who has a vast experience of no less than 17 years in the field. His specializations include logic-based shortcut techniques for time-efficient solving and Vedic Mathematics.
Besides providing students with the best bank coaching in Hyderabad, students get exposed to a team of highly qualified faculty members who frequent management and engineering colleges during the placement season. Online exams in ISB are also available for unlocking and writing 24 x 7 and one can avail them from the convenience of their home at any point of the day. Therefore, for attaining good banking coaching in Hyderabad, ISB can always be your top pick.
Address: Indian School of Banking, 1st Floor, Opp. Kalaniketan Wedding Mall, Besides Pulla Reddy Sweets, E- Seva Lane, Chaitanyapuri, Dilsukhnagar, Hyderabad, Telangana- 500036.
Website: http://www.isbcoaching.in
Contact Number: +91 9246 888 377, +91 9246 888 378, +91 9246 888 379
Email: isbcoaching@gmail.com
Rank 6:- Triumphant Institute of Management Education Pvt. Ltd. (TIME)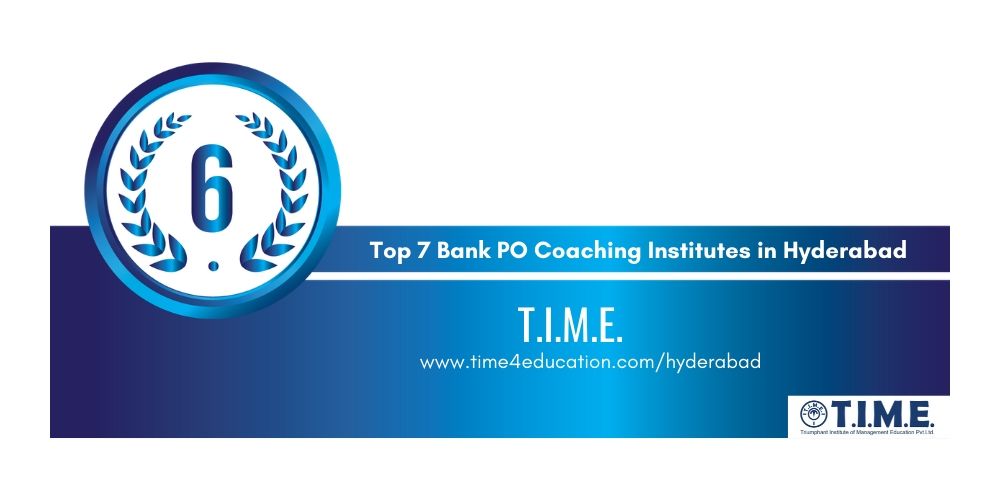 Triumphant Institute of Management Education Pvt. Ltd. was established back in 1992 with its headquarters in Hyderabad. Right now, it has more than 246 offices all across the country and provides the best coaching for Bank PO in Hyderabad.
T.I.M.E. offers both in classroom lessons and distance or correspondence courses. Unlike other coaching institutes in Hyderabad, T.I.M.E. hosts special sessions emphasizing on test-taking strategies and monthly GA seminars. Also, their extensive personal interview and GD workshops are in great demand. Besides offering the best banking coaching in Hyderabad, T.I.M.E. also features regular monthly columns of current affairs and quiz. Plus, their faculty members release time to time analysis of each bank exam and a topic-wise break-up of the same.
Address: Triumphant Institute of Management Education Pvt. Ltd., D No 1/6-2/1,2/2/,2/3,2/4, P No 100, 3rd Floor, Sharada Plaza, Beside Asian Radhika Multiplex, Anupuram Colony, A S Rao Nagar, ECIL, Hyderabad- 500062.
Website: https://www.time4education.com/Hyderabad
Contact Number: 040-40088300, 040-40088400
Email: hyderabad@time4education.com
Rank 7:- A. N. Reddy
A. N. Reddy is one of the best bank coaching centers in Hyderabad that should be on your list. It is known to provide students with unlimited assistance not only in their preparation but also with the technical aspects of applying for the actual exams.
Unlike many other bank coaching centers in Hyderabad, they have a high-quality library which is accompanied by an awesome team of faculty members who will wholeheartedly support your journey until selection.
A. N. Reddy holds regular online exams for students to access and write- these tests are not only carefully designed but also appropriately timed so as to train you for the actual exam like atmosphere. Also, they have their very own App called "my coach"- TCY that can be easily downloaded from Play Store. This App gives you access to numerous online exams and has a validity of one year.
Address: A. N. Reddy, 301, Above RedTape, Beside HP Petrol pump, Serilingampally, Hyderabad, Telangana- 500050.
Website: http://www.anreddybcc.com
Contact Number: 9703628638, 9542522711
Email: prashasanias@gmail.com
The content published on this page is a compiled result of What After College's Research team. The parameters of the research and the content structure are devised by What After College's Research Team and it is not in any way related to rankings done by governmental bodies. This research has purely been done by a third party. Kindly contact at 91 9818198188 to make desired changes in the contact information related to your college.

Conclusion
Eligibility for Bank PO Examination
Any candidate with a graduate degree from any recognized university can appear for the bank PO exam. A candidate with higher qualifications can also apply for the Bank PO exams. However, the aspirant should not have any criminal history or else the candidature of the person is liable to be canceled. Since all candidates are from different educational backgrounds, a bank coaching center can help a candidate from any field to prepare well for the bank PO exam.
Age Limit for Bank PO
The minimum age limit for a candidate to appear for bank PO exam is 21 years and the upper age limit is 30 years. However, the upper age limit is relaxed by 5 years and 3 years respectively for SC/St and OBC candidates respectively. Candidates belonging to the state of Jammu and Kashmir and ex-servicemen are also given an age relaxation of 5 years. Bank exam coaching centers in Hyderabad can help all candidates of any age and background to prepare for the Bank PO exam.
How Can I Apply for Bank PO?
The application for bank PO exam can be done online. The dates for the exam are announced in the respective websites of SBI and IBPS and also at the websites of many job-sharing portals. Once the online application begins, candidates can directly apply for the exam at the payment of a small fee. ISB bank coaching can help any qualified candidate train for the Bank PO exams.