Top 7 CLAT Coaching in Hyderabad is an article drafted and crafted by WAC's Research team. More and more students are finding Professional Training to crack the CLAT exam with the best marks possible. Getting into the Best CLAT Coaching in Hyderabad can give any student an edge over others. It is really beneficial for any student to join the Top CLAT coaching centres in Hyderabad.
CLAT
CLAT stands for Common Law Admission Test and is a centralized test for 21 national law universities. Forty-three other educational institutes and two public sector institutes also utilize the CLAT score. This is the reason why so many students prefer to write this examination.
The examination is conducted by the Consortium of National Law universities which was established in 2017. The consortium's significant institutes include NLSIU, Bangalore, NALSAR Hyderabad, NLIU Bhopal & HNLU Raipur.
Eligibility Criteria for the CLAT
There is no age limitation for CLAT admission in either PG or UG program
An SC/ST candidate needs to score a minimum of 40% or equivalent marks in the qualifying examination. All other candidates need to score a minimum of 45%.
Those who are appearing for the qualifying examination can also appear for CLAT.
An LLB or equivalent degree with a minimum of 50% marks is required for SC/ST candidates. For all other candidates, this percentage is 55.
Candidates appearing for the qualifying examination may also appear.
Before undertaking any CLAT coaching in Hyderabad, a candidate must make sure that he satisfies all the criteria mentioned above as Law coaching is a costly affair.
These are the steps in the application procedure.
The candidate has to register online by visiting the official website by filling in the necessary details.
You have to log in with the credentials into the website again and check all the entries.
The candidate will be asked to upload images of his photograph and signature.
Candidates will have to fill in all the details in the application form. They have to enter the qualification details. Also, their preference for national law universities should be given.
The application has to be reviewed and submitted.
Pay the application fee
Print the confirmation page.
If you are attending a CLAT coaching institute in Hyderabad, they can definitely help you with the application.
---
Parameters to Select the Best CLAT Coaching in Hyderabad
Before selecting the top institutes that provide law classes in Hyderabad, we must understand what parameters these institutes have to decide. Your CLAT admission depends on the selection of the law coaching institute with the correct parameters.
Faculty is the most critical parameter as far as law coaching is considered. The best of the CLAT coaching institutes in Hyderabad also provides the best faculty. They are mostly candidates who have already successfully tackled CLAT admission.
Another important factor is the infrastructure of the law academy. The students should be getting all that is necessary for their proper preparation. This also includes digital infrastructure and facilities like the library and the internet within the premises.
The students should thoroughly analyze the course content offered by each of the law coaching academies. The course should properly cover all the topics mentioned in the syllabus.
Past results are something that mostly decides whether a law coaching institute is successful or not. No one joins an institute that has no success to claim for. If you have seniors who have already cleared the exam, you can consult them about the CLAT academy, which gives the best results.
Value for money becomes important because the cheapest may not be the best to choose. CLAT Coaching in Hyderabad is a very competitive field, where a number of institutes vie for students. You have to choose the one which will bring the best out of you at the minimum possible fee.
Travel Time and Lodging Facilities around the Institute
These are two important factors when you think of joining CLAT coaching in a busy city like Hyderabad. The traffic may take a lot of your precious time away.
Test series gives you all the practice you need for the actual examination.
Online Resources-Recorded Sessions
Choose only those CLAT centers which make their content available on the online platform so that students can easily access them as and when they require during their spare time.
It is a must for all the CLAT coaching institutes to regularly hold doubt sessions for better clarity. It will help them prepare for their exams better and boost their chance for success as well.
Special Focus on Interview Rounds
To enhance the success rate of CLAT aspirants, it is important that the concerned coaching center helps them prepare for their interviews on the basis of the particular discipline chosen by them.
---
List of Top 7 CLAT Coaching in Hyderabad
The Institution's / Organization's Ranking done by WAC results from the research done by our team. It is totally Independent of the Rankings done by the Govt. Bodies. If any Institute has any Queries regarding any Information Updates or has conflicting ideas in terms of Ranking positions, can contact us. Email at rishabh@wac.co.in or Call on +91-9818198188.
There are several law classes in Hyderabad. Some of them are good in some areas, while some in others. Selecting one of them is a tricky business. Here we give a ranking of the top institutes based on the parameters described above.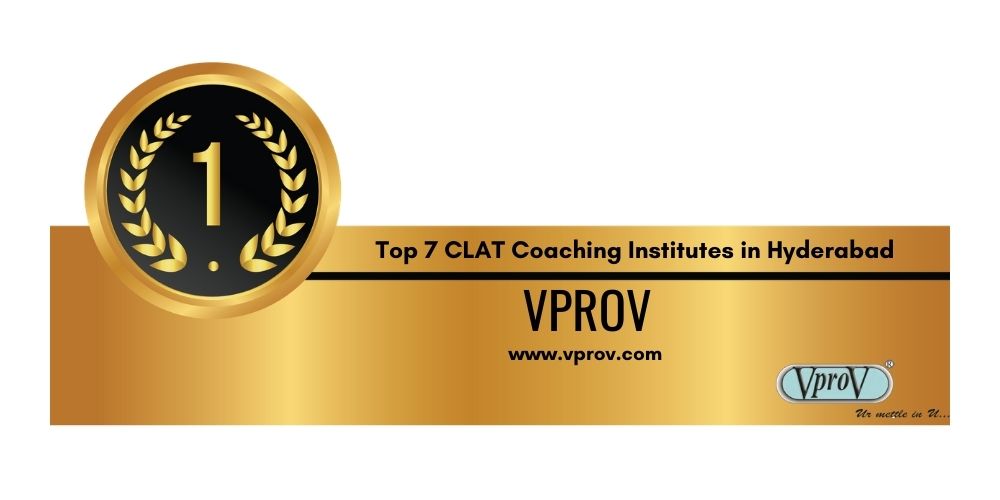 Rank 1 : VPROV
VPROV, an invaluable institute with a veracious educationalist Prof Rajesh (2006 CAT Topper, B.E, MBA, LLB, Ph.D.) as its Founder & Director, is undoubtedly the best CLAT coaching institute in India.VPROV, with 76 learning centers in India and nine overseas complemented by a qualified team, has sent hundreds of students to National Law Universities.
They also train students on CAT, GRE, GMAT, CLAT, SAT, IPMAT, and NRA-CET. If you get into "Prof Rajesh's 100 Batch," wherein Prof Rajesh himself trains the student, then you are almost into TOP NLUs.
Mode of Training: Class Room and LIVE online.
76 Learning Centers in India
100+ Quizzes
200+ Mocks
400+ Sessions
800+ Assignments
Complimentary Access to Non-CLAT Mocks
1000+ VPROV Students in NLUs
250+ VPROV Students scored 170+ in LSAT
CLAT
AILET
SLAT
LSAT
Christ University
VPROV has got 1500+ Pages of Copyrighted content delivered to students via books apart from online content. Three levels of testing on each topic with national-level rankings, which elucidates Students on-ground reality of competition.
WAC recommends VPROV for CLAT Coaching for the following reasons :
VPROV has sent 1000+ students into National Law Universities.
VPROV'S integrated Law entrance course (i.e., Class 11th, Class 12th, and CLAT PREP) is the finest integrated course in India.
Meticulously chosen 'Legal Aptitude' topics make students crack CLAT Legal with ease and act as a foundation course to NLU's BA-LLB.
Students can switch to classroom mode from live online mode or vice versa as per one's convenience.
Even the backup sessions are conducted in 'Live online mode.'
Last but by no means least-Pre-eminent materials of VPROV bolster students 'critical reasoning ability skills.'
Address: III Floor, Sumedha Block, Fortune Signature Building Kukatpally, Hyderabad, Telangana-500085
Phone no. : +91-8884008880
Website: www.vprov.com
---
Rank 2 : IMS
IMS is one of the Top CLAT coaching centres in Hyderabad, with over 40 years of history in coaching. Their motto is to mentor, motivate and guide students to make the right career decisions. IMS was ranked 4th in the education sector and 44th amongst the top 50 most trusted service brands by AC-Nielsen & Brand Equity in 2003.

They provide coaching from CAT, MH-CET, CMAT, MAT, GMAT, SNAP, etc. In law coaching, they provide coaching for CLAT, AILET, SLAT, MHLAW & LSAT India.
IMS claims to complete all the syllabus by December. Then they have 2 rounds of concept revision. They give early exposure to workshops and past question paper solving sessions. This law coaching institute in Hyderabad gives 30 mock tests for CLAT itself. For other law examinations, they have 17 mock tests. They have different programs like classrooms, Fast track: repeat takers, Correspondence, Test Series & AILET Challenge.
---
Rank 3 : PAGE Academy
PAGE academy is another Top CLAT coaching centres in Hyderabad in the field of CLAT Admission. They came into existence in 1988 and claimed a glorious history of over 30 years. PAGE claims to have an obsession with quality and in delivering stress-free education.
In this CLAT institute, students' career goal is given utmost priority and one-on-one counseling is taken up to help students identify their interests and careers by the in-house career guidance counselor. The course structure is scientifically designed and both students and teachers are able to evaluate progress easily.
Students also use tablets for learning and witting tests & exams which makes learning much more engaging. Since 2004 almost 4000 PAGE students have succeeded in their desired goals and been placed in top universities and colleges across the country. In this CLAT coaching institute, students get the assurance of expertise, commitment and dedication.
---
Rank 4: Law Prep Tutorial
Law Perp Tutorial is one of the Top CLAT coaching centres in Hyderabad, which provides an ultimate 'Getting into Law School Program.' It combines the best in entrance preparation with the best in law admissions consulting, advising, teaching, and tutoring. We can find the most experienced gurus and a wide variety of law admission professionals in this law academy. They offer the most comprehensive package for CLAT preparation. This is unparalleled in terms of quality and content.
The course and content have been designed carefully in such a manner to make students comfortable with speed and accuracy to attain the goal of getting through CLAT admission. Law Prep is an initiative of a team of adequately qualified and vastly experienced professionals. It has precise and subject analysis and a unique methodology of simple techniques to learn concepts.
---
Rank 5: Abhyaas
Abhyaas Educorp is another top law classes in Hyderabad. It prepares students for major law entrance examinations like CLAT & AILET. They have an extensive 1-year course and as well a 2-year study for CLAT admission. Abhyaas Educorp is an initiative of IIM and NIT alumnus.
They are a fast-emerging institute and coach around 5000 students every year through multiple institutions. Their vision is to establish a global footprint and serve 100000 students annually. Their major initiatives include Abhyaas Testprep, iConneex, and Gyanville.
Abhyaas Law prep, popularly known as ALP, provides one of the best and finest online coaching programs for CLAT admission. It has a self-paced online coaching platform with comprehensive content. Abhyaas itself means practice, and they claim to offer perfect practice. They have more than 10 years of experience in the field of law coaching. They claim a modern quality teaching with online classes, test series & question banks.
---
Rank 6: Mantra Logical Academy
Mantra Logical Academy is a premier institute and one of the Top law classes in Hyderabad that provides training for exams like CSAT, bank examinations, SSC, MAT, NIFT, CLAT, CMAT, GRE, SAT, etc. The institute was founded in 2003 and had been functioning successfully ever since. They provide one of the best in class training in the field of CLAT coaching.
The academy boasts of good infrastructure and flexible class timings to accommodate the varying needs of the student. A healthy teacher-to-student ratio ensures students get the right attention from the experts.
Address: House No 1-10-217/B, Beside Universal Bookshowroom, Ashok Nagar, Hyderabad – 500020, Near Ashoknagar Signals.
Phone no. : +918801627181
---
Rank 7: Smart Lessons
Smart Lesson is one of the top law classes in Hyderabad. They provide an e-learning platform for the preparation of competitive examinations. In addition to CLAT, they have courses in RRB, CRT, and SSC. Some of the highlights of this institute include bite-sized video lectures, faculty support, affordable courses, assessments, flexible access, and student engagement.
---
Disclaimer
The content published on this page is a compiled result of What After College's Research team. What devises the parameters of the research and the content structure After College's Research Team is not related to rankings done by governmental bodies.
A third party has purely done this research. Kindly contact +91 9818198188 to make desired changes in the contact information related to your college.
---
Top CLAT Coaching Centres in Hyderabad will Help You
Top CLAT coaching centres in Hyderabad are majorly going to help you. In contrast, you go through the 5 step procedure of submitting the application form & they give you enough knowledge as per the CLAT Exams Pattern required to crack the CLAT Exam.
Cracking CLAT Exam Pattern
The maximum marks are 200. This is divided into various segments like English, GK, and logical reasoning.
The exam duration is 2 hrs.
There will be 200 multiple choice questions of 1 mark each.
There will be a negative marking of 0.25 for each wrong answer.
Here the maximum marks will be 150.
100 marks are for 100 multiple choice questions of 1 mark each. Then there are 50 marks for 2 essays.
There will be 0.25 negative marks for each wrong answer.
Cracking Syllabus for CLAT
English including comprehension: it tests candidates' proficiency in English based on comprehension passages and grammar
General Knowledge and Current Affairs: The general awareness of the candidates in national and international affairs are evaluated here
Legal Aptitude: This section candidates' interest in the study of law, research aptitude, and problem-solving ability.
Logical Reasoning: The candidate's ability to identify patterns, logical links and rectify illogical arguments are tested here.
CLAT admission is a tricky affair, and If you are attending law classes in Hyderabad, you will definitely have an advantage in tackling this test.
---
Why Choose CLAT Coaching in Hyderabad?
The CLAT admission test is a tough one, and there are lakhs of aspirants in the competition trying for a limited number of seats. This is where the importance of law coaching comes in. However, before joining CLAT coaching in Hyderabad, we need to understand why CLAT Coaching is necessary.
Benefits of Enrolling in the Top Coaching Centres in Hyderabad
It's the only place where students can get the right competitive environment. They will compete with their rivals and in the process improve themselves.
They can provide the students with updated materials, services from the best faculty.
The coaching institutes give the students the best opportunity to practice for CLAT admission in mock tests.
The coaching institutes can give the best tips & tricks to the students and also bring in some discipline in their preparation.
Although it is theoretically possible to clear the hurdle of CLAT admission without coaching, it'll be an easier process if you attend some good CLAT coaching in Hyderabad.
Online vs. Offline CLAT Coaching in Hyderabad
When it comes to CLAT admission, offline coaching has certain advantages over online coaching. Although many institutes have taken online tutoring, many institutes do CLAT coaching in Hyderabad, which still believes offline is much better. Here we list some of the benefits of online coaching over offline coaching.
It promotes collaborative learning by increasing student's awareness about how other students learn and enables them to learn more easily and effectively in a competitive atmosphere.
It enhances student's critical thinking skills.
In the classroom, students will be interacting with several other students and teachers. This will definitely increase their social skills.
Also, in an institutional atmosphere, their ability to coordinate and cooperate improves and adds to their organizational skill.
The atmosphere keeps the students stimulated.
Teachers can directly understand their students and can modify their teaching style accordingly.
The whole setup helps in developing important personality and career-building skills.
---
LSAT vs. CLAT Coaching in Hyderabad
These two are the most sought-after law entrance examination in our country. LSAT India is a national-level entrance test. It is organized by VUE on behalf of LSAC India. While CLAT gives admission to the top National Law universities, LSAT has a broader scope and admission to 83 law institutes.
---
Different Career Options in LAW
CLAT admission enables students to pursue a wide variety of career options in law. Some of the standard career options selected by law graduates include a wide range of options.
Advocate
Company secretary
Legal advisers
Magistrate
Notary/Oath commissioner
Legal process outsourcing
Solicitor
Author
Teacher
---
Notable Alumni from Renowned Law Colleges
Let's list some of the most famous lawyers in India who have made the law career all the more prestigious.
Soli Sorabjee, Government Law College, Mumbai
Fali S Nariman, Government Law College, Mumbai
Ram Jethmalani, Government Law College, Mumbai
Mukul Rohtagi, University of Mumbai
Ashok Desai, Government Law College, Mumbai
---
Frequently Asked Question About CLAT Coaching in Hyderabad