Android is becoming a good platform for people in the IT industry who want to switch careers or learn new skills, it even helps in seeking new jobs. Do need for Android application developers is increasing and is expected to increase in the coming times. Therefore, Android development courses are a good way to go if you are looking to develop new skills. We have selected the top 7 Android development institutes in Chandigarh to help you choose the best institute.
TIPS TO HELP YOU CHOOSE FROM THE TOP 7 ANDROID APP DEVELOPMENT INSTITUTES IN CHANDIGARH
There are a few things that you must consider before selecting an institute for yourself. Firstly make sure the institute has good infrastructure in terms of lab facilities. Ensure that the syllabus and the current curriculum of the institute are on par with the current industry standards. Moreover, you need to make sure that the faculties are well trained and experienced in their industries.
Techlive institute in Chandigarh provides of 50 hours training program in Android development. The student learns the basics of the Android platform and allows them to develop Android applications by themselves. However, there is a prerequisite that the student must have a knowledge of core java. This institute has trained over 2500 students and also conducts corporate training for over 100 clients. they provide an Android developer certification after completion of course.
Contact: +919888434314
Email: techlivesol@gmail.com
Address: E-92, Ground Floor, Near PCL Chownk, PHASE 8, Industrial Area, 160062 MOHALI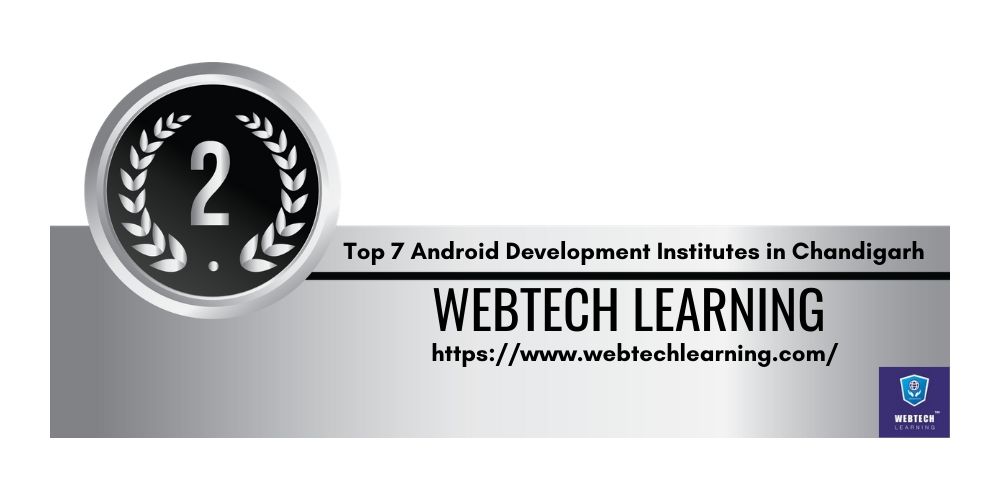 Webtech learning institute in Chandigarh has a 12-week hands-on Android development course. The design is to provide essential and useful skills and experience to develop Android applications. Moreover, you can develop and publish more than 4 Android applications while doing the course. Above all, they provide a 100% job guarantee after the completion of the course and you can even book a free demo class.
Contact: +919878375376
Email: Info@webtechlearning.com
Address: SCO – 54-55, 3rd Floor, Sector – 34 A, Chandigarh
C bitss training institute in Chandigarh provides industrial training on Android development. It is a good platform to learn how to make an Android application on your own and publish it on Google Play Store. They use a 100% ethical approach and have a targeted market. Moreover, there is online training available for students.
Contact: +919815715708
Email: counselor.cbitss@gmail.com
Address: SCO: 23-24-25, Sector 34A, Chandigarh (UT), India
In the Android development course with CS Infotech in Chandigarh, students get a chance to work on live projects. Moreover, you can take the first 8 lectures free of cost and request for trial classes before beginning the course. All the courses are taught by professionals. Above all, they provide a 100% job assistance guarantee.
Contact: +919815701003
Email: cs@csknowledgehub.com
Address: S.C.O 2451, Level II, Sector 22 C,near aroma hotel Chandigarh (UT) 160022
Web Liquid Infotech institute in Chandigarh provides a personalized Android development course for individuals. They provide 100% practical training with a practical approach. Moreover, you can take demo classes for free before joining the course. They prepare their students for interviews for getting jobs after completion of the course and also provide a 100% job assurance to all their students.
Contact: +917347405486
Email: info@webliquidinfotech.com
Address: SCO 114-115, 2nd Floor, Sector 34-A, Sector 34, Sub. City Center, Sector 34A, Sector 34, Chandigarh, 160022
Web x technology institute in Chandigarh specializes in web technologies as well as Android development. The training is provided by experienced developers with 15 years of experience in the industry. Moreover, you get to work on real-time projects throughout the course and understand the needs of the industry. Above all, they provide 100% placement assurance and help up in interview preparation for students.
Contact: +919872755449
Email: webx34a@gmail.com
Address: SCO: 126-127, Sector 34A, Chandigarh
Motive Learn is an Android development institute in Chandigarh that focuses on a well-developed curriculum based on industry standards. This training is aimed at beginners because no experience is required as a prerequisite. Moreover, the detailed curriculum is available on their website. Above all that provide a 100% placement guarantee to their students.
Contact: +919815715708
Email: info@motivelearn.com
Address: 1st Floor, CDCL Building, Madhya Marg, Sector 28B, Chandigarh – 160002 (India)
Learn Android App Development
Learn Android App Development with WAC
Other Skills in Demand