Artificial Intelligence/ AI!
What exactly it is?
Artificial intelligence (AI) mainly refers to the simulation of human intelligence in all the machines that are fully programmed to think like humans and most importantly mimic their actions.
This AI term is for any of the machines that exhibit all the traits associated with a sharp human mind!
Artificial Intelligence is mainly machine intelligence which the machines demonstrate, in contrast to natural intelligence which is displayed by humans and animals.
As machines become increasingly capable of all the possible tasks, it is considered to require intelligence of AI!
Students nowadays are showing a great interest in learning Artificial Intelligence in detail!
Hence, they search for the best training centers in their location.
Top 7 artificial intelligence institutes in Jaipur are given below!
TIPS TO HELP YOU CHOOSE FROM THE TOP 7 ARTIFICIAL INTELLIGENCE INSTITUTES IN JAIPUR
There are a lot of important factors which the students have to follow when they want to choose the best training institutes in their locality.

Faculty
Students prefer experienced faculties so that they can learn the subject in detail and very clearly.
These faculties understand the importance of each and every subject and impart the knowledge in the same way to their students.
The best methods used by experienced teachers help all the students to gain extra knowledge over other competitors.

Fees
Most of the training institutes charge a lot of money from the students for the artificial intelligence training.
Whereas, the top 7 listed institutes charge less and also give better results in return as compared to the other institutes.

Research
Students can also do a self-research about the institutes using the different sources and the websites online.
Self-research is always better for the students who show interest in learning something new!
Rank 1: Adhoc Networks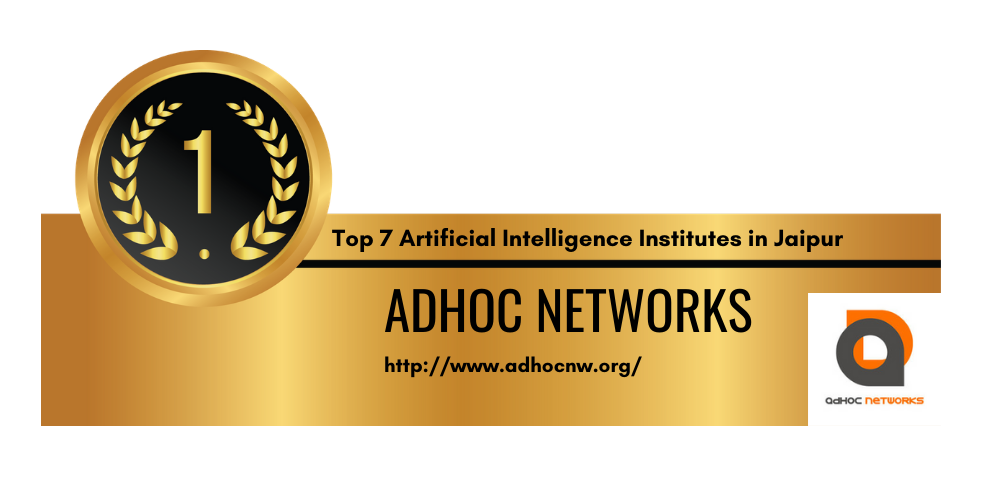 Adhoc Networks is one of the top 7 training institutes in Jaipur!
These networks Infotech Pvt. Ltd. is a Jaipur based company which mainly offers its expertise in Training Domain and IT Services in artificial intelligence.
This is a certified and authorized training partner of many of the top-level industries.
This training center also provides complete business solutions that focus more on Machine Learning, Artificial Intelligence (AI), and also Server Security Analytics!
They tried and tested system is based off with over 5+ years of experience shared between most of the professionals.
The fees they take is also very less as compared to the other training institutes in Jaipur.
Contact:
E-19 A, Kings Street, 2nd Avenue, Lal Bahadur Nagar, Chandrakala Colony, Milap Nagar, Jaipur – 302018
adhocops@gmail.com
http://www.adhocnw.org/
Rank 2: Grras Solutions
Grras Solutions is also one of the top training institutes in Jaipur.
It has a response rate of a total 73%.
Also, it has 12 years of experience in training.
Firstly, it is an Information and Technology guidance business that specializes in the Artificial Intelligence training!
Secondly, this institute looks after the In-house training, or Industrial/Internship training, Online Learning, and Corporate Training.
Also, they have experienced or learning facilities across India.
They are in this industry for the past 12 years to serve all the students who are interested to learn something new!
The fee they take is also very reasonable as compared to the other institutes.
This institute is located in such an area that it can be accessed using any transport medium.
Contact:
219 Himmat Nagar Gopalpur mode, Gopalpura Bypass Road, Jaipur – 302018
enquiry@grras.com
http://www.grras.com/
Rank 3: Samyak Computer Classes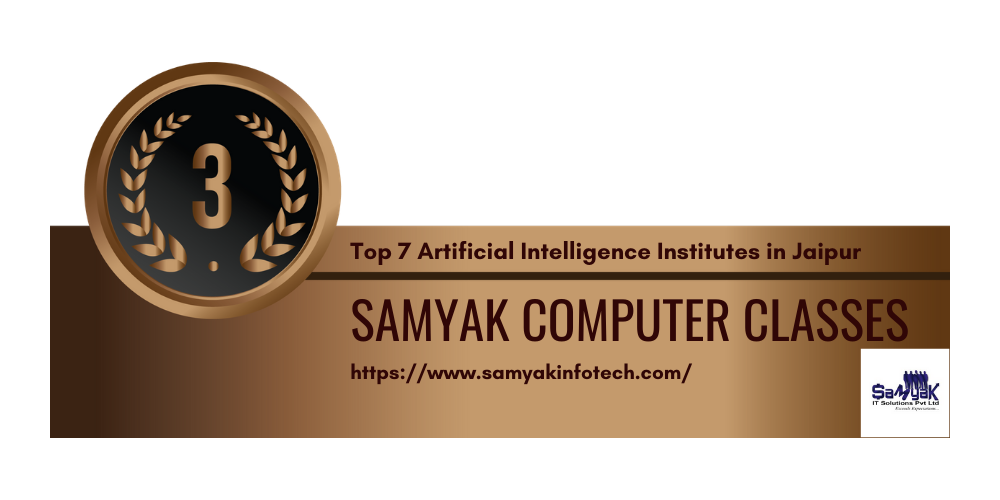 Samyak Computer Classes is a training institute which has a response rate of 67%.
It has a lot of branches all over India including Jaipur!
Also, they give the best coaching in all the subjects of artificial intelligence.
The faculty that they have is very experienced and they give out the best results at the end of the year.
The location of this institute is also in such a place so that it can be accessed using almost all the transport modes very easily!
Contact:
C- 23, 24, First Floor, Swez Farm, Roop Vihar, Sodala, Shyam Nagar, Jaipur – 302019
leads2020@samyakinfotech.com
https://www.samyakinfotech.com/
Rank 4: Codec Networks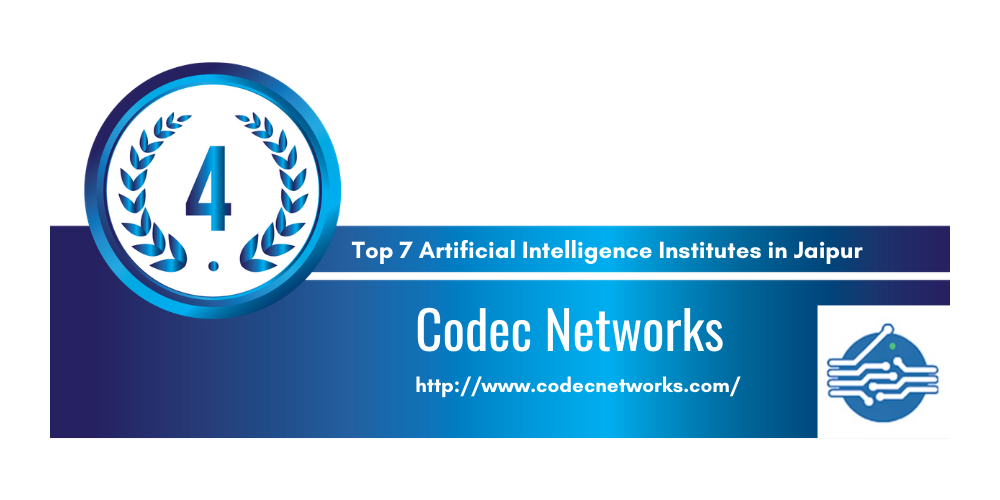 Codec Networks is one of the famous institute in the city of Jaipur for artificial intelligence.
It has trained most of the candidates for the clients with the right knowledge of the latest technology.
Also, hands-on technical expertise and teach them the right leadership attributes and the best personality traits to suit all the client's current Industry Product and also the Service offerings.
Codec Networks is established by a team of very young entrepreneurs and also the information security experts with a great vision of delivering high-end and specialized information security services and best training to meet complex business challenges!
Also, achieve complete customer satisfaction which is very important at the end.
The students at the end of the course are very well trained and are full of knowledge regarding the artificial intelligence topic.
Contact:
mktg@codecnetworks.com
http://www.codecnetworks.com/
Rank 5: Seldom India
Seldom India is also one of the top 7 training institutes of artificial intelligence in Jaipur.
These technologies are a Professional Training Company.
Also, they have a pool of Enthusiastic and experienced Trainers with them, who try to put the best skills in the candidates and hence help to bring success to themselves and the whole organization as well.
The amount of fees that they charge is very less as compared to the fees that are charged by the other training institutes in Jaipur.
Also, they provide the study material online and also in hand.
Contact:
No. 27, Kailashpuri, Near Jaipur Hospital, Tonk Road, Jaipur – 302018
kartavya@seldomindia.com
http://www.seldomindia.com/
Rank 6: Mapping Skills Technology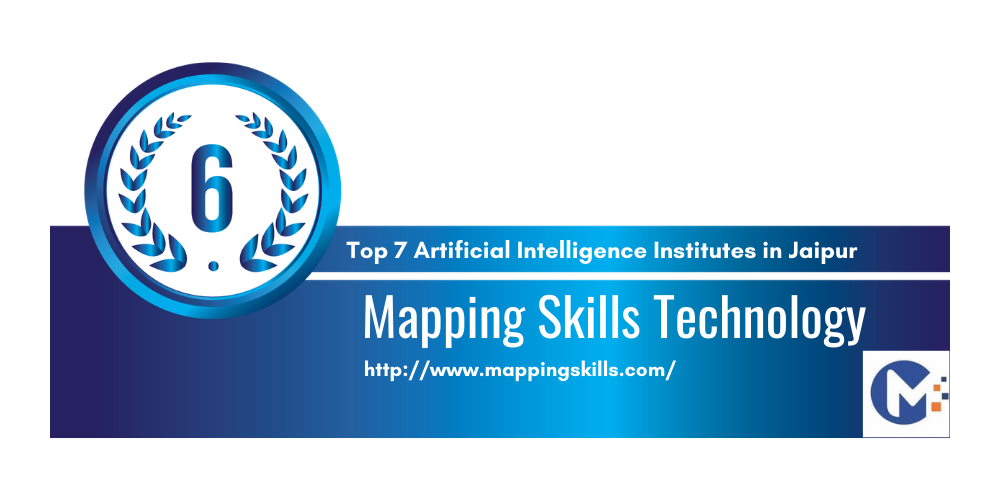 Mapping Skills Technology is also a very famous institute in Jaipur.
Learning needs resources, hence they are aware that to gain perfect knowledge you need the best compatible resources.
Also, they can assure you the best and the top quality Infrastructure that will help to create an environment encouraging you to learn.
They also have a physical and a digital library available whenever the student needs anything!
They try to teach everything in detail about artificial intelligence!
Contact:
Shalini@mappingskills.com
http://www.mappingskills.com/
Rank 7: TechnoLearn Training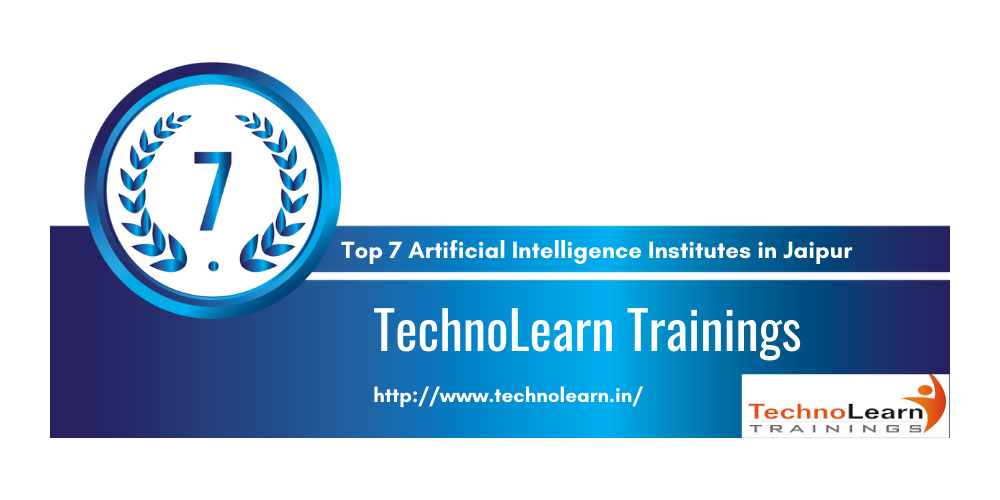 Technolearn Training is one of the best training institutes in Jaipur that provides many training courses for students as well as job seekers with placement assurance in artificial intelligence.
This Training is a leader in professional skill development and is also integrated talent management.
They try to give their best with a high-quality education.
They also conduct online classes and provide the students with the digital library which they can refer to at home!
The fees they charge are also very reasonable.
Contact:
info.technolearn@gmail.com
http://www.technolearn.in/
Learn Artificial Intelligence
Learn Artificial Intelligence with WAC
Other Skills in Demand