Top 10 College Fests To Visit as a Student in Kolkata
College can be a tough time for any given individual. Although there might be fissures of relief occasionally, there still remains a constant siren at the back of your mind that compels you to get your assignments done and complete your syllabus. Thus college fests and the enthusiasm surrounding it are the ultimate break that a college student can ask for. The few days of fun, excitement, events and camaraderie lift your spirits and help you inculcate a sense of solidarity that goes a long way in your future. So, here are the top 10 college fests that one should visit in Kolkata.
Top 10 College Fest To Visit In Kolkata
First College Fest you must visit in Kolkata
Xavotsav:St. Xavier's College
The college fest that should get the first and the foremost mention when it comes to "Ten college fests to attend in Kolkata", is 'Xavotsav', the annual cultural extravaganza hosted by the St. Xavier's College (Autonomous), Kolkata and organised by the Student's council. The ace player in the league of college fests, 'Xavotsav' boasts of a rich tradition of year-long anticipation that culminates into a legacy that is well deserved. The Xaverian motto of 'Nihil Ultra' or 'nothing beyond' has always guided the members of the Xaverian family and it is this motto that encourages the Student's council to give Kolkata an event that is truly worthy of all its praise. The annual event consists of various competitions and talent shows showcasing wide spectrums of talent in areas of fine arts, performing arts, lifestyle, literature and sports. The event till date has been graced by eminent celebrities like Nucleya, Papon, Shirley Sethia and many more. The theme this year around is 'A Rainbow of Dreams'.

Second College Fest you must visit in Kolkata
Umang: Bhawanipore College, Kolkata
Voted the 5th best college fest across Asia in 2009, 'Umang' hosted by the Bhawanipore College, Kolkata first started out in the December of 1999. Consistently there on, the fest has delivered promising enthusiasm and entertainment every year. With its various events and competitions, 'Umang' brings in an air of uniqueness and energetic vibes that in evidently take a place in your hearts. Over 40 colleges across the state take part in this 4 day extravaganza, in the process gathering an audience crowd of over 10,000. Singers like Sunidhi Chauhan, Meet Bros, Guru Randhawa and many more have performed at the college fest. Events of this spectacle are spread over areas of performing arts, management events, Umang gaming console, star events, literary arts and many more. The theme for this year's celebration is 'Nostalgia'.

Third College Fest you must visit in Kolkata
Sanskriti: Jadavpur University, Kolkata
'Sanskriti' held by the Jadavpur University, Kolkata is a culmination of a three independent five day fest organised by the Department of Arts, Science and Engineering. The fest is spread over a period of almost one month, stretching from mid-February to mid-March. True to its name, 'Sanskriti' ('culture' in Bengali) is a celebration of the Bengali culture with focus on famous Bengali art forms like Baul Sangeet, Chhou Dance and many more. With its efforts, the college and the students have been successful in bringing about a paradigm shift in the mainstream Bengali culture through this fest. It has always been the aim of the organisers to bring in new concepts every year, trying to create new things and give life to things that have been forgotten. The cultural event has seen the likes of Mohiner Ghoraguli, Euphoria, Anup Ghosh, Manna Dey grace the occasion. Events include quiz competitions, debates, theatre, western and eastern choreography. The fest with its focus on Bengal and Bengali traditions, is a must for anyone who is interested in the revival of culture.
Fourth College Fest you must visit in Kolkata
Amiphoria: Amity University, Kolkata
'Amiphoria', organised by the Amity University, Kolkata is a three-day annual fest which provides the students and the participating colleges to showcase their talents. The fest serves as a medium for students from various walks of life to come together and share their mutual interests and talents. The fest conducts events like 'Rang Tarang', a fashion show; 'Chaturangam', a chess event and many more. Raftaar and DJ Knoxx have had special appearances in the event.

Fifth College Fest you must visit in Kolkata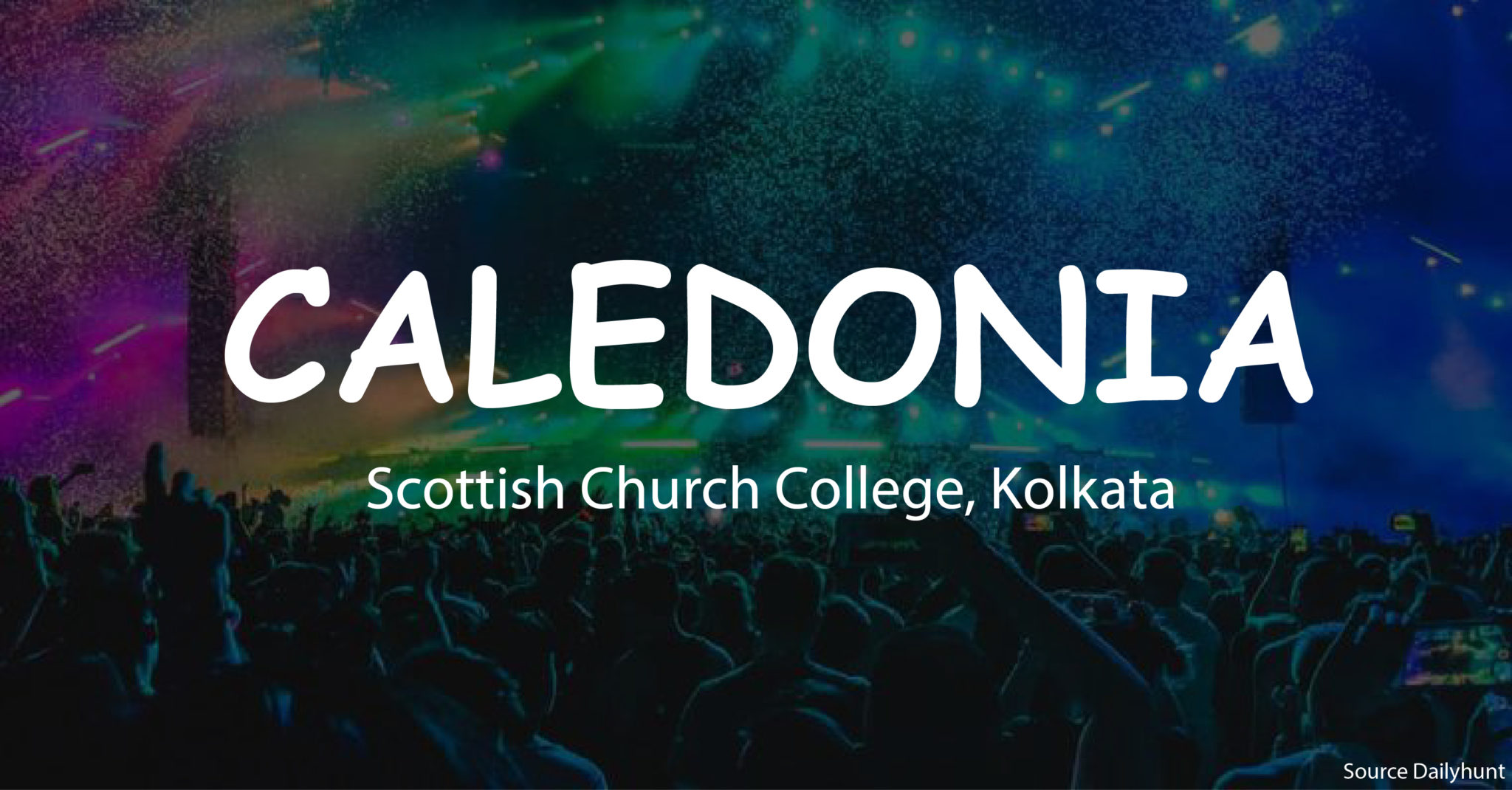 Caledonia: Scottish Church College, Kolkata
'Caledonia' hosted by the Scottish Church College, Kolkata derives it name from the name that was given to Scotland by the Romans. The annual fest of the college is held for a stretch of five days and features events like debate, poster painting, gully cricket tournament, pentathlon etc. The fest sees the coming together of various colleges who strive throughout the fest to put their best foot forward in all the events. Bands like Fakira and Bahiragoto have performed in the fest over the past years.
Sixth College Fest you must visit in Kolkata
Eclecia: Heritage Institute of Technology
'Eclecia' of Heritage Institute of Technology, Kolkata is a one of its kind college fest in Kolkata. What makes this fest unique are its events that include unconventional competitions like that of paint-ball, blitzkrieg and street play. The event is attended by students from over 25 colleges each year. The fest with its lively energy and festive vibes gives you an unforgettable experience that is hard to miss and forget. Singers like Benny Dayal, Anupam Roy, Mohit Chauhan have performed on this stage
Seventh College Fest you must visit in Kolkata
Samagam: Loretto College, Kolkata
'Samagam' the annual fest hosted by the Loretto College, Kolkata is a three day affair that has over fifteen colleges taking part in the fest. The most unique fact about this fest is that sees students from various colleges taking part as council members, volunteers and organisers unlike other exclusive colleges. The theme for this year's fest was 'Kaleidoscope' which implied 'a vision through various perspectives'. Events included competitions on various areas like music, sports, dance, quiz and many more.
Eighth College Fest you must visit in Kolkata
Srijan: Shri Shikshayatan College, Kolkata
'Srijan' by Shri Shikshayatan College, Kolkata is the annual college fest that is organised by the students' council of the college. The fest is marked with the participation of almost 30 colleges and their students. Throughout the fest the students take part in various events that culminates into healthy competition between rivalling colleges. Srijan is famous for its unique themes and performing celebrities like Arjun Kanungo.
Ninth College Fest you must visit in Kolkata
Gourmet Nite: IIHM Kolkata
'Gourmet Nite' by IIHM Kolkata, is a unique food festival that boasts of being the largest food festival in Eastern India. The students of the college take part in this fest to whip up various delicacies of several cuisines and present them to the guests which usually include famous businessmen, industrialists and the parents of the participating students. The fest provides you with a one in a kind culinary experiences that is sure to keep you wanting more. Other features of the fest include fashion shows, band performances and many more.
Tenth College Fest you must visit in Kolkata
Rebeca: IIEST, Shibpur
'REBECA' by IIEST, Shibpur, is the largest of its kind college fest in Eastern India. Since its inception in 1932, the fest served as the annual cultural fest of the college but now has been transformed into a fest cum reunion event for the Alumni and the students. The fest along with the college boasts of a rich tradition that justifies the hype that the fest receives. The event has been graced by famous singers like KK, Shaan, Shreya Ghoshal and many more.