7 Best GRE Coaching in Kolkata is an article drafted and crafted by WAC's Research team as more and more students are finding Professional Training to crack the GRE exam. Getting into the best GRE coaching centre in Kolkata can give any student an edge over others. While preparing for GRE, studying by oneself is possible. However, several best GRE coaching centres in Kolkata offer to take the weight off the back.
About GRE
The Graduate Record Exam (GRE), a globally recognized standardized test, is taken by millions of Indian students and professionals seeking admission in the top Canadian and US grad schools. Getting a good GRE score is essential for the aspirants who want to build a career overseas, and hence we have compiled for you Top GRE Institutes in Delhi where you can train for the paper.
So what exactly is GRE all about? ETS (Educational Testing Service) administered and carried out the computer-based exam, a private non-profit organization. The 3 hours 45-minute multi-choice exam is designed to assess a candidate's verbal reasoning, quantitative reasoning, and analytical writing skills, the basic requirements for pursuing an MS or a Ph.D. program abroad.
Started in 1949 by the Educational Testing Services (ETS), USA, Graduate Record Examination (GRE) aims to test aspiring admission seekers into various Masters and Doctoral programs to judge their knowledge and skills in analytical writing and verbal and quantitative reasoning.
The scores the candidate obtains form the basis for admission.
All those aspiring to shape their future abroad need to take this 3 hrs 45 mins—long exam. The exam pattern allows the candidate to take a break of one minute after every section and a gap of 10 minutes after completing the 3rd section.
This exam is conducted multiple times a year at any center as per the center's availability. A candidate can appear up to a maximum of five times in a year for this test to improve their score. The emphasis of the score on each subject varies from one grad school to another and between different departments.
The test results are valid for five years, after which a repeat test may have to be given. There are three sections to it: analytical writing, verbal reasoning, and quantitative reasoning in the general section. The subject section has algebra, geometry, vocabulary, arithmetic.
Regarding the score, the GRE is for a total of 340 marks. The scale for both the verbal and quantitative sections is 130-170 each, while the writing section is evaluated on bands ranging from 0 to 6. The GRE scores are valid for five years.
If you are eyeing some of the elite universities of the USA, securing a good GRE score is the way forward. Apart from being a vital admission criterion, a good GRE score plays a pivotal role in determining eligibility for grants, financial aid, and fellowship.
Given the significance of the GRE score, the prep for the exam should not be taken lightly. The best approach for success is to get enrolled in a reputed coaching center.
---
Tips to Help You Choose From the Best GRE Coaching in Kolkata
With the increase in popularity of the GRE Exam for Abroad Education, several coaching centers have mushroomed all over the Kolkata corridor. Most of these centers claim to make you a GRE quickly. But, sadly, that isn't the case. Don't fall prey to marketing gimmicks. Several factors contribute to the decision to choose the Best GRE Coaching among all the options.
Experienced Faculties not only have the edge over other teachers, but they also understand the GRE Pattern better than anyone else. They know the importance of every subject and impart the same to their students. Methods and tactics used by experienced teachers help students to gain an extra edge over other competitors.
Results, most of the time, show you the accurate picture of an institute. Past year results tell who cleared the GRE Exam and how many of them were in the top rankers. We analyzed the past five years of all the institutes and then compiled our Top 7 GRE Coaching list in Kolkata. Past year results also give an idea of how many students among the whole batch could clear the GRE Examination. Keeping all the above points in mind, past results should not be the only factor to consider when looking for a GRE Coaching Institute.
A lot of GRE Coaching Institutes in Kolkata charge a large number of fees but cannot deliver results. The amount that GRE Coaching Institutes in Kolkata charge is a significant factor for students when they consider joining an institute for GRE Coaching. Institutes like Jamboree and Manya have earned a top spot on our list because of their excellent investment return for a student.
Location is a significant factor for students who come from different states to prepare for GRE Coaching in Kolkata. All the institutes in our Top 7 GRE Coaching In Kolkata are accessible by all means of transport. The location makes it easier not only for traveling students but also for the locals; students preparing for GRE don't like wasting their time.
Books, Test Series, and other materials are provided when a student joins an institute. Top institutes regularly update their cloth according to last year's exam and pattern. Test Series are beneficial in GRE Preparation; all the institutes among our Top 7 GRE Coaching in Kolkata have updates material and test series.
Another way of determining if an Institute is good or not is by inquiring about it from its current batch of students. Our team talked to many students in ongoing collections of GRE Coaching and made the following list of Top 7 GRE Coaching in Kolkata. Institutes like Jamboree and Manya were among them.
All the above factors will give you an overview of an Institute. Apart from the above factors, there is always the option of self-research. Students themselves can find out if an institute is good or not if they put a little bit of effort into research.
---
List of 7 Best GRE Coaching Centre In Kolkata | Get GRE Coaching in Kolkata
We are going to help you in choosing the right best GRE coaching centres in Kolkata. All the institutes in our list of 7 Best GRE Coaching in Kolkata are prominent names in Kolkata.
You can discover a rundown list of the 7 Best GRE Coaching in Kolkata as per our research. Every Institute in our list of 7 Best GRE Coaching in Kolkata had been around for a long time and shaping GRE Officers for the country ever since.
Kolkata is one of the costliest cities in India, which feeds the illusion. This list was made after carefully analyzing and compiling results from the research conducted for all the institutes.
RANK 1: Jamboree Education
The First name on the list of Best GRE Coaching in Kolkata is Jamboree
Festival is probably the best GRE preparation and coaching class in Kolkata. Established in 1993, it claims to have trained more than 140,000 students across 36 centers in 4 countries.
Jamboree's success and reputation rest on its simplified teaching methodology that promises maximum results with minimum effort. What makes them stand apart from the competition is their unique preparation approach explicitly tailored for Indian aspirants.
From conducting intelligently designed diagnostic tests through holding online foundation webinars to covering the latest GRE syllabus with the help of problems.
Jamboree's GRE coaching classes in Kolkata are located at Hazra Road; this center has multiple classrooms, a state-of-the-art computer lab, and a well-stocked library to facilitate aspirants' test prep. Each faculty is rigorously trained in Jamboree pedagogy.
Finally, carrying sectional/full-length tests—Jamboree ensures that every ounce of the student's effort is directed towards a GRE 325+ score.
Some of the GRE high scorers from Kolkata are Vaidehi Shah – 333, Vinayak Shaw – 327, Prithika Das Gupta – 327, Sayantani Mukherjee – 326, and many more.
Provide admissions Counseling
Jamboree also provides excellent admissions counseling that includes shortlisting universities according to student profile, profile-improvement assistance, help with SOP's and LOR's, interview training, drafting application essays, etc.
In association with their business partners, they offer a host of value-added services like visa help, student loans, scholarships advice, pre-departure assistance, etc., to help students reach their desired college abroad.
---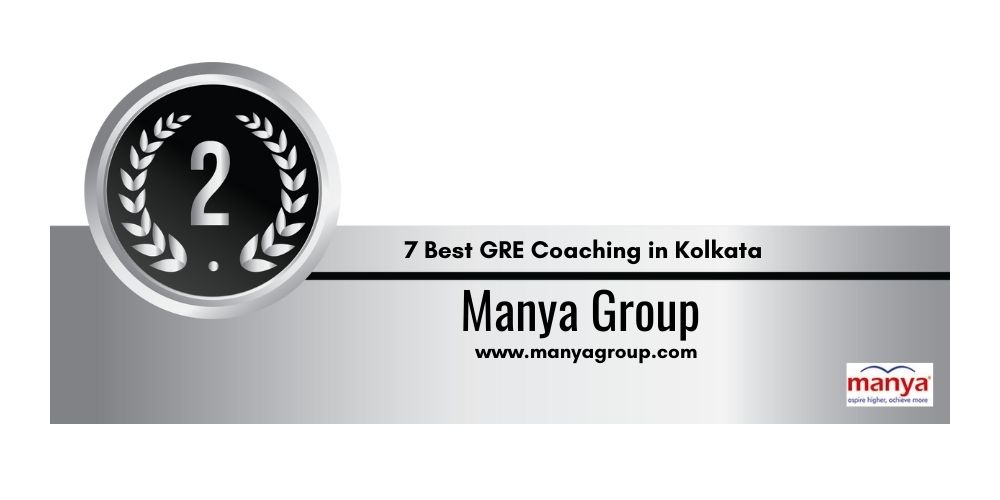 RANK 2: Manya Group
The Second name on the list of Best GRE Coaching in Kolkata is Manya
The Princeton Review is one of the oldest and the most renowned best GRE coaching centres in Kolkata. Most people select this Institute because of the reputation and excellent results it holds.
Though you have to work hard to score well in GRE, Manya can offer you sound guidance and show you the success path. Their students' experienced faculty and brilliant results make Manya one of the top-ranked training institutes in Kolkata.
There are two GRE Coaching classes in Kolkata of Manya – one in JN Road and the other in Salt Lake.
---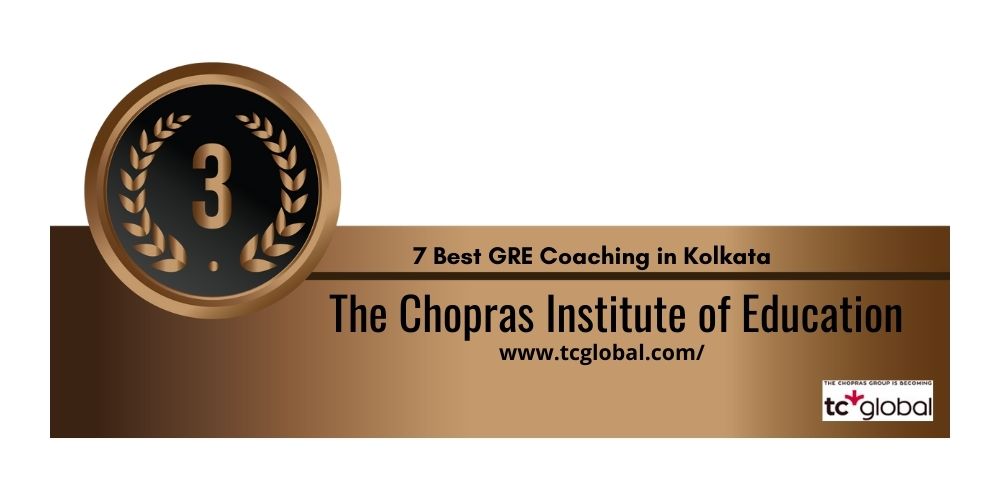 RANK 3: The Chopras Institute of Education
The third name on the list of Best GRE Coaching in Kolkata is Chopras.
Expert guidance at the right time always helps. The Chopras Institute of Education provides training and guidance to the GRE aspiring students. The mock test series and study materials provided to the students are said to be very helpful in making them familiar with the exam pattern.
In the Chorpras, students are taught by expert and highly experienced international faculty. To provide personalized teaching, enrolled students are put in small groups so that none gets ignored.
The combination of small-sized classes and the world-class infrastructure that Chopras Institute is known for makes it a good choice for GRE aspiring students.
RANK 4: Edumais
The Fourth name on the list of Best GRE Coaching centres in Kolkata is EduAims.
Tell us your dreams, and we will ensure you realize them!'- Quality of education at EduAims is as good as their tagline.
Believing that every individual is potential, EduAims works to guide students to realize their dreams. They have a good reputation for their students getting admission in the top universities in India and foreign countries like Singapore, Australia, etc.
The expert team of mentors at EduAims tries to motivate students and guide them while selecting the best colleges to pursue their higher education. To help students get admission in the well-reputed universities worldwide, the GRE coaching at EduAims comes with quality classroom coaching.
The size of coaching batches is made smaller so that each student receives the necessary care and guidance. They also offer mock tests to know their weaknesses and work upon them to succeed in the exam.
RANK 5: Diksha Learning
The Fifth name on the list of Top GRE Coaching centre in Kolkata is Diksha Learning.
Diksha, one of the top test preparation and training institutes in Kolkata, was initiated by a team of brilliant students who studied abroad. The expert faculty team at Diksha aims to provide maximum professional guidance to their students to get admitted to their dream universities around the world.
---
RANK 6: Ravi Raja's Classes
The Sixth name on the list of Top GRE Coaching in Kolkata is Ravi Raja's Classes.
Ravi Raja's classes, run by Ravi Raja, are another training center with experienced faculties. It provides quality classes and coaching for an entrance examination. It is located on Satay Bose Road.
The Institute provides ample scope to their students so that they learn problem-solving skills. Time management in competitive exams is an art and can be understood only with constant practice. Ravi Raja's classes ensure that students are trained well to get top scores in GRE and get the chance to study at a top university.
---
RANK 7: Road's Prep
The Seventh name on the list of Best GRE Coaching in Kolkata is Road's Prep.
Road's is another highly reputed coaching institute for students aspiring to study abroad. They strive to provide you a unique yet innovative learning environment to prepare for GRE and score well. With their highly experienced faculties, Road's is helping many young students reach their dream Universities.
Roads prep provides 2-3 months of course content along with +1 month self-study. The duration of classroom teaching is 4-8 hours a week.
To prepare students for GRE, they provide 8-10 full-length simulated mock tests. Mock tests help students learn time management techniques to complete the full paper on the actual day of the GRE.
As is rightly said, good guidance and motivation are all you need to achieve your goals. Yes, there are a good number of institutes offering GRE coaching in Kolkata. However, the individual needs of students may vary. Hence, before getting yourself enrolled in one of these coaching institutes, make sure they are willing to and are capable of serving your purpose.
Before joining a course on GRE training:
Do visit the Institute's website.
Look for reviews (if any).
Get in touch with their previous students (if you know any).
Ensure they are providing the kind of guidance you seek in your preparation.
In the next step, after the initial research is done and you are satisfied, you should go and visit the Institute and share your expectations with the counselor if the Institute is willing to attend a demo class and talk to the faculty directly about the teaching methods they use or anything that would help you make a decision.
These days, coaching institutes are opening multiple centers in the same cities so that students can access them more easily. Hence, once you decide on the Institute where you seek to get enrolled, proceed to the next step considering factors like the location of the Institute.
If you are from Kolkata and preparing for the GRE exam, get in touch with these institutes. I hope this write-up makes your decision easy and improves preparation strategies. All the best! Be ready for the good that is coming to you. Go ahead!
---
Disclaimer
The content published on this page is a compiled result of What After College's Research team. What devises the research parameters and the content structure After College's Research Team is not related to rankings done by governmental bodies.
A third party has purely done this research. Kindly contact at +91-9818198188 to make desired changes in the contact information related to your college.
---
Factors That Determine Your Success
As it's one of the country's top-notch qualifying exams, an aspirant must be equally focused, determined, and adequately trained to crack it.
While the first two qualities are within oneself, the last one, "guidance," can be attained only with the help of experienced and skilled teachers. This is where the role of GRE Coaching comes into play.
Institutes provide aspirants with study material and classes and help them prepare strategically to always stay on track. Other than the guidance the institutes provide to the aspirant, and several factors determine a GRE Aspirant's Success.
Among these factors are self-study, time management, etc. Self-study always trumps any teaching method; the time a person invests in something when they are not being supervised is the most important. With self-study, the aspirant becomes aware of their weaknesses and can then work on them to improve. The self-study also helps the aspirant to manage their time in a very efficient manner.
---
Don't Forget The Power of Self-Study
While it's no doubt that coaching institutes can help you save time and guide you in the right direction when it comes to exam patterns, format, and materials, you shouldn't forget the power of self-study. The Institute is just there to assist you in your preparation. Nevertheless, the time you spend on self-study and sharpening your skills is what matters the most. The coaching center acts as a stepping stone and helps you focus your efforts in the right direction. We hope that our list of Top 7 GRE Coaching Institutes in Kolkata would help you in this regard. Cheers. Want to read more GRE-related articles? Find them here.
Frequently Asked Questions About GRE Coaching Centre in Kolkata
How long does it take to prepare for the GRE?
Most aspirants spend about one to three months studying a few hours a week for the GRE. This means the amount of looking for the GRE could range from nine hours (studying two hours a week for four weeks) to 120 hours (studying ten hours a week for 12 weeks)
However, suppose you take classes from the best coaching for GRE in Kolkata. In that case, this effort could be reduced because they teach you a proven effective method that helps you get a competitive advantage even if you study for lesser hours at home.
Can I prepare for GRE in 1 month?
Once a week, aspirants should take a complete practice exam to gauge their progress from their beginning score to their target scores. With one month to prepare, it's usually better to take timed versions of practice tests to mimic the actual testing scenario as much as possible. Cracking GRE could be more demanding for you if you plan to prepare for it in just one month. However, it would not be that difficult to opt for the best coaching center for GRE in Kolkata.
What is a good GRE score?
The Verbal and Quantitative parts of the GRE are scored between 130–170, and the average score is around 150-152. The Analytical Writing section of the GRE is scored between 0 and 6 in half-point increments, and the average is somewhere approximately 3.5.
The chances of scoring good marks get increased when we enroll in the best coaching center for GRE in Kolkata.
---
More Frequently Asked Questions About GRE Coaching Centre in Kolkata
Which institute is best for GRE coaching centres in Kolkata?
Various institutes are said best for GRE coaching centres in Kolkata. We have ranked the 7 Best GRE Coaching in Kolkata in this article. Rank 1 is considered to be the best.


How much do institutes for GRE Coaching centres in Kolkata
charge?
The fee structure of each institute is different. Here, GRE coaching in Kolkata fee has disclosed the fees of every top GRE Coaching centre in Kolkata.

Which GRE coaching centers in Kolkata
provide the best study material?
All the institutes in our Best GRE coaching in Kolkata's list provide good study material, but Rank 1 has been considered the best among students.
Is Kolkata
perfect for GRE coaching?
Kolkata has been called the best place to go for GRE coaching many times in the past. GRE coaching centre in Kolkata this city has produced a large number of GRE to date. Here, you will find the 7 Best GRE coaching in Kolkata.
How would I know whether the timings for the best GRE coaching centres in Kolkata
will suit me or not?
We have specified the timings of each institute in our article. You can join the one that best suits your requirements & needs.