5 Best SSC Coaching in Pune is an article drafted and crafted by WAC's Research team as more and more students are finding Professional Training to crack the SSC exam with the best marks possible. Getting into the best SSC JE Coaching in Pune can give any student an edge over others, and it is beneficial for any student to join the top SSC CGL Coaching In Pune. Enrolling in SSC coaching will help in increasing the chances of success.
SSC or the Staff Selection Commission of India is a coveted national graduate level examination. They aim to hire employees and staff for several government departments, organizations, and ministries annually. A candidate has to pass all four phases of the SSC CGL (Combined Graduate Level) exam to fulfill their aspiration of acquiring a government job of their choice. Read on our list of SSC Coaching Institutes in Pune.
In this time and age, candidates want to acquire a government job not only for the prestige associated with cracking the exam but also for the perks of having a job that provides an enjoyable work-life balance and safety from national financial turmoil.
More than 20 lakh students are expected to be taking these exams in 2017-18, making this a tough challenge for many. With the hope to achieve success at this much sort after exams, many aspirants join SSC Coaching in Pune to take advantage of expert guidance and learn methodical preparation techniques.
Choose the right Coaching to Crack the SSC Exams.
New SSC Coaching centers seem to be sprouting up at every nook at the corner. Finding the right fit for you can be quite a fight. Following are a few points to consider before you enroll yourself in SSC Coaching in Pune:
check the internet for reviews of the institute; you can also try to contact students who have previously taken courses there; this will give you some unbiased and truthful understanding.
A little knowledge of the faculty and their credentials will give you much-needed confidence in the quality of their teaching methods.
try and look for a coaching center that does not take more than 30 minutes of travel time; this will mean less stress and more time to study.
take a free demo class to understand if the teaching philosophy is comfortable for your needs; observe how available the faculty is to solving individual doubts.
Keeping these small things in mind can make a huge difference. Keeping the pointers mentioned above in mind, we have compiled our very own list of the top five SSC coaching institutes in Pune.
5 Best SSC Coaching in Pune | Get the SSC JE Coaching in Pune
The Institution's / Organization's Ranking done by WAC is a result of the research done by our team. It is totally Independent of the Rankings done by the Govt. Bodies. If any Institute has any Queries regarding any Information Updates or has conflicting ideas regarding Ranking positions, can contact us. Email at rishabh@wac.co.in or Call on +91-9818198188.
Rank 1: Career Launcher
A reputed name in examination preparation, Career Launcher has established itself in the education sector, with more than 200 test prep centers scattered in 100 cities across India. Started in 1996, the institute has coached more than 50,800 aspirants. Over two decades, they have diversified themselves by creating a management school and international prep centers in UAE.
The institute boasts of highly motivating faculty and is solely dedicated to its core belief of delivering quality education. With meticulous classroom sessions, exhaustive notes, regular practice, and mock tests, they methodically nurture aspirants to achieve their ambition of clearing the SSC. Their online Student Information System (SIS) provides a dashboard loaded with revised exam notifications, daily news, course updates, and a lot more. Not only the written exams, but they provide Personality Development (PDP) classes to ready aspirants for the personal interview round too.
---
Rank 2: Career Power
Initiated in 2010 by an assemblage of IIM-IIT graduates, Career power is one of the fastest expanding educational institutes. Their classroom programs have spearheaded more than 5000 aspirants into achieving success by realizing their dream of clearing the SSC and Banking exams.
At their 70+ centers across the country, students have the opportunity of being coached by faculty that's committed to providing excellence in education. The academy also offers online tests, E-learning modules, a comprehensive correspondence course, classroom tutoring, and mock test papers. Their online video lectures cover all topics and are one the most creative, most effortless, and cost-effective ways to study at one's convenience. Other than training SSC candidates, they have courses to prepare aspirants for government job exams like Railways, Bank PO, IBPS Clerk, Bank Clerk, LIC, FCI, CTET, RBI, SIDBI, SBI PO, and NABARD, etc.
---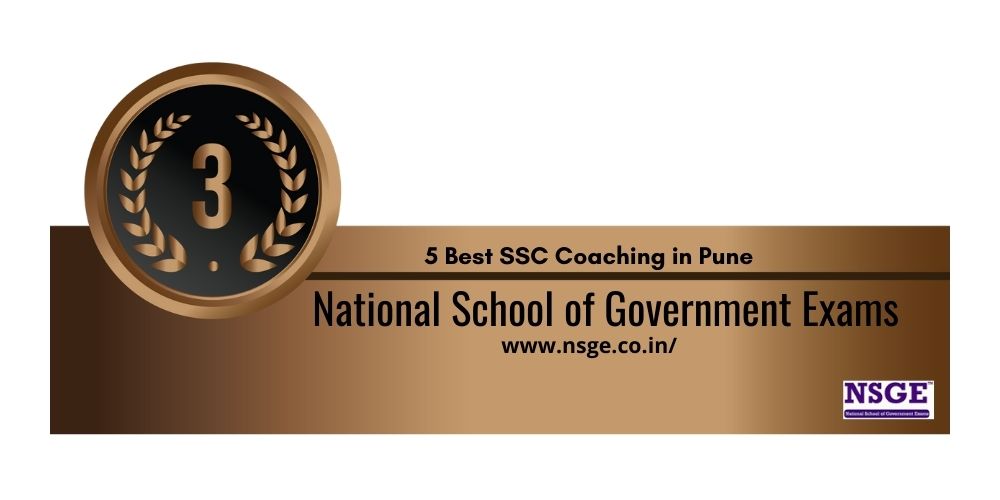 Rank 3: National School of Government Exams – NSGE
Aspirants recognize NSGE as one of the best SSC Coaching in Pune; one-stop competitive exam preparations stop, guaranteeing quality education and success. The institute, established in 2010, has gained a strong position in the education sector in a brief period. Located in a well-connected area, the center attracts both locals and students from far-flung parts of Pune.
Their well-trained faculty is up-to-date and proficient in preparing aspirants for more than 75 various government exams. Students are provided with an online test platform, which allows them to self-evaluate on particular topics and gives them an in-depth analysis of their performance, helping them prepare in a more result-oriented manner. They also have an interview preparation module, complete with mock interviews, exercises, and interview preparation. Once aspirants join NSGE, they are promised lifetime support until they get selected with no added costs.
---
Rank 4: API Academy
The heart of preparations for competitive exams in Pune, Apti Academy has gained a relatively broad student base in a brief period. Established in 2014 to deliver the most in-depth coaching for all sorts of competitive exams, it has helped more than 200 students successfully achieve their dreams. The highly experienced faculty specializes in training students for Logical Reasoning, English, and Quantitative Aptitude.
The institute recognizes tireless hard work and a positive attitude to be the path that leads to the next level of success. They are the official institute for 'PRE-EXAM TRAINING' of SBI and IBPS PO. Their high-end digital classrooms are fully equipped with superior analytics for enhanced learning and unmatched results. However, their adoption of the unique concept of peer-to-peer marking and student mentoring, along with a full-fledged library and meticulously compiled study material, are some of the institute's highlights.
---
Rank 5: IBT Institute
A leading institute of choice, IBT is a reputable name in the education sector since being instituted in 2009. What started as a small batch of only seven students has grown into a widespread 100+ centers across India. Managed by a panel of experts from the best management and banking institutes, they have some of the most highly inspiring faculty – professionals who have themselves taken the exams and gone through this demanding process.
The institute has an enviable track record for success; over and above their comprehensive study material, regular class assignments, online and offline mock tests, monthly magazines and newsletters, and innovative labs providing online video lectures. Their unique Android and IOS application prepare for exams rapidly and conveniently.
Address: IBT, SHOP NO-4, PALM ONE, SN-66, Katraj – Kondhwa Rd, near KHADI MACHINE POLICE CHOWKI, Kondhwa, Pune, Maharashtra 411048
Contact No: 078752 87287
Website: https://www.ibtindia.com/
Clearing the SSC requires candidates to put in some serious efforts and long study hours; however, all of this without the proper guidance will not bear fruit. Add parental pressure and expectations to that, and the entire process of taking the SSC exams becomes quite intimidating and gives nightmares to even the brightest of students. Instead of panicking, it is best that the candidates plan ahead and ideally enroll with the right coaching center. Coaching institutes regularly test, guide, and equip aspirants with the best strategies and tricks to gain the confidence and tools to achieve their goals.
So take your own time and choose wisely before you dive headlong into the world of SSC preparations. All the very best!
Meanwhile, you can also check out our other lists of various top SSC Coaching in cities near you:
The content published on this page is a compiled result of What After College's Research team. The parameters of the research and the content structure are devised by What After College's Research Team and it is not in any way related to rankings done by governmental bodies. This research has purely been done by a third party. Kindly contact at 91 9818198188 to make desired changes in the contact information related to your college.
---

Frequently Asked Questions About SSC Coaching in Pune