Python offers greater flexibility in scripting compared to other languages it is one of the easiest languages to learn. In today's world, many applications are built using python, which includes popular AI. It offers a great salary package too and certified courses in python which build your portfolio to land up in a good job. Here are some of the popular 7 python Institutes in Ahmedabad to learn in with good guidance for a beginner.
TIPS TO HELP YOU CHOOSE FROM THE TOP 7 PYTHON INSTITUTES IN AHMEDABAD
Learning a new skill set is really good, but travelling a lot and learning will make you tired, so the location of the institute is important. The fees, learning environment and standard of teaching are very important. Check about the accreditation of the institution too. These are a few important tips to choose the best python Institutes in Ahmedabad.
Rank 1: AGILE ACADEMY
Agile Academy is an IT Professional Training and Live IT Project preparing Center that serves IT, understudy because it has fresher with 100% Placement Guarantee. Agile academy tops the list of python Institutes in Ahmedabad. It is a very well known and reputed institute and has a good set of faculty mentor they charge a decent fee structure has a limited amount of student in each batch. It is located on Above Axis Bank, Near Nehru Nagar Circle, Ahmedabad. The syllabus of the course covers all the basic beginner needs in python.
Contact
Rank 2:Tops Technologies
Followed by agile academy then comes one of the Tops python Institutes in Ahmedabad. The Python course at TOPS Technologies begins from the essentials and This Python adapting course is for undergrads and also experts to develop their vocation in Python programming. Python Programming Language has gotten one of the most well-known dialects because it is utilized in Web programming, Data Science, IoT, and Artificial Intelligence. The fee structure here depends on how much knowledge you have about basic because even they offer free courses in python for some of the well-skilled people. The course syllabus has all the basic to advance of python. It is located in three places in Ahmedabad ground,maninagar, sg highway.
Contact
phone: +91 – 7622011173
email: inquiry@tops-int.com
website:https://www.tops-int.com/
Rank 3: Coding Cloud
Coding cloud offers its service in-country around a few countries out of which one is Ahmedabad. They do offer Fast-Track Python Training and One-to-One Python Training in Ahmedabad and Pune. They have separate HR group experts who will deal with all your placement needs. The staff are well-reputed and also it had good google reviews by students who studied there. It is located OPP Rajpath Club SG Highway, Bodakdev, Ahmedabad.
Contact
phone: 9537344018/9909163651
email: ahd@codingcloud.in
website:https://www.codingcloud.in/
Rank 4:Beasant Technologies
Beasant technologies a python Institutes in Ahmedabad offer both types of class both online and offline classes. The fees depend on how much you know about the subject and also it has an excellent review from students who have studied.
Contact
email:info@besanttechnologies.com
website:https://www.besanttechnologies.com
Rank 5: Knowledge Hut
Knowledge hut comes in rank 5 in python Institutes in Ahmedabad developed with the goal of conveying high worth preparing through imaginative and down to earth draws near, KnowledgeHut offers a wide scope of administrations in preparing, learning and advancement in the fields of innovation and also the board in IT industry it offers well-versed training. It has well educated and knowledgable teachers batch size is quite small so anyone can learn with full concentration it is located in Ahmedabad. The staff in the institute have a good experience.
Contact
phone:+91-80-41520045
website: https://www.knowledgehut.com/
Rank 6: Joy Consultant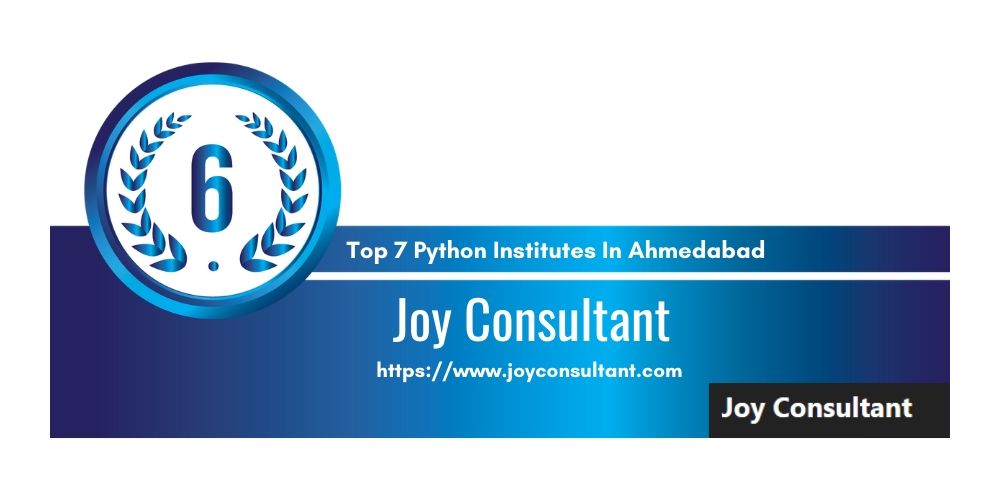 Joy consultant offers good python training in Ahmedabad they charge INR 7000 for 20 days because they ensure all the necessary topics are covered. It is located in Mithakhali Six road, Navarangpura, Ahmedabad. The batch amount for training is decent and also it's ranked among one of the good python Institutes in Ahmedabad
Contact
website:https://www.joyconsultant.com
Rank 7: ITS Data Solution
ITS Data solution offers a 20 hr python training course fee structure is not known it has appreciable reviews from students and has trained tutors. A very eminent python Institutes in Ahmedabad and it is located on the 3rd floor, Vrajendra Complex Sudarshan Society, Near Devendra Bus Stop Naranpura Ahmedabad.
Contact
phone: +91 9879558787
email: info@itsahmedabad.com
website:https://itsahmedabad.com/
The content published on this page is a compiled result of What After College's Research team. The parameters of the research and the content structure are devised by What After College's Research Team and it is not in any way related to rankings done by governmental bodies. This research has purely been done by a third party. Kindly contact at 91 9818198188 to make desired changes in the contact information related to your college.
Conclusion
Python is one of the fastest-growing language. Application of python is in many fields nowadays so it is important to learn it because it will be very helpful in future.
Learn Python
Learn Python with WAC
Other Skills in Demand