5 Best SSC Coaching Center in Trivandrum is an article drafted and crafted by WAC's Research team as more and more students are finding Professional Training to crack the SSC exam with the best marks possible. Getting into the Best Coaching for SSC in Trivandrum can give any student an edge over others, and it is beneficial for any student to join the top SSC CGL Coaching in Trivandrum. Enrolling in SSC coaching will help in increasing the chances of success.
SSC Exam
SSC or Staff Selection Commission is undeniably one of the top-notch choices in careers that Indians dream of pursuing. The honor and prestige associated with having a government job have motivated hundreds of thousands of Indians to follow this career path and continue to do so. Read on our article for SSC Coaching Institutes in Trivandrum.
Now, the SSC examination is one of the most challenging and premiere tests conducted in India. Cracking this test is something like aiming for the stars. Although it might seem to be a task that is near impossible to achieve for many, with the proper training and guidance, cracking this examination is also very much possible. But for that purpose, it is essential to register with any of the best SSC training centers to avail proper and effective coaching.
Many learning institutes offer SSC coaching in Trivandrum. In this article, we shall get to know about the five best institutes among all of them.
List of 5 Best SSC Coaching Center in Trivandrum | Get Coaching for SSC in Trivandrum
The Institution's / Organization's Ranking done by WAC is a result of the research done by our team. It is totally Independent of the Rankings done by the Govt. Bodies. If any Institute has any Queries regarding any Information Updates or has conflicting ideas regarding Ranking positions, can contact us. Email at rishabh@wac.co.in or Call on +91-9818198188.
Rank 1: Mahendra Educational Private Limited
Mahendra Educational Pvt. Ltd. institute was established in 1995, and Mr. Naveen Kumar Jain is the current Managing Director of this premiere learning center. Since its inception, this training center has constantly created successive batches of successful SSC candidates with high scores. The tagline of Mahendra Educational Private Limited for SSC coaching in Trivandrum says all about their vision and mission – "Your Success is our Success."
This training institute has developed SSC training techniques that effectively explore every student's mind to boost confidence. Their confidence is evident from the fantastic scores that they fetch every year. The maximum advantage of registering with Mahendra's SSC coaching is the easy access to intelligent labs for practice tests and mock exams. Apart from conducting regular tests, the worksheets, class assessments, and speed tests go a long way in shaping successful candidates.
For the advantage of all registered candidates, individual attention is offered, and joint problem-solving classes are also held regularly. Mahendra's Institute is all about helping the students to move towards success with a comprehensive coaching methodology.
---
Rank 2: Race Bank and SSC Exam Coaching Institute
Race Coaching Institute is one of the most sought-after centers for SSC training, apart from its SSC and Banking exam coaching. This Institute stands for nothing but excellence when it comes to education. It was established way back in 2012 and has consistently been a glorious and flourishing center of training for aspirants of IAS, SSC, and other examinations.
This SSC coaching center has churned out more than 37000 successful students in the SSC examination and several other competitive exams. They have got some of the most well-planned training courses for various exams conducted in India like IAS, SSC, Banking, and others. Upon registering with Race Coaching Institute, the students gain full access to a state-of-the-art computerized lab, a great library, a lab where they can practice for their exams, and regular classroom training sessions.
The mentors here always make it a point that every student gets access to the all-inclusive study material necessary to develop their knowledge. Also, mock online tests at regular intervals and sessions to solve problems jointly are conducted for their benefit. Students are encouraged to participate in such sessions, which automatically boosts their confidence to face the SSC examination and sail through it.
Address: T.C.28/2377-1 Opposite To Aries Plex SL Cinemas, Thampanoor, Thiruvananthapuram, Kerala 695001
Contact No: +91-81380 23030
---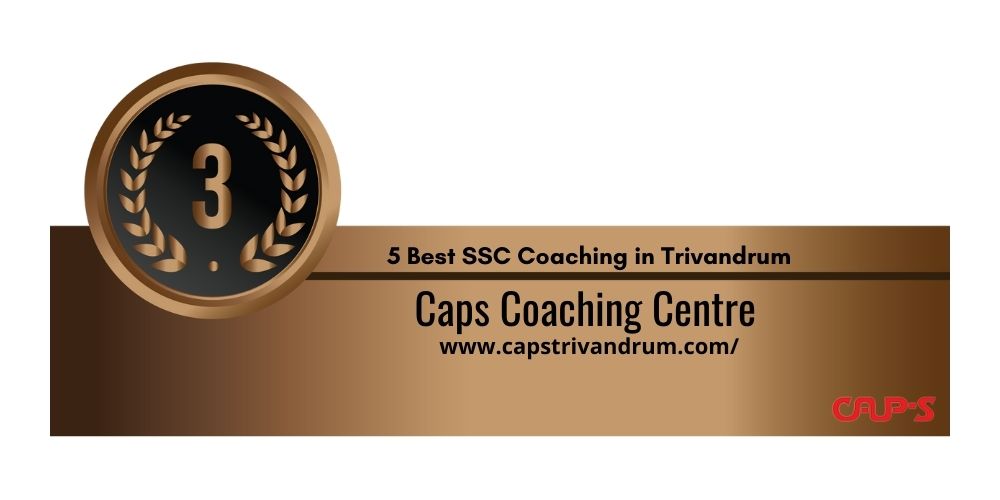 Rank 3: Caps Coaching Centre
One of the best places to expect the highest quality of SSC coaching in Trivandrum is from CAPS Coaching Centre. The chief person behind this excellent SSC training center is Mr. J. Vijayamohan. Having a rich and extensive experience in imparting quality education for over 40 years, Mr. Vijayamohan is the Director of Caps Coaching Centre. His practical and remarkable training aptitude and competency to keep up with the varying trends of SSC examinations have helped hundreds of aspiring candidates every year.
This training center is reckoned as one of the best SSC guidance institutes all over the state. It also offers equally efficient mentoring for all other competitive examinations in India, like SSC, Banking, PSC, etc. Students enrolling with Caps Coaching Centre can look forward to a steady and brilliant path in their career with accurate guidance from the team of faculty members here.
Caps Coaching center offers complete study materials and conducts regular classroom training. Candidates are admitted throughout the year, and traditional online mock tests are also conducted to evaluate the performance of the candidates step by step. Attention to individual students is also provided to make sure that the learning process is easy for all.
---
Rank 4: DOTS Academy
DOTS or Development Of Thoughts is one of the most well-known centers offering SSC training in the city. Besides SSC, candidates seeking training for other competitive exams like IAS, Banking, or PSC can also enroll here. This Institute was established in the year 2014. But excellence in training and commitment to imparting quality education made this young Institute secure an excellent reputation and goodwill.
The brains behind the DOTS Academy had noticed a severe lack of committed training centers to cater to the needs of aspiring candidates for IAS and SSC, and other tests. Some of the best mentors from reputable institutes have come over to DOTS Academy to share the same vision and mission of delivering excellence in training. These members of the faculty make sure that the quality of education is never compromised.
They are updated with the prevalent trends of exams and their patterns and employ the smartest of tips and guidance to convey it to the candidates for their benefit easily. DOTS Academy encourages students to dream big and aim towards success.
---
Rank 5: Ignite SSC Academy
Ignite SSC Academy was founded back in 2016 as a small setup offering guidance to a handful of students. This Institute has now expanded and grown to be reckoned as one of the top centers offering the best SSC coaching training in the country from its humble roots.
This SSC training institute conducts batches of classroom training with a limited number of students in each set. This is because they believe in imparting the most acceptable level of education and training to aspiring candidates. It makes sure that every student gains equal attention from the mentors to derive maximum benefit from the exercise. Several successful SSC candidates have strengthened the goodwill of this Institute over the past two years.
With its experienced mentors, Ignite SSC Academy has designed the most scientific approach to offer SSC training to students. And they keep themselves updated and dynamic enough to accommodate the changing patterns of the SSC exam to provide the most holistic guidance to aspiring candidates.
A career as a government employee in our country comes with unmatched dignity and is indeed rewarding. To serve at one of these prestigious positions, cracking the IAS written test is mandatory, followed by the personal interview round.
The top training centers for SSC guide the aspiring candidates with the fluctuating patterns of this extremely tough examination. They also offer comprehensive mentoring to boost the students' confidence so that they can sail through this test. Learning innovative techniques to tackle difficult questions is imperative to fetch an impressive score in the SSC exam, for which the best SSC training centers play a crucial role.
Meanwhile, you can also check out our other lists of various top SSC coaching institutes in cities near you:
---
The content published on this page is a compiled result of What After College's Research team. The parameters of the research and the content structure are devised by What After College's Research Team and it is not in any way related to rankings done by governmental bodies. This research has purely been done by a third party. Kindly contact at 91 9818198188 to make desired changes in the contact information related to your college.
---

Frequently Asked Questions About SSC Coaching in Trivandrum